If You Really Want To Save Money, Avoid Making These Monthly Excuses
8 min read
Filipinos are known to make a "valid excuse" every month for not being able to set money aside. Here's how you can turn things around and increase your savings toward the end of the year.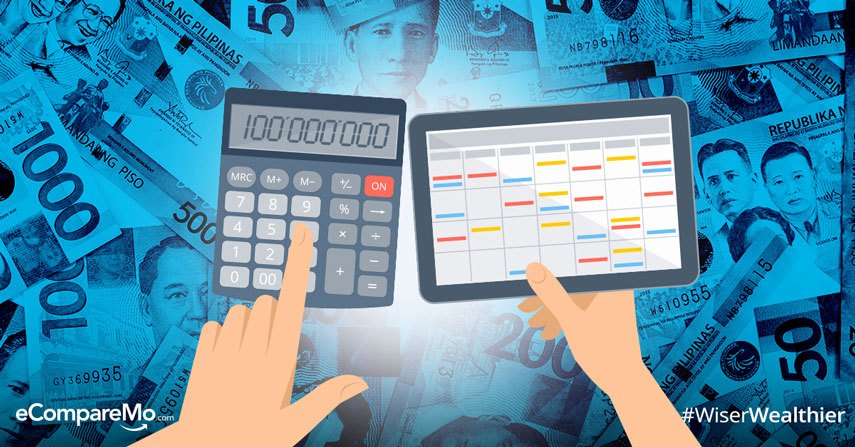 Saving may sound as easy as setting aside cash instead of spending it, yet it continues to be one of the main problems of many Filipino households.
For one, the Bangko Sentral ng Pilipinas (BSP) reported through a survey done by the Department of Economic Statistics in 2015 that only 31.6% of Filipino households have savings. This was already an all-time high for the country, and a significant improvement from 2014's 25.7% rate.
There is a high likelihood that even if the economy keeps on improving, or businesses continue to thrive, or high-paying jobs continue to be accessible to everyone, Filipinos will always have a hard time saving up for the future.
Blame it on our mañana habit—or our tendency to procrastinate goals and tasks—paired with excuses that we make on a monthly basis. Here are some tips on how you can change your mentality for the better.
January: It's still too early
For many people, the dawn of the New Year is a fresh start. However, some also use this as an excuse to put saving up aside. It's easy to get lost in post-holiday celebrations, reunions, and thanksgiving parties, and after all, there are 11 more months to look forward to.
Pro-tip: Take advantage of the good momentum January has to offer. If you are determined to make a saving scheme to use for 365 days, blogger Kuripot Pinay famously did a Filipino adaptation of the 52-Week Challenge formulated by blogger Life As You Live It. To make things more interesting—and your savings bigger—Gretchen Lindow of Retired by 40 also added variations, such as the bi-weekly challenge.
February: Heart over mind
February may be the shortest month of the year, but couples look forward to this month because of Valentine's Day. If you skipped saving last month, then you will definitely have an excuse again this month because you need to wow your partner and shower her with gifts, flowers, and a fancy dinner.
Pro-tip: It is perfectly fine to celebrate Valentine's Day with your special someone, but this doesn't mean to you have to spend more to make it better. Instead of making it rain using flowers and other expensive gifts, why not go for more budget-friendly methods like dinner dates at home?
March: Suddenly summer
While people who observe religious practices will just stay at home and observe solemnity, others will take advantage of the long weekend to go to the country's top summer destinations: Boracay, Baguio, Batangas, Tagaytay, Palawan, and Puerto Galera.
Pro-tip: Extravagant vacations are so cliché; nowadays, people find more creative ways to have a vacation without shelling out a lot. Real Simple, a frugal living website, shared some tips on how to make your staycation extra special without shelling a lot. Disconnecting from your devices, sprucing up your place to mimic your dream destination, and creating fun activities are fun alternatives for the truly frugal.

April: Enrollment/summer
Summer only happens once a year, so how about another round of feeding your #wanderlust? Are you thinking of backpacking in Vietnam? How about a four-day tour to Batanes? No, make that Japan!
Pro-tip: Instead of gunning for the usual vacation spots, why not just go to beaches and mountains near Metro Manila? This way, you can still enjoy the outdoors without having to fork out huge cash to have fun. WayPH, a local travel guide website, suggests places such as Zambales, Quezon, and Batangas as beach destinations that are just a couple of hours away from Metro Manila.
May: Laboracay/last-minute enrollment
With the whole country still not adopting the new academic calendar, most schools are still holding enrollments starting May. Sending kids off to school entails a lot of expenses like tuition fees, uniform, school supplies, and the like—and pretty sure, you will have a hard time putting aside extra money. But is it really the case?
Pro-tip: We've said this before and will say it again: Find ways on how you can save money on back-to-school expenses. For instance, using school supplies like crayons from last school year is highly advised. Buying quality yet pricier uniforms will give you more bang for your buck. And looking at secondhand bookstores for textbooks will help you save tons of money.
June: Back to school
While the previous month may be the time most people allot for school preparation, the real fight actually starts when the first bells of the school ring. Everyday expenses like lunch, school fare, and others that rack up to huge amounts as the year goes by. With these expenses continuously draining your wallet, you may think saving is a lost cause.
Pro-tip: Whoever said that lunch should be expensive? When preparing food for your kids, you can be creative with your packing lunch for your kids. Instead of giving them money to buy food in school, Billy Ramirez of Think Pesos recommends packing lunch for kids instead. Not only you will you save a lot, you can also ensure that your kid only eats quality food in school.
July: Rainy day emergencies
Usually, June is when the first rains of the year hit the country. However, majority of intense rains and storms come in one month after. Since pummeling storms can damage your home, you might need to brace yourself financially for the worst of the things that can happen: damaged structures, flooded homes, and other risks brought by flood.
Pro-tip: Before you even reach the month of July, you may want to save up for a calamity fund already. By having a disaster fund stashed, you don't have to tap your money and have financial mishaps due to inclement weather. In case you missed it, here's an article about home repairs to work on even before the start of the rainy season.
August: Ghost Month
As one of the many traditions we inherited from the Chinese, some Filipinos also avoid making financially related moves during Ghost Month. According to Genson Gan of Full Circle Communications, "It's the time when hungry ghosts visit and wander around spontaneously," and people should be extremely cautious during this season. Thinking of investing this season or making a big-ticket purchase like a car or house? The Chinese may strongly caution you against it.
Pro-tip: Whether or not you believe in the Ghost Month, you may want to be careful in making financial decisions. Whether it is investing in the stock market or simply just buying a new house, be sure to look at the downsides too. Who knows, you may be betting your money on the losing side if you don't do your part in research?
September: -Ber season
While there is no real holiday here, people believe that September kicks off the beginning of the -ber season—which means it is now more excusable to throw money on parties, new items, and other things. After all, it is more exciting to spend this season with sales left and right in light of the upcoming holiday season.
Pro-tip: It's the holidays, and it may be a bummer to be left behind from all the parties and all the adventures. But you may want to modify the way you divvy up your income. For those who want to have ample allowance for your lifestyle expenses, the 50-30-20 method will work best for you. With 50 percent of your income going to basic expenses and 20 to savings, you now have more than enough to spend on extra expenses like clothes, parties, and other things that keep you happy and satiated.
October: Halloween
People think of October as the moment where people can take advantage of the upcoming All Saints Day. While some Filipinos will use the opportunity to visit their dearly departed, others will use this window to get away from the city for a mini vacation. Either way, this only means one thing: Expenses that will prevent you from saving.
Pro-tip: Since the window given by the All Saints Day is only limited, you might as well just stay at home and rest. If you're planning on joining Halloween parties, Saving Advice recommends being creative with the materials you have for the costume instead of buying a new set. In case you plan to visit your deceased loved ones, try to make it as simple and solemn as possible and avoid extravagance. You're not merely keeping the occasion simple but thoughtful as well.
November: Undas/early shopping
Those who cannot afford to wait for their 13th month pay to arrive will definitely do some early shopping this month. Whether you're trying to avoid the holiday mall rush or are just really cautious with your Christmas shopping, hitting the malls in November may be unavoidable. After all, bonuses will rain next month, so most people think it's all right to lavishly spend now.
Pro-tip: When doing your pre-holiday shopping, make a list of the things you need first and stick to it. This way, you are minimizing the chances of overspending. Aside from gifts and other holiday needs, get the most usual Christmas items like pasta and sauce, cheese, and other consumables for your holiday celebration. These items become more expensive as the holidays draw near due to increasing demand.
December: And so this is Christmas
Everyone's waiting for this time of the year. Aside from the overall festive mood of the people, this is also the time most companies hand out their employees' 13th month pays. With more money in hand, it is easy to just throw away your cash away to frivolous things. Think endless parties, new gadgets, and other excesses.
Pro-tip: By this time, you may have already bought your Christmas supplies and you may just have to take care of a few gifts. In an article in the Philippine Daily Inquirer, Randell Tiongson says you can do a lot of things with your 13th month pay such as increasing your emergency fund, building your retirement money, paying off debt, investing in different financial vehicles, and so much more. While it may not be enough to give you big gains, ending your year with a healthy financial mindset will give you a fresh boost next year.