Fariñas Wants Congress To Be Immune From Traffic Violations—And The Internet Isn't Taking Him Lightly
2 min read
On a normal day at the House of Representatives, it seems like our honorable representatives do not really pull their punches when it comes to surprising the public. Yesterday, House Majority Leader Rodolfo Fariñas called for parliamentary immunity from traffic violations as it might affect their attendance during Congress sessions.
During the House transportation committee hearing, he called on the Department of Transportation to grant lawmakers a form of exclusion from traffic violations. He cited part of the Constitution that states: "a Senator or Member of the House of Representatives shall, in all offenses punishable by not more than six years imprisonment, be privileged from arrest while the Congress is in session."
"Kasi kami ay representatives ng Filipino people," Fariñas told the media. "Nai-impeach si Presidente. Magbobotahan kami sa committee whether he will be impeached or not. Eh bibitinin nila ako, titiketan mo. Hindi ako makakaboto o hindi kami makakaboto."
[Translation: Because we are the representatives of the Filipino people. If the President is impeached, we will vote in a committee whether he will be impeached or not. But they (traffic enforcers) will hold me up, they will give me a ticket. I won't be able to vote, we won't be able to vote.]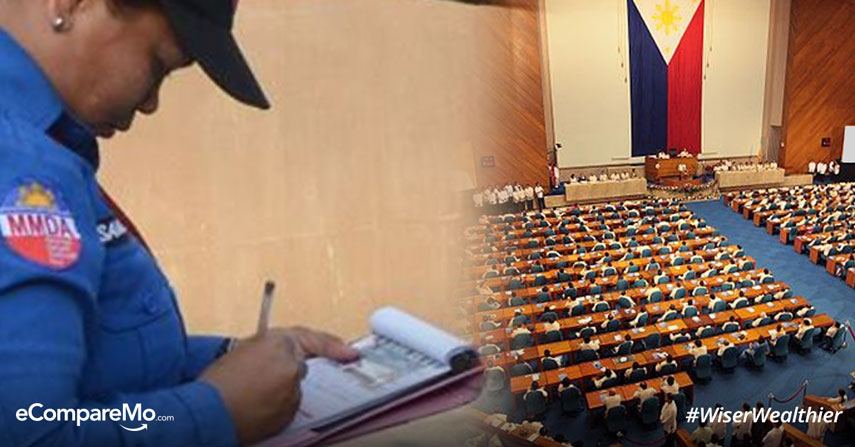 The lawmaker added that it would be unnecessary for traffic authorities to bring members of the House of Representatives to prison for a traffic violation, citing that it would only impede them from attending sessions that start at 4pm from Mondays to Wednesdays.
Opinions among other members of the government regarding this matter vary.
Metropolitan Manila Development Authority assistant general manager Jojo Garcia said that the agency "would back it up" should a request be submitted to their office and the mayors of Metro Manila give their green light.
Meanwhile, Albay Representative Edcel Lagman opposes Fariñas' proposal, saying that "it adds more acerbic criticisms against Representatives" after it voted to reduce the budget of Commission of Human Rights to P1,000.
The Palace chimed in too, with Presidential Spokesperson Ernesto Abella saying "the President himself continues to observe a modest lifestyle and he seeks no special treatment whether inside or outside the Palace. We hope our colleagues in Congress, especially our allies, can bring themselves to do the same."
Unfortunately, the peoples opinions aren't as gentle as Abella, with most of them seething with anger over Fariñas' statement.
With the news breaking out, it seems like Twitter and Facebook just aren't having it. People took to their keyboards and rained fire and brimstone on the congressman and his wish to get him and his ilk a free pass from traffic violations. We've collected some of the angriest and meanest tweets regarding this new issue.
House Majority Leader Fariñas wants RepresentaTHIEVES exempted from traffic violations by @MMDA.

We've got a much better idea. @Rudyfarinas pic.twitter.com/JrzoKmJ4Tn

— Superficial Gazette 🇵🇭 (@SuperficialGZT) September 18, 2017

https://twitter.com/lkmantac/status/909782110663147520
Art III: Bill of Rights

"B-O-R-I-N-G"

Sec 11, Art VI
"YAAAS Parliamentary Immunity"

– Fariñas, reading the Consti, probably#KupalNiRudy

— Dear Ate Czaro (@kadgonzaga) September 18, 2017
The gospel teaches us to always strive to be righteous and kind, for the wicked shall inherit hell and there dwelleth Rodolfo Fariñas

Amen.

— BrujaDeputaAdmlnisTraitor (@BrujaDelDemonio) September 18, 2017

https://twitter.com/jdeakin72/status/909751069051297793
I'd agree to Fariñas' exemption if he can promise legislation that will solve traffic in say, a year. If not, let's send him to prison.

— Phil Dy (@philbertdy) September 18, 2017
So govt declares itself diplomats (Farinas) but gets un-diplomatically personal with attacks on independent branches of govt. Confused much?

— JoeAm (@societyofhonor) September 19, 2017

https://twitter.com/_pensieve_/status/909758503744442370
https://twitter.com/lelelelems/status/909802584143126528
Mocha gets to travel to NY at our expense.
Fariñas wants immunity from traffic rules.

Monday pa lang.

— Hazel Nutella (@1nutty_hazel) September 18, 2017
This Cong. Fariñas is nuts! District Reps to be immune from traffic rules?! Yeah, right! #LawMakersLawBreakers

— Simona B. Cemitara (@jacobandgab) September 19, 2017
Who are you? Taong bayan nagpapasweldo sa inyo tapos ganyan nalang. Mahiya sa sarili mo kupal ka Farinas

— st.-chris (@chrizay1025) September 19, 2017
Fariñas wants to be the king of the road. Traffic enforcers, beware or else you can be jailed by delaying the self-proclaimed king.Haleluaih https://t.co/aZ62pYwbCl

— Go to @ErnieJ43 (@ErnestoJoaquin9) September 19, 2017
This is Rodolfo Fariñas on his way to work. pic.twitter.com/qucGkurcqz

— Good Morning Show (@XaveSampang) September 19, 2017
feeling too much entitlement,mr fariñas..?? public servants are you??

— rumbledan (@rumbledan) September 19, 2017
Fariñas is a good example of a bad example.

— Lancie (@tagpi1) September 19, 2017
BIG NO. Rep. Fariñas baka take advantage ang mga yan. Hindi lahat ng congressman/woman ay matino. At gamitin s ilegal n transaction.

— YbrahimYbarro Sapiro (@ybrahimrosapiro) September 19, 2017