10 Most Expensive Traffic Violations In The Philippines
5 min read
Traffic constables are no fun, especially if you're at the receiving end of a violation ticket. But at the end of the day, being issued a ticket means traffic enforcers are really doing their jobs (shoutout to kotong cops) and making sure that you obey the law. Because admit it, some drivers can really pose a danger to other motorists, and we have the numbers to prove that human error is the leading cause of road accidents.
If we want to make our roads safer and, at the very least, less congested, then it's about time we started obeying traffic rules.
The first step toward more disciplined drivers is education. Some of us may think we already know the most basic traffic rules–violation of the Anti-Distracted Driving Act, for all the hype that surrounded it earlier this year, costs at least P5,000–but what about the other infractions?
If you want to avoid making a huge dent in your wallet and engaging in an extensive chitchat with a traffic enforcer, keep in mind how much money–and well, time–you're saving by just following the rules.
1. Using a motor vehicle in the commission of a crime
Fines: P10,000 for first, second, and third offenses
The unholy grail of traffic violations. A vehicle reported to be involved in the commission of crime will get a hefty fee of P10,000 for the first offense. If the investigation warrants it, the police will even seize and examine your car for additional clues. This can take weeks or months, maybe even a year.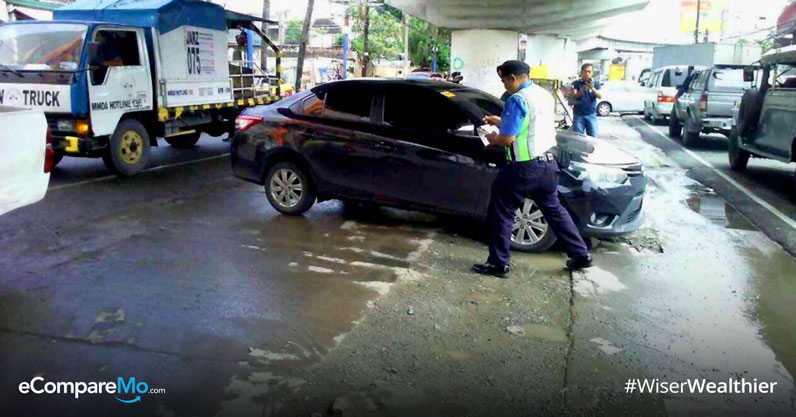 2. Illegal transfer of plates/tags/stickers
Fines: P7,500 for first, second, and third offenses
Your plates are attached to your vehicle for one and only one purpose: To make it easy identify your car for whatever reason. This means you cannot remove your car's license plate or conduction sticker and put it in another vehicle because the details behind those numbers are exclusively for your car.
3. Drag racing / speed contest (Parañaque City)
Fines: P5,000 on first, second, and third offenses
In Parañaque City, one road in particular became a paradise for illegal speedsters: Diosdado Macapagal Boulevard. Before the all the massive structures sprung up in that area, the stretch of Macapagal from the World Trade Center (which is under Pasay's jurisdiction) to its end near the entrance of Manila-Cavite Expressway was a frequent arena for drag racers. To deter illegal racers, the MMDA imposed a 60-kilometer speed limit and a hefty fine of P5,000 on drivers caught participating in a drag race.
4. Colorum operation (passenger vehicle)
Fines: P5,000 on first, second, and third offenses for the operator; P1,000 on first, second, and third offenses for the driver; three months confiscation of plate on first offense, six months impounding of vehicle on second offense, and cancellation of franchise on third offense
Vehicles, especially vans and AUVs, that operate illegally as public transportation face a steep penalty—and more. Aside from the P6,000 total fine for both the driver and operator, the MMDA will also impound them in their headquarters for at least 24 hours. Worth the risk? Not really, if you ask us.
5. Violation of commemorative plate rules and regulations
Fines: P5,000 on first, second, and third offenses
The MMDA has certain rules for the installation of commemorative plates, but the rule of thumb is this: A commemorative plate is not an acceptable replacement for your license plates. If you've superimposed them over your actual car plates, replaced your rear plates with a commemorative plate, or use a commemorative plate beyond one year, then prepare to cough up P5,000.
6. Tampering of OR/CR/CPC/other documents
Fines: P5,000 on first, second, and third offenses; impounding of vehicles for 24 hours for first, second, and third offenses
Your official documents contain a number of specifics about your vehicle: model, make, chassis number, and some details about the buyer of the car. If you get flagged and some of these numbers don't match, then you're going to pay up P5,000 and your vehicle will be locked up for 24 hours. That's a pretty heavy payment, if you ask us so don't falsify your official car documents and keep the real ones handy whenever you drive.
7. Failure to display the regular plate
Fines: P5,000 on first, second, and third offenses
You can accessorize your car all you want, but you must keep in mind that no matter what aftermarket parts you buy, they should never obscure or improperly display your plates. This means no protectors that deliberately make them less readable or anything that covers them. Besides, why would you?
8. Towing fee for stalled/illegally parked heavy vehicles
Fines: P4,500 for first, second, and third offenses
Often, trucks are one of the main sources of traffic on our roads, especially during their window hours. If the window time for the driver to fix his truck lapses, then the MMDA will tow the truck—and we can assure you it's not for free.
9. Fast/defective/non-operational/tampered taximeter seal
Broken taximeter seal
Tampered taximeter seal
Fines: P2,500 on first offense, P3,000 on second offense, and P5,000 and removal of franchise on third offense for the operator; one month suspension of driver's license on first offense, six months suspension on second offense, revocation of driver's license on third offense for the driver
Negative news about taxi drivers are nothing new, but there are others who take it a notch higher and basically steal from their passengers via "batingting." To the uninitiated, this is an illegal device installed by taxi drivers to speed up their meters. That alone, when caught, warrants a suspension for the driver involved and a fine for the operator—but it also means that they've committed other offenses like tampered or broken meter seal.
10. Driving against traffic
Fines: P2,000 and three months suspension of driver's license on first offense, P2,000 and six months suspension on second offense, and P2,000 and revocation of driver's license on third offense
According to Motorcycle Philippines, driving against traffic means "failure to pass to the right when meeting persons or vehicles coming towards him." This means that whether you're deliberately doing a counterflow or you try to overtake the vehicle in front of you through using the other lane, you're committing this violation. Just make sure you are ready to stay away from the wheel for three months and pull out P2,000 from your wallet if you're keen on doing it and you get caught.