Face Masks In The Philippines: Which Type Should You Use?
6 min read
A recent survey by YouGov found that Filipinos rank No. 1 in the world when it comes to use of face mask. Ninety-two percent of Filipinos answered "always" when asked how often they wear a mask when they leave a house.
Following the Philippines is Mexico, with 85 percent; Spain (84%); and Hong Kong, Italy, and Thailand (83%). Americans in the US take the 11th spot, with 59 percent of them observing the use of masks outside of their residences.
This, they say, proves that most of us abide by the Department of Health's (DOH) mandate for everyone to wear face masks and other forms of protective equipment whenever we step out of our homes.
Earlier, the Interagency Task Force on the Management of Emerging Diseases (IATF) adopted the policy for all residents to wear any type of face mask: earloop masks, indigenous, reusable, do-it-yourself masks, face shields, or handkerchiefs.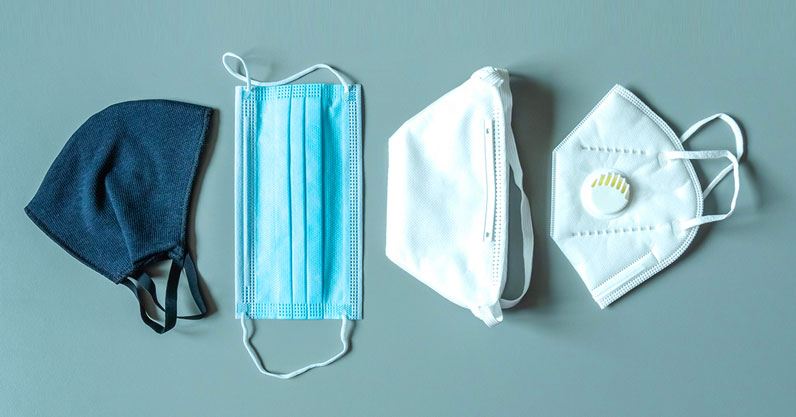 That's because studies show that people can spread coronavirus even if they don't have symptoms, called asymptomatic; or before they have symptoms, called presymptomatic.
Ask yourself: Which type of face mask will give me the maximum protection against the transmission of COVID-19 whenever I am exposed?
With so many protective equipment allowed and available out there, it's important to know which mask you should use before you even buy or make one.
Here, we'll teach you everything you need to know about face masks available in the Philippines, learn which type is best, and how to properly wear them.
Why are face masks important?
When someone coughs, sneezes, or talks, they send tiny droplets into the air. Those droplets may contain microorganisms and viruses that could be inhaled or absorbed into the body by those within six feet. That's how COVID-19 is transmitted and this is where a face mask becomes important.
A face mask covers your mouth and nose. It can block the release of virus-filled droplets into the air when you cough or sneeze, therefore slowing the spread of -19. In a recent statement, the DOH said wearing masks may cut transmission rate by 85%.
QUIZ: How Much Do You Really Know About COVID-19?
Will face masks protect me against coronavirus?
There are many kinds of face masks available in the Philippines. They all have various levels of protection provided. Note that it a big factor at play is how you wear your face mask.
A cloth face mask won't totally block the coronavirus, but it's an added layer of protection for you and the people around you when you use it along with regular hand washing and social distancing measures like staying six feet away from others.
What kind of face mask should I use?
These are the types of face masks currently used in the Philippines. We've included the prices, their effectiveness, and some tips.
N95 masks
DOH and DTI suggested retail price: ₱45 to ₱105 per piece
N95 (or KN95) respirators are the best masks to use because they offer the best protection from coronavirus transmission. N95 respirator masks fit tightly around the face and filter out 95% or more of the smallest particles in the air when worn properly.
This is why health care workers and frontliners are required to wear these at all times whenever they're at work.
What about valve-type face masks?
A word of warning, though. Don't buy face masks with valves even if they're N95 or KN95 certified. They're non-compliant because they allow exhaled air and droplets to escape through a small round or square filter disk attached to the front of the mask.
Surgical masks
DOH and DTI suggested retail price: ₱23 to ₱29 per piece
Surgical masks shield against large droplets that may come from a sick person's cough or sneeze. However, they fit loosely across the nose and mouth to protect against all kinds of germs and they can't block the tiniest particles that may carry coronavirus like an N95/KN95 mask can.
While this may be a viable option, it doesn't offer the best protection.
Beware of fake surgical masks sold in the Philippines
Buy only from legitimate sellers. Some online sellers have been reported to sell counterfeit surgical face masks from Taiwan. They may be cheaper than the standard retail price but offer little protection against viruses.
"The masks, sold in boxes labeled as the brand AiDeLai, are described as 'anti-bacterial, able to keep out smells, dust, smog, sunlight, and can block PM2.5 particulates' in both simplified Chinese and English," reported Taiwan News.
Cloth masks
Price: Varies from ₱35 to ₱200 per piece
Cloth masks are also an option because they're readily available and easy to DIY. Some may even recommend this for those who don't work in health care so all the N95 and surgical masks can be allocated to frontliners who need them the most.
How to wear a cloth mask properly
While conventional cloth masks don't offer much protection against tiny droplets that may carry the viruses, they can be modified to give you proper protection. Here's how:
Use at least two layers of material.
Add a pocket in the middle of the layers so you could fit a filter. You can use an HEPA filter for comparable protection like that of N95 respirators. Be sure to take it out before you wash the mask.
Add a copper or wire ribbon along the edges of the cloth mask to help it fit better.
Researchers recommend using antimicrobial pillow cases for cloth mask making for its breathability, comfort, protection, and fit. Other masks that may offer protection are: dust masks and neoprene masks.
When should you wear a face mask?
The DOH and the IATF recommends that everyone wear face masks in public places while exercising social distancing.
Wear a face mask if you're sick and around other people, even at home. Caregivers should use them when cleaning and disinfecting a sick person's bedroom or bathroom.
Like many things in life, there are exceptions to the rule. Some people such as children under the age of two, people who have breathing problems, or someone who is unconscious shouldn't wear face masks.
Carbon dioxide can linger behind an N95 mask if you wear it for several hours, causing mild problems like a headache, dizziness, and fatigue. But this risk is low with cloth and surgical masks.
Consult the advice of a medical professional first if these people need to leave home for justifiable reasons.
Remember: Face masks should be used in addition to other precautionary measures. You still need to limit your contact with other people, wash your hands often with soap for at least 20 seconds, and keep common surfaces clean.
How to properly remove a face mask
All masks should be taken off after wearing or if it gets damp. Try not to touch any part of the mask that's not the ear loop or tie when you remove it. That's where the germs and particulates are trapped.
If you own a reusable mask, wash it immediately then air dry. Remember to keep tabs on how many times you've reused it. Most reusable masks can only be used up to three to five times. Check the box for instructions.
Surgical masks are disposable. If you wear one, use it once then throw it away. Wash your hands with soap and water afterward.
Read: COVID-19 Test Kit Procedures In The Philippines: Types, Cost, And Accuracy
How to clean your cloth mask
Cleaning your face mask depends on the type and material used.
Wash cloth masks with warm water and detergent or soap after each wear. If your mask has a filter, take it out first and throw it away before washing. Wash your hands when you're done.
Before you use the cloth mask again, check for holes. Be sure the fit is snug and it doesn't have gaps around your face.
For safety, properly dispose of surgical masks, valve-type masks, and N95 masks after one use.
Sources: UNTV, World Health Organization, Department of Health