eCompareMo Looks Back At 2019: 20 Things To Remember
9 min read
As our national hero Jose Rizal said, "Ang hindi marunong lumingon sa pinangalingan ay hindi makakarating sa paroroonan." As 2019 draws to a close, we here at eCompareMo decided to take a look back at our archives for the year.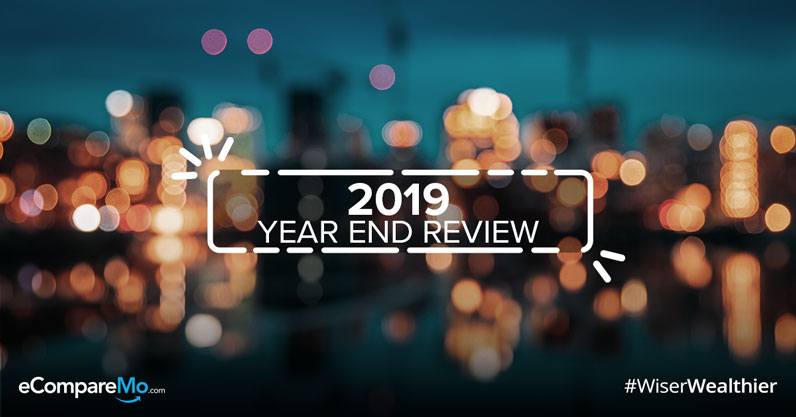 As we both expected and were surprised to find out, there was a lot that happened that affected people's finances, careers, and even lifestyles. Given as we're heading toward 2020, we thought it would be appropriate to look at 20 of the most important and interesting topics we covered.
1. Gains in health care
Good news broke at the start of this year as an amendment to the TRAIN law removed the value-added tax from several ailment-specific medications. As a lot of these are what are known as "maintenance" meds (to control hypertension, diabetes, and cholesterol) this is especially welcome for those of us supporting aging parents or who are starting to reach "that age" ourselves.
Continuing the good news in terms of the health of the Filipino people, the President signed the Universal Health Care Act into law. To know more about how this will affect the quality of healthcare available to both yourself and your loved ones, check out our guide here.
Unfortunately, these games didn't save us from a measles outbreak or a polio resurgence. But hopefully, vaccination programs will once again be more accessible with universal health care.
Oh, and take it as you will but, PhilHealth recently reminded us that contributions will increase starting 2020. You can check out how much that might mean for your paycheck in our explainer here. They do say, however, that this will help fund the programs of the UHC so it could be a loss to your savings that will end up a gain in the long run.
2. Wins for career women and first-time job seekers
The Expanded Maternity Leave Bill was signed into law in February, so now women have 105 days of paid leave to enjoy being a new mother. New dads also now have up to 14 days to spend time with their new family.
Also in February, for better or worse, a law was signed to increase SSS contributions. A gradual increase schedule was released beginning 2019, where the contribution rate increased to 12%.
The next increase is set for 2021, to know more check out our guide here.
In May, just in time for a fresh wave of new graduates to start looking for their first job, the First-Time Job Seekers Assistance Act was signed into law. Because of this, first-time applicants applying for government documents and clearances that they need for employment, can get them for free.
3. Losing billionaires
We lost a tycoon early in the year, but we can all still benefit from the words of financial wisdom of Henry Sy. Sy's death made room at the top of the Forbes list of global billionaires for Manny Villar.
By the way, the richest man is also married to the richest senator as according to the 2018 ROSA and SALN posted in May showed that the declared income of Senator Cynthia Villar was almost P4 billion.
While Villar might have topped the list of Philippine billionaires on Forbes list of global billionaires, he's still behind the Sy family on the 2019 Forbes Philippine Richest list. The second-generation of Sys had a combined net worth of $17.2 billion compared to Villar's $6.6 billion.
Just before the year ended, we also lost another titan of industry, John Gokongwei Jr., familiarize yourself with his riches to rags to riches again story here.
4. Clarification on passport renewal documents and a Filipino ban on certain US visas
There was a bit of a kerfuffle at the start of 2019 when reports spread that the Department of Foreign Affairs had suffered from a data breach.
Despite the fuss, some good did come out of it as it was clarified that birth certificates were not a requirement for passport renewals – old passports are enough.
The US began banning Filipinos from applying for certain seasonal work visas. We can no longer apply for H-2A and H-2B visas. The reason given was a large amount of Filipino's holding these visas who were overstaying.
5. The MMDA's wish list
What did the MMDA want in February? Harsher penalties for jaywalkers. They wanted authority to file charges against jaywalkers and repeat violators to have hits on their records with the National Bureau of Investigation. They got approval of some of their requests from the Metro Manila Council in March.
Also in March, the Metro Manila Council abolished window-hours across the metro. As such, the Unified Vehicular Volume Reduction Program (UVVP) is in force from 7 AM to 8 PM regardless of what city you are in. They did, however, also remind us that senior citizens and persons with disabilities can be exempted from the UUVP, find out how here.
In August, in response to the president's call for road clearing to alleviate the traffic, the MMDA met with Metro Manila mayors to discuss ways of reclaim and clear all public roads in 60 days. You can check out what they decided to do in our article here.
What to know how successful they were? Check out our article written two months afterward where we discuss some of the results. Or, you know, listen to what Waze says's which is basically that we have some of the worst traffic in the world and they don't see that improving anytime soon.
6. Children are the motorists of the future
For the sake of the children, the Child Safety in Motor Vehicles Act was signed into law. This means that, when traveling with kids, your car must have an appropriate child restraint system – child car seat. This goes for all kids aged below 12 who stand at less than 150 centimeters. Find out more details here.
7. Mandaluyong to Makati? How poh?
After a delay due to public outcry, the Department of Public Works and Highways closed the Estrella-Pantaleon Bridge that connected Mandaluyong and Makati. A new bridge estimated to be finished within thirty months and to cost P1.2 billion is rising in its place.
8. Maalaga ang Pinoy
Filipino warmth and hospitality is legendary and probably a big factor as to how 13 of our hotels made it to the Forbes Travel Guide's 2019 list of the best hotels in the world.
9. A foot in the door
For a couple of years now, there were rumblings that the Indonesian transport network company (TNC) Go-Jek wanted to come here. While they have yet to successfully convince the Land Transportation Office to let them operate, they ARE here in the Philippines as they acquired the fintech company Coins.ph at the start of this year.
10. Good idea?
The road board was abolished, so now congress oversees the allocation of the Motor Vehicle User's Charge.
Also, the president declared that it was possible to travel from Cubao to Makati in five minutes, we found that that would only be possible if, among other things, you broke the speed limits.
11. Why can't we have nice things?
Despite the relief that being able to quickly and easily arrange carpools gave to the harried commuter, carpooling app Wunder ceased operations in June.
12. Burn-out, not just a Sugarfree hit
In May of this year, the World Health Organization (WHO) classified burn-out as an occupational phenomenon. According to WHO, burn-out results from chronic workplace stress and can reduce professional efficiency. To know more about burn-out and how to keep it from affecting your career, check out our guide here.
13. Nagkakapa-Kapa ka pa ba?
While members of the Kapa-Community Ministry International believe they are a religious organization, the Securities and Exchange Commission, the Anti Money Laundering Council, the Court of Appeals, and the National Bureau of Investigations believe there are running an illegal investment scam and are treating them accordingly.
What Kapa seems to be doing by asking for "religious donations" seems to be either a Ponzi or a Pyramid investment scheme. We ourselves think it most closely resembles a Ponzi scheme.
Read our explainer on Kapa and the charges against it, and what the differences between a Ponzi and a Pyramid scheme is to make sure that, in the years to come, you can spot a financial scam. Make wiser wealthier investments in 2020.
14. The quest for the best burger
Shake Shack opened in the country in May in Bonifacio Global City. According to our calculations, you would spend at least P250 on just a burger. While the constant crowd of people seem to imply it's worth it, it didn't make our list of the best burgers in the metro.
15. Harsher penalties for not using your bank's ATM
The Bangko Sentral ng Pilipinas (BSP) lifted a 2013 moratorium order that suspended ATM fee hikes. This means that banks can now charge higher for intrabank transactions at their ATM machines.
It used to be set at P10 to P15 in additional fees for an intrabank withdrawal and P2 for an intrabank balance inquiry. It might be a good idea to check with your bank now.
16. An increase in the cost of your pack
If your New Year's resolution in 2020 is to quit smoking, here's some news that will help. A Higher Tabaco Tax Hike was signed into law in August. This means an increase of P45 to P60 per pack of tobacco products starting from 2020 until 2024.
So, starting January 1 of 2020, there will be a P45 increase per pack. Do you have that money to burn?
If, however, you've been trying to kick the habit with the use of e-cigarettes. . . well the government isn't very supportive of that either. Yes, that's gonna be taxed too. Check out the full schedule here.
17. Be careful who you borrow money from
The National Privacy Commission (NPC) came down hard on illegal online lending platforms warning that many of them used tactics that broke several laws.
The SEC backs up the NPC's distrust of online lending, noting that many entities that are registered as lending companies lack a certificate of authority to operate in that capacity, violating the Lending Company Regulation Act. They've been ordering many of these companies to cease operations.
In case you were wondering, predatory online loan providers aren't just a Philippine problem, Google began banning certain apps offering online loans in the US in October.
18. SLEX woes
Southerners started experiencing carmageddon a little earlier this year as a series of "improvements" to the South Luzon Expressway ended up making things worse even as they will reportedly make things better.
The Skyway Extension project began in October and this resulted in a one-way traffic scheme covering the stretch of the SLEX from Alabang to the Sucat Interchange. Because of the resulting hassle, several senators called for a reduction in toll rates.
No. We didn't get a reduction in 2019.
19. New cars!
Motorheads were thrilled at the unveiling of Toyota's update of their iconic sports car the GR Supra. It was released in the Philippines back in July with a price tag of P 5 million. They were also quite happy to welcome two new hatchbacks, the Hyundai Reina and the Kia Soluto onto our roads.
20. Yes, landlines still exist–and so do hopes for a third telco
And as of September, they now have 8-digit numbers. Did you remember to update your contact list?
As of July of this year, a third telco known as Dito Telecommunity Corporation, which is led by businessman Dennis Uy, has apermit to operate in this country.