DFA Passport Renewal Requirements And Other Things You Need To Know
3 min read
Starting this year, the Philippine ePassport (machine readable passport) is valid for 10 years. The 10-year extension is a welcome change from the previous five-year validity period—a really short time if you think about it, especially for frequent travelers and OFWs.
If your passport is expiring and you're looking to renew it, you're going to need to set an appointment this year before completing the renewal requirements.
If you were able to secure an appointment last year, you're lucky. With all the people looking to renew their passports the DFA is currently a bit overwhelmed.
To those who didn't see an available slot, you will have to wait for DFA updates on available slots, as it's full for all DFA offices until June 2018, as of writing.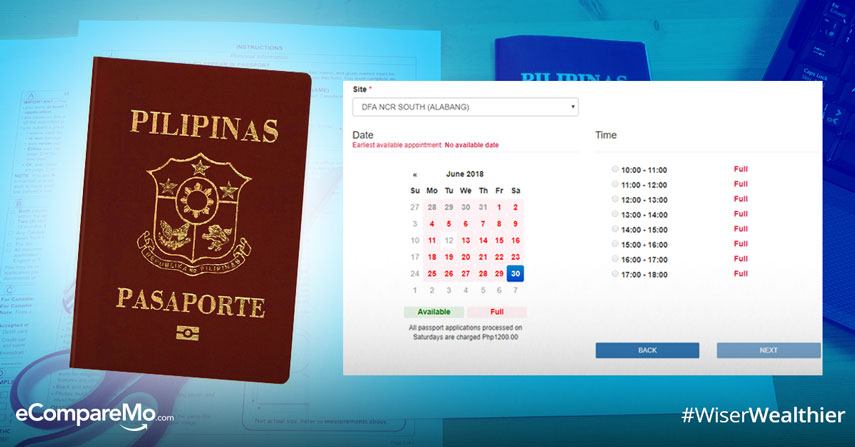 The DFA, however, is planning to open more consular offices in Metro Manila and even launch a passport on wheels system by the end of January, according to Foreign Affairs Secretary Alan Peter Cayetano. They are currently working on speeding up the process of applications, to cater to more applicants who are still waiting for a slot.
It is important to note, however, that OFWs, senior citizens, and infants below one (1) year old DO NOT need a confirmed appointment to apply or renew their passports. OFWs can apply at the DFA NCR-Central located in Robinsons Galleria, Ortigas from 8 a.m. and no later than 12 noon, or at the OFW Courtesy Lane at the DFA Aseana at the ASEANA Business Park, Bradco Avenue corner Macapagal Boulevard, Parañaque City.
All passport applications require a confirmed online appointment from the DFA website . This is where you will choose which DFA office you'll reapply for your passport.
To prepare you early on, here are the Philippine passport renewal document requirements , including special cases such as passport renewal documents for dual citizens, naturalized citizens, and citizens by election.
Standard Requirements for Passport Renewal
Completely filled Application Form from the DFA website
Current ePassport
Original and photocopy of photo-bearing valid government ID (bring at least two different government IDs)
OFW Lane Requirements
Aside from the standard document requirements, OFWs need to submit the following:
Overseas Employment Certificate (OEC)
Exit Clearance
Plane ticket
The regular processing fee is P950, which will take fifteen (15) working days, and Express Processing Fee is P1200, which will only take seven (7) working days.
Change of Name
For those applying for a name change, the following Philippine Statistics Authority (PSA) authenticated documents are required:
Annotated Birth Certificate
Marriage Contract
Annotated Marriage Contract if divorced, annulled, or in case of court-ordered instruction
Spouse's Death Certificate, if applicable
Lost Passport Renewal
According to the DFA website, lost passport renewal is considered as new passport application, and you will need to set an online appointment and bring the following documents:
Standard Requirements for Lost ePassport Application:
Printed copy of Affidavit of Loss, written in English
Police Report
P350 Penalty Fee
Note that valid passports reported as lost will have an additional fifteen (15) days of clearing period.
Lost expired passports only need to submit an Affidavit of Loss, and pay the Penalty Fee of P350.
Damaged Passport
Damaged passport applicants must submit an Affidavit of Explanation, and surrender the damaged passport.
Dual Citizens
Applicants for dual citizen passport renewal must submit the following documents:
Philippine government issued IDs
Birth or Identification Certificate issued by the Philippine consulate or the Bureau of Immigration
Naturalized Citizens
Applicants for naturalized citizens passport renewal must submit the standard passport renewal documents, including the Identification Certificate of Naturalization from the Bureau of Immigration.
Filipino Citizens by Election
Individuals who are Filipino citizens by Election must submit the standard passport renewal documents and the following specific requirements:
Affidavit of Election of Philippine Citizenship
Identification Certificate of Election from the Bureau of Immigration