Dengue Prone Areas in the Philippines
2 min read
Dengue is endemic to all regions of the Philippines. Amid the Dengvaxia controversy, Filipinos have learned that natural prevention is still the best way to avoid contracting this viral infection.
A lot of well-researched factors affect the increase of the dengue-carrying, Aedes aegypti mosquitoes. According to the World Health Organization's (WHO) article on "Better environmental management for control of dengue", these factors are social and environmental.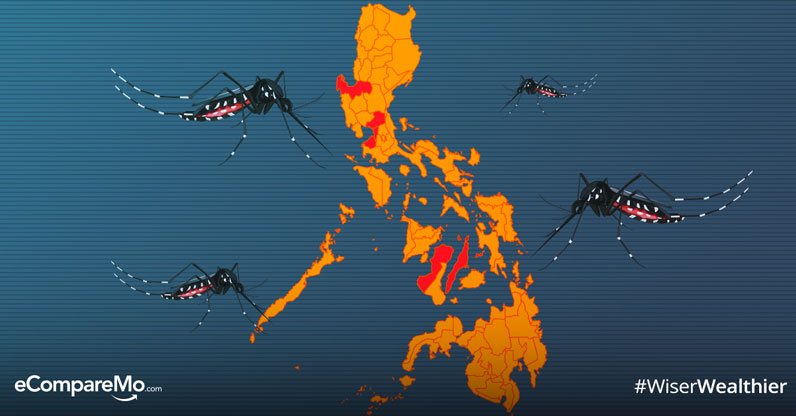 One factor is the increase in urbanization, especially in densely populated areas that lack basic healthcare services. Another factor is climate.  Dengue mosquitoes thrive during the rainy season and they also reproduce and bite more frequently In a country where there's are higher temperatures.
Dengue cases in the Philippines
The Department of Health (DOH) regularly shows the number of dengue cases and dengue-prone areas in the Philippines with their Dengue Disease Surveillance Reports. Just last year, Metro Manila had the highest number of dengue cases with 17.29% out of the 131,827 reported dengue cases nationwide.
According to the Dengue Disease Surveillance Report from January 1 to December 2, 2017, the Philippine regions with the most number of dengue cases last year were :
National Capital Region (NCR) – 17.3%
Region III – 15.3%
Region IVA – 13.1%
Region VII – 9.6%
Region VI – 6.8%
The areas that had the most cases were :
Manila – 17.92%
Cebu – 7.16%
Negros Occidental – 4.19%
Pampanga – 4.10%
Bulacan – 4.00%
Cavite – 3.67%
From January 1 to February 24, 2018 , the DOH Dengue Surveillance Report showed a total of 15,559 dengue cases , which is considerably lower than the same period in 2017 by 32.56%.
These are the regions with the most dengue cases for the first two months of 2018 :
Region IVA – 21.62%
NCR – 17.45%
Region III – 16.04%
Region I – 6.44%
Region VII – 6.06%
Manila still holds the highest number of dengue cases, followed by Cavite, Pampanga, Pangasinan, and Cebu.
Metro Manila – 17.45 %
Cavite – 8.69%
Pampanga – 5.81%
Pangasinan – 5.13%
Cebu – 4.62%
Dengue Prevention and Control
The DOH promotes community and household clean-ups to destroy the breeding grounds of dengue mosquitos. Fumigating dengue-ridden areas also contributes to decreasing the possibility of dengue incidences.
The WHO also recognized the important role of "effective 'bottom-up' community participation" for a more environmentally-sustainable dengue control program. These types of programs instill the habit among individuals to do their part to clean up and prevent breeding areas for dengue mosquitoes.
There is also a steadily increasing demand for dengue insurance products in the Philippines.  These specifically provide coverage for dengue treatment and hospitalization. This product is helpful not just because of its cash assistance, but it also costs less than the average health insurance premium. It especially caters to people who are living in these dengue-prone areas who need to be insured in the event of another dengue outbreak.
Sources:
McMichael AJ et al. Climate change and human health: risks and responses. Geneva, World Health Organization, 2003.
Hales S et al. Potential effect of population and climate changes on global distribution of dengue fever: an empirical model. Lancet, 2002, 360(9336):830–834.