How Much Does It Cost To Import A Used Car To The Philippines?
6 min read
Have you been living in another country for a while and decided to come back home to the Philippines? Of course, one thing you wouldn't want to leave is your beloved car. One question would be…what is the cost of car importation?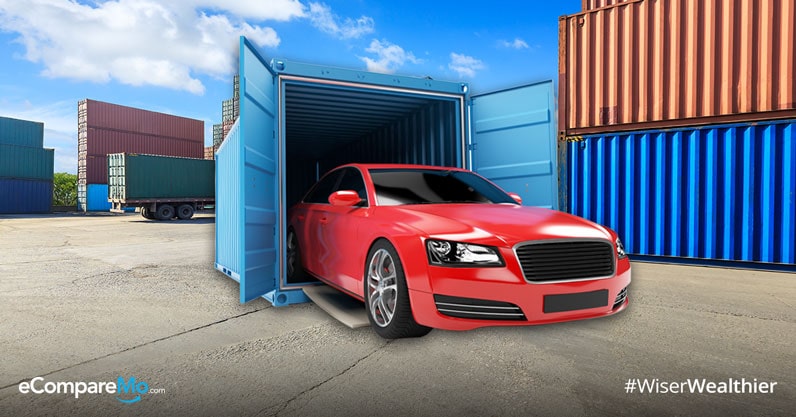 Be it an old car, new car, luxury, or even a vintage car—your main concern must be that you just want to import your vehicle and bring it back to the Philippines with you. In this post, we are going to walk you through the process.
Qualifications for shipping a car to the Philippines
Before you even think about the fee, however, you will need to check if you are qualified to ship your used vehicle.
First, you need to get an import authority permit. You can only get this in the Philippines. It serves as a pass for you to bring in your vehicle from another country.
ASppendix 1-D of BSP Circular-Letter, Series of 1995, dated October 19, 1995, states:
"The importation of used vehicles continue to be regulated and would therefore require prior authority from the Bureau of Import Services (BIS), Department of Trade and Industry (DTI). " – Republic of the Philippines – Philippine Consulate General Los Angeles, California
Who are qualified?
Returning Resident. If you are a Filipino Citizen who has been residing in a foreign country for at least one year, you are allowed to import a used motor vehicle under the No-Dollar Import Program. Residency of a returning resident must be accumulated within the span of three years preceding the exact date when the filing of the application has been made.
Immigrant. A holder of the following types of visas provided under the Philippine Immigration Act of 1940:

A Filipino citizen and a holder of 13G Visa under Sec.13, Sub g(13g)
A foreign national married to a Filipino and a holder of 13A Visa under Sec.13,Sub a (13a)
A Filipino citizen and holder of 47A and 47A2 issued to awardees of Special Government Project/s (SPG).e.g. Philippine Retirement Authority and Balik-Scientist Program.
Other requirements:
The vehicle must have a gross vehicle weight (GVW) not exceeding three tons
It is covered by a Certificate of Authority to Import issued under the No-Dollar Importation Program by the Bureau of Import Services (BIS)
It is personally owned and registered under the name of a returning resident or immigrant at least six months prior to the date of application for permit to import with the BIS
It is only for personal use
It cannot be resold for at least three years
(Republic of the Philippines – Philippine Consulate General Los Angeles, California)
Car qualifications
The vehicle that you are importing to the Philippines has to be a left-hand drive—whether brand new or old. Under RA 8406, no one is allowed to ship/import a right-hand drive vehicle into the Philippines.
If the vehicle is five years old and above, you are not allowed to ship them to the Philippines.
If the car is new and is just about three years old, the owner must have at least lived outside the Philippines for at least a year and the car must be under the owner's name for no less than six months before it arrives in the Philippines.
If the car is three to four years old, the car must have been in the owner's possession for at least one year prior to importation.
Only one car per family in the Philippines can be imported
The vehicle's weight must not exceed 3,000kg
Required documents for shipping a vehicle to the Philippines
Import Authority Permit
Passport of the vehicle's owner that must include the arrival and departure dates
Vehicle Registration
Engine Number
Any valid proof of purchase (ex. Bill of Sale)
Commercial Sale Invoice
Note: The car owner must be present at all times—from the submission of the documents to when the cargo arrives
How to obtain a Prior Import Authority (PIA) Permit
You must visit the Philippine Bureau of Import Services (BIS) in Makati City.
Address: 3rd Flr., Welding Industries of the Philippines Building, 349 Sen. Gil Puyat Avenue Makati City, Metro Manila
Tel.: (632) 8895-7466
You will be required to bring the following documents:
Proof that you have resided outside the Philippines for at least one year within the last three years
The vehicle registration or ownership papers must show that you have been the owner of the vehicle for not less than six to twelve months
Sales receipt or proof that the car being imported has been bought by using money that was earned abroad
Cost of shipping a car
Now that you are qualified to import your vehicle, you must be wondering how much it would cost, and the procedures in doing so. To set your expectations, it can be really expensive.
Aside from the cost of shipping itself, importing a car is subject to applicable taxes or duty fees.
Whether the vehicle being imported is brand new or used, it is subject to a 40% customs duty, 10% VAT, and Ad Valorem Tax from 15% to 100% depending on its piston displacement.
Spare parts that will be sent with the vehicle are also taxable, but they are taxed separately.
(Read: Secondhand Car Buying Guide: Tips To Find The Best Used Cars In The Philippines)
How much are the taxes and duties payable?
You can inquire about this by writing a letter that should provide all the important information about your vehicle: brand, year model, piston displacement, Vehicle Identification Number (VIN), and chassis number.
Send the letter and a copy of the registration to either of these addresses:
Valuation Center and Library, Bureau of Customs, South Harbor, Manila
One Stop Processing Center for Motor Vehicle, Manila International Container Port, North Harbor, Manila
You'll need to save up for more than just the car import tax in the Philippines. There are also other charges shipping fee storage, arrastre fees and demurrage by the shipping line and wharf-age dues by the Philippine Ports Authority (PPA).
Shipping prices
Depending on where you are shipping your car from, it can cost anywhere between $2,500 and $4,000.
Here are some of the average prices for shipping a car from some common cites in the United States to a few places in the Philippines.
| Places | Shipping cost |
| --- | --- |
| Los Angeles to Manila | $350 to $2,300 |
| Las Vegas, NV to Baguio | $450 to $2,600 |
| Portland, OR to Pasig | $475 to $2,400 |
| Columbus, OH to Baguio | $550 to $3,400 |
| Detroit, MI to Manila | $575 to $3,100 |
| Chicago, IL to Pasig | $675 to $3,200 |
| Denver, CO to Cebu City | $775 to $2,400 |
| Memphis, TN to Manila | $800 to $3,100 |
| Miami, FL to Cebu City | $925 to $3,200 |
| Dallas, TX to Manila | $1,025 to $2,300 |
Shipping methods
Roll-on, Roll-off Ferry (RO/RO)
Cheaper way: Ship the car through a non-container vessel. This way, you can save a few dollars. Keep in mind, however, that the vehicle will be exposed to nature's weather mood swings. Remember that shippers are not held responsible for whatever happens to your car.
The pricier option: Import the car on a Government-owned wharf. It will be shipped in a metallic container where it will be protected from the harsh weather changes and even from the passengers of the ship.