SLEX Fare Reduction, Update On The 60-Day Road Clearing, And Other Motoring News
4 min read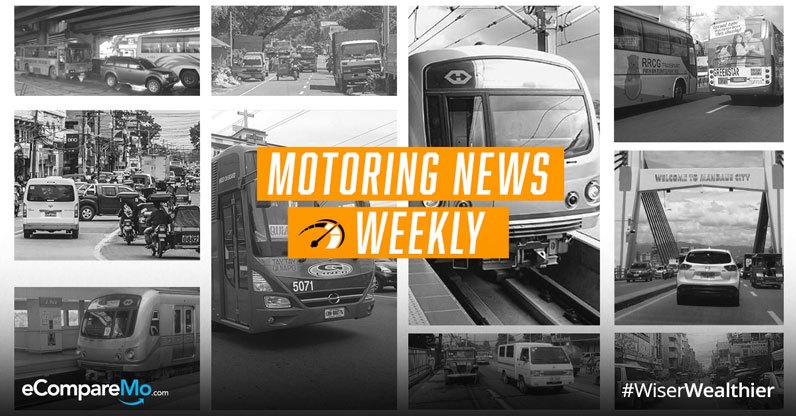 Temporary reduction or suspension of SLEX toll fees proposed
Two senators are calling for a reduction or suspension of the South Luzon Expressway's toll fees for the duration of the Skyway extension project.
The outermost lane of the Alabang Viaduct in Muntinlupa City was closed begining September 24 to facilitate the construction of pylons that will support the 6-kilometer Skyway extension. This has caused massive traffic jams that are affecting commuters in the area.
In a statement released on October 4, Senator Grace Poe said that toll rates on SLEX should be reduced due to the "trouble" that the extension project was causing them.
According to Poe, SLEX traffic is an urgent matter as most commuters from the south have no other way to get to the metro.
Senator Sherwin Gatchalian also released a statement calling for a reduction if SLEX toll fees on October 7.
According to Gatchalian, while construction is ongoing, toll rates should be suspended to provide some relief to commuters.
He believes that the Toll Regulatory Board (TRB) should conduct an investigation into the matter.
'They should call for a hearing and then analyze kung dapat bigyan ng relief ang ating motorists (if our motorists should be given relief). I think it's within the powers of TRB," said Gatchilian.
LRT-2 may be fully operational before Christmas
After getting widespread criticism for its estimate of a nine-month repair, the Light Rail Transit Authority (LRTA) backtracked and said it would return to normal operations within two to three months.
LRTA spokesperson Hernando Cabrera said that a new assessment from the agency's technical team found that the replacement of certain components can be done faster than initially thought.
"If we are going to do a component-by-component replacement instead of doing a full unit replacement, we might be able to bring the time table down to around two to three months only, instead of a nine-month minimum," Cabrera said in a report by the Philippine Star.
Currently, the LRT-2 has resumed operations except for the Santolan, Katipunan, and Anonas stations.
(Read: "Tunnel" Underneath Edsa, LRT-2 Closure, And Other Motoring And Traffic Stories You Need To Know)
MMDA to temporarily lift number coding for Taytay-Quiapo buses
In a bid to alleviate consumer woes in the area, the Metropolitan Manila Development Authority (MMDA) has suspended the Unified Vehicular Volume Reduction Program (UVVRP)—or more commonly known as the number coding scheme—for buses plying the Taytay-Quiapo route.
According to the MMDA, the agency decided to allow more buses servicing people who live in eastern Metro Manila to operate due to the repairs being conducted by the LRTA personnel.
The buses, which traverse mainly Ortigas Avenue, cutting through San Juan before getting to Manila, can serve as an alternate route for commuters affected by the closure of Santolan station of the LRT-2.
The number-coding scheme reprieve for Taytay-Quiapo buses will be in effect" until LRT Line 2 resumes its normal operations."
(Read: RFID Fee Refund, Road Accountability, Araneta-Aurora Intersection Closure, And Other Motoring News)
More than 400 barangays failed to meet the'60-day deadline' to clear the roads
Weeks after the September 29-deadline set by President Rodrigo Duterte, the Department of Interior and Local Government (DILG) revealed that more than 400 barangays in the country failed to heed the chief executive's ultimatum.
According to Interior Undersecretary Martin Diño, the agency will serve a show-cause order to the barangay leaders who didn't complete their road clearing projects.
"They were given 60 days and they did not comply," Diño said in a press conference.
In addition, 97 local government units would also have to explain their failure to clear their roads within the deadlines.
Despite this, Interior Secretary Eduardo Año considered the operation a success as only a fraction of 1,245 local governments didn't complete their objectives.
"We congratulate the LGUs for their commitment. Sa totoo lang, mahirap itong trabahong ito but despite this, we have achieved a resounding participation and compliance from a greater number of LGUs," Año said.
(Read: Metro Manila Road Cleanup, 2020 Mitsubishi Montero Sport Unveiled, And Other Motoring News)
Cebu LGU declares 'traffic crisis'
If Metro Manila loses P3.5 billion daily to traffic, Metro Cebu bleeds P1.1 billion daily, according to the Japan International Cooperation Agency—and that is enough for the provincial government to declare a traffic crisis.
According to a report by the SunStar Cebu, the Cebu Provincial Board moved to declare a crisis due to vehicular traffic as the worsening congestion in the area poses health risks and inconvenience.
With this, Cebu Governor Gwendolyn Garcia asked the Department of Public Works and Highways-Region 7 to propose measures that would ease the vehicular flow. In addition, Cebu City Mayor Edgardo Labella will form a traffic committee that will address the city's traffic woes.
According to Garcia, some of the measures the provincial government can include the building of roundabouts or U-turn slots instead of flyovers, projects from the Land Transportation Office to help citizens become more disciplined drivers, and other measures to help decongest the province.