Check Out This List Of The Most Livable Cities In The World
4 min read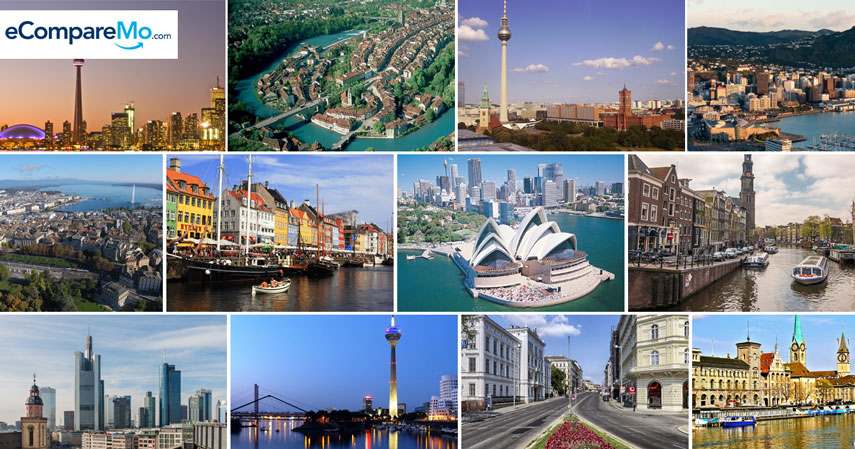 While the Philippines' developing economy ushered in high-technology companies to invest in the country, a significant number of Filipinos have still decided to pursue their careers abroad. According to the Philippine Statistics Authority, there are an estimated 2.4 million Overseas Filipino Workers (OFWs) as of September 2015.
However, not all countries are created equal, and cost of living is unfortunately not the same across cities in the world. Mercer, one of the largest Human Resource Consultancy firms in the world, released their authoritative Quality of Living Rankings for 2016 in an effort to help multinational companies in providing proper compensation packages to their expatriates. Individuals may see this as a guide to which countries provide the best employment and work-life balance.
Over 440 cities have been surveyed and 230 made the cut. The list is based on Mercer's 39 comprehensive quality of living factors, grouped into 10 categories:
1. Political and social environment (political stability, crime, law enforcement, etc.)
2. Economic environment (currency exchange regulations, banking services)
3. Socio-cultural environment (media availability and censorship, limitations on personal freedom)
4. Medical and health considerations (medical supplies and services, infectious diseases, sewage, waste disposal, air pollution, etc.)
5. Schools and education (standards and availability of international schools)
6. Public services and transportation (electricity, water, public transportation, traffic congestion, etc.)
7. Recreation (restaurants, theatres, cinemas, sports and leisure, etc.)
8. Consumer goods (availability of food/daily consumption items, cars, etc.)
9. Housing (rental housing, household appliances, furniture, maintenance services)
10. Natural environment (climate, record of natural disasters)
Manila is ranked at 136, trailing behind our Asian neighbors Bangkok and Kuala Lumpur. Singapore, at 26, is the city in Asia with the best quality of life. The Mercer report lists the following countries as the top 15 most livable cities for 2016:
15. Toronto, Canada
Toronto is Canada's most populous city, a melting pot of diverse nationalities and languages. Canada's welcoming culture paved the way for a more relaxed yet systematized immigration policy, which led to peacefully integrated communities and a steady growth in their economy.
14. Bern, Switzerland
Bern is always listed in the top cities to live in, mainly because of Switzerland's economic status and the overall peacefulness of the city. It is home to historical attractions, churches, and museums, and the Old Town, a UNESCO World Heritage Site.
13. Berlin, Germany
The capital of Germany is its second most populous city with its main source of economy coming from high-technology companies in industries such as air, railway, research, and media. It attracts a lot of tourists and expatriates due to its highly urbanized setting mainly in its night life, contemporary arts, and historic sites, the most popular of which is the Berlin Wall.
12. Wellington, New Zealand
Wellington's appeal mainly comes from its ideal weather and breathtaking coastline amid its idyllic urban setting. It is New Zealand's second most populous city, ripe with diverse cultural and historic scenery.
11. Amsterdam, Netherlands
Although it fell short on landing a spot at the top ten this year, Amsterdam remains one of the most popular and top cities to live in. Tagged as the most liberal city in the world, it offers the best work-life balance and high living standards with its night life, recreation, as well as its scenic natural and historic sites.
10. Sydney, Australia
The largest and most urbanized city in Australia is known for its iconic structures such as the Sydney Opera, with its brimming culture centered in the arts and design. Back dropped by its good weather, coastline, and surf beaches, Sydney has the perfect balance for quality living.
9. Copenhagen, Denmark
Copenhagen is the capital of Denmark and serves as its major financial, governmental, and economic center. Through its solid developmental projects that aimed to provide the best welfare to its people, they became one of the most eco-friendly cities in the world, and earned the top spot on this year's World Happiness Report.
8. Geneva, Switzerland
Home to the second-largest United Nations office, Geneva is incredibly peaceful because of its diplomatic relations and highly educated people.
7. Frankfurt, Germany
Frankfurt am Main is Europe's financial capital, home to large national and international banks and Germany's tallest skyscrapers. Residents and tourists find that despite the highly-urbanized city, its public transportation system (buses, underground trains, and trams) makes it easy to get from one point to another.
6. Dusseldorf, Germany
The capital of North Rhine-Westphalia state of Germany, Düsseldorf has a fairly moderate weather with warmer summers than the lower cities in the Rhineland. Its economic progress as the center for fashion, arts, and hub of media and telecommunications, is balanced with its riverside, scenic walkways, the most famous of which is the Königsallee.
5. Vancouver, Canada
Much has to be admired about Canada's diverse and progressive cities. Vancouver's brimming culture and active economy comprises 52% of linguistically diverse residents.
4. Munich, Germany
Munich is the capital of Bavaria, known for Oktoberfest and its flourishing metropolis. History meets modernity with its art, historical sites, and high tech industries, earning its well-deserved spot as one of the most livable cities in the world.
3. Auckland, New Zealand
Auckland is overflowing with natural wonders, being geographically located at a volcanic field. Surf beaches, rainforests, and regional parks are only an hour's drive away from the city. Its oceanic climate gives the sunniest weather in New Zealand, and everything from its economy, environment, and thriving urban setting is well-balanced.
2. Zurich, Switzerland
It should come as no surprise that Switzerland's wealthiest city earns the second spot for the best places to live in. Like Frankfurt, Zurich is the hub of the largest financial centers and banks. The areas of Zurich are efficiently managed, and the historical and natural sites are well-preserved.
1. Vienna, Austria
For seven years in a row, Vienna topped Mercer's survey for the world's highest quality of living. It is a place of historical sights and modern infrastructures attractive to both tourists and investors, making it one of the wealthiest regions in the European Union. –Kristel Serran