This Online Simulator Lets You See What Causes Traffic Jams
3 min read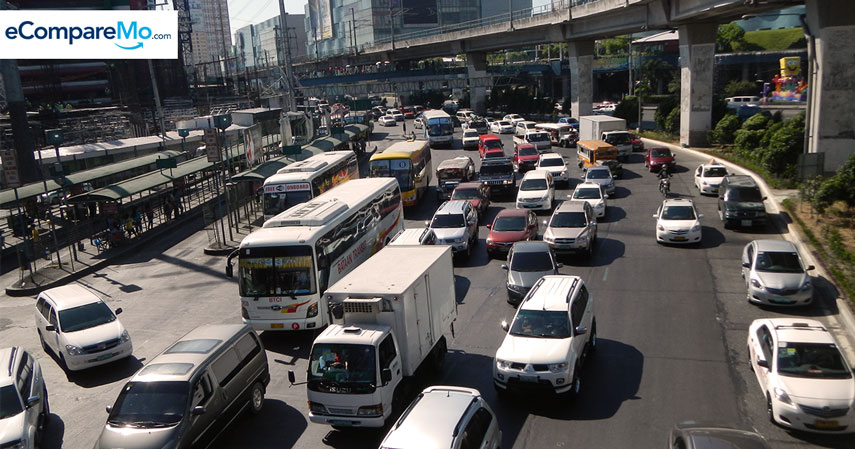 Martin Treiber, a professor at the Dresden University of Technology in Germany, developed an online traffic simulator to prove how even the simplest variables can affect the flow of vehicles on the road.
The website, Traffic Simulator, allows you to play around with several factors such as the number of trucks, vehicular density, ideal speed, acceleration and deceleration speeds, and distance between vehicles. The beta version lets you dictate traffic on a circumferential road, at a road work, on-ramp, and off-ramp.
It is no longer a surprise to anyone that the Philippines is home to one of the world's worst traffic situations, as recent (and daily) traffic jams prove.
Transport agencies in the country have rolled out new schemes–the removal of number coding window hours and the proposed tax hike on new vehicles among them–but as recent studies have shown, it's really driver behavior that causes heavy traffic on the road. This online simulator may just demonstrate exactly how.
Here in the Philippines, there are in fact a number of factors that contribute to traffic jams, particularly in Metro Manila. In addition to the variables given in Treiber's site, here are a few more culprits that we seriously need to look into.
1. Vehicles per kilometer
In 2014, the Japan International Cooperation Agency released a study that highlights the key problems the country can address to finally solve the Philippines' perennial traffic problems. Among those they found is the volume of vehicles per kilometer in the metro, which if left unchecked leads to congestion.
Metro Manila only has 1,032 kms of roads that service more than two million cars. The catch? We have 424 roads per kilometer in the capital alone, more than twice a kilometer can accommodate given that the average length of cars is 4.5 meters.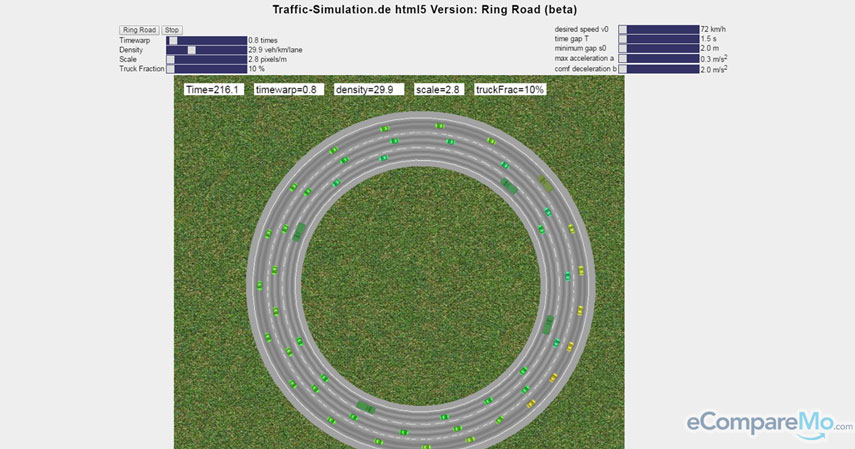 2. Sidewalk vendors
Peddling different items ranging from vegetables, smartphone accessories, clothes, and other trinkets, sidewalk vendors are probably at the forefront of the country's informal economy.
In a report by the Philippine Star, PNP-Highway Patrol Group spokesperson Oliver Tanseco said that vendors occupying the sidewalk push the pedestrians on the roads, which leaves people on foot occupying one vehicle lane.
3. Lack of proper parking spaces
In Japan and India, the heavy vehicular density pushed the government to implement stricter measures for new car owners. To be able to purchase a vehicle, buyers have to present proof of garage to finalize their purchase of a car—and this is also being sought by the government as well.
When owners park their cars even on arterial roads, vehicles can impede normal traffic flow, which in turn can create buildup on chokepoints.
4. Lax license application
A number of online posts and a few first-hand accounts claim that the exam portion given by the Land Transportation Office (LTO) for driver's license applicants are no real measure of aptitude since the answers to the items are posted on the walls.
A video submitted on Top Gear Philippines' Facebook page shows that the practical exams only require takers to do a few maneuvers, which may not be enough to prove a person's driving proficiency.
These lax practices employed the LTO only show why there are a number of poorly educated and ill-mannered drivers on the road.
5. Committing simple traffic violations
When people think of traffic violations, they often remember bigger infractions such as overspeeding, driving under the influence of alcohol or drugs, or driving without a license.
However, little do people know that minor, often unnoticed offenses, such as loading/unloading at non-designated areas and turning without a signal, contribute greatly to the horrible traffic situation in our country.
According to Invest Philippines, it is "these minor behaviors, occurring repeatedly throughout the network that cause congestion in the first place."
Come to think of it, it all probably leads us back to item No. 4.
Have something to add to this story? Share it in the comments.