Car Promos In The Philippines For August 2020
6 min read
It has been a weird first half of the year for car sales to say the least. For two and a half quarters, car sales have been little to non-existent because of the lockdown. Various market research groups have predicted that auto sales for 2020 will shrink anywhere between 20% and 40% compared to previous year.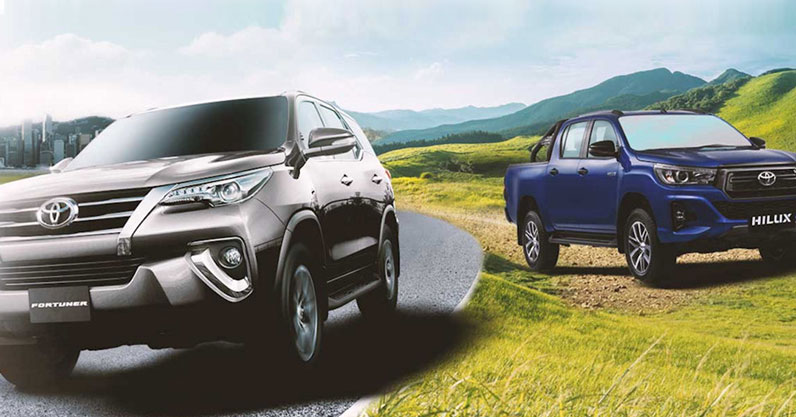 The same groups have also hinted at a comeback rally for the last two quarters of the year. To stimulate this, automotive companies are offering some can't-miss car promos for the month of August.
If you're in the market for a brand-new ride, check out these car dealership deals this August.
Audi
Audi has extended their unbeatable offers in the Audi Factory Warehouse Sale 2.0, where you can get more than ₱1-million discount on select 2020 Audi models. Promo runs until August 31, 2020.
BAIC
To support business coming back into the fold, BAIC is offering low down payment and cash discounts for their commercial vehicles. Their crossover SUV, the BJ20, and the their 7-seater MPV, the M50S, are also up for grabs with huge discounts—dropping their SRPs below ₱1 million. Catch these promos and more by visiting their Facebook page (https://www.facebook.com/baicphilippines/)
Read: Leasing Vs. Owning A Car: Which Will Save You More Money?
BMW
Here's your chance to taste the BMW experience with the August Rush. New pricing options are offered with a worry-free five-year maintenance package and an unbeatable 5-year BMW warranty. Plus, get to see their offers online via the Digital Showroom: www.bethefirst.bmw.com.ph/digitalshowroom.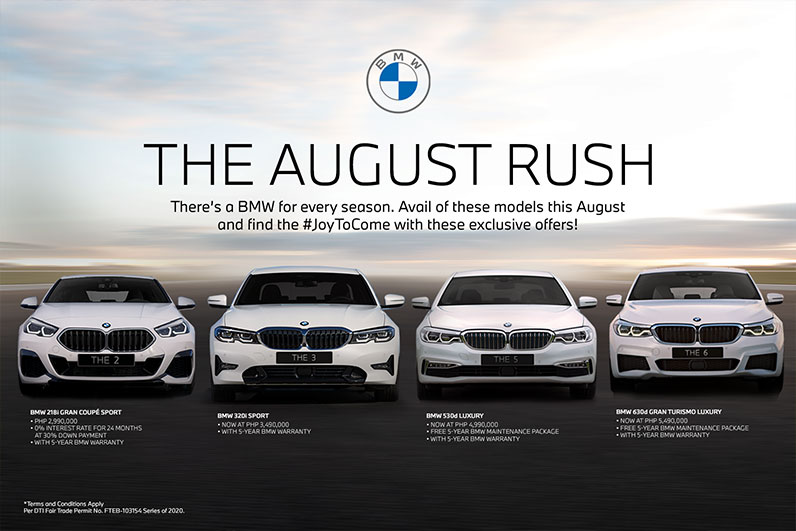 Chery
Chery is paving the way of their comeback into the PH market with the most affordable electric vehicle, the Arrizo 5e. Although not yet available, it is rumored to be priced below below ₱2 million—a cutting-edge price point for an all-electric vehicle packed with state-of-the-art tech. If you're looking for a compact SUV, cash discounts and zero downpayment is available for their Tiggo. You'll also receive a UV disinfection lamp with every purchase.
Chevrolet
Chevrolet is offering all-in low down payments for their SUVs, pickups, and sports cars. The deal is available nationwide and includes a free two-year PMS. Inquire at a Chevrolet dealership near you.
Ford
Ford will be unveiling their latest subcompact SUV, the Ford Territory, this August 14 in their official Facebook page. The spawn of Ford and Chinese car manufacturer JMC has been previously available in other territories such as Australia and China, and should bolster Ford in the competitive area of crossover SUVs. Cash discounts and zero and low all-in down payments abound this month in all Ford dealerships.
Foton
Foton is also launching the all-new Gratour van on August 14 at 12 noon in the FOTON Philippines Facebook page. The multi-purpose van is slated to be a contender in its class, with focus on space, efficiency, and comfort for cargo or people-moving. Other vehicles in their roster such as the Foton Thunder pickup truck, the TransVan, and Toplander SUV can be had with low down payments or cash discounts. Commercial vehicle promos are available upon request.
GAC
GAC's sedan, the GA4, is available at zero downpayment with ₱10,000 cash back upon release of the unit. It also comes with five-year warranty and flexible payment options.
Geely
The best-selling Chinese brand in the world, Geely, offers a special ₱120,000 discount for frontliners looking for the highly regarded Coolray and Azkarra. For everybody else, an all-in low down payment promo is available for all trims.
Read: Is It Time To Take Chinese Car Brands Seriously?
Haima
Catch the Haima Mega Sale with low all-in down payments and cash discounts offers for their Haima V70 MPV and Haima S7. Freebies like free one-month amortization and free one-year preventive maintenance service are still included in their package.
Honda
Great deals are up for grabs this month with Honda's Great Deals, Bright Tomorrow promo. Get as much as ₱300,000 cash discount on select models and variants. Plus there's a free Blaupunkt air purifier with every purchase of specific Honda vehicles.
Hyundai
Hyundai follows up their "buy one, take one" limited offer with zero downpayment deals for the Grand Starex, Tucson, Reina Accent, Kona, and H350. Oh, and you still can get a FREE Hyundai Accent with a purchase of the Hyundai Santa Fe GLS until August 31, 2020.
Isuzu
Isuzu pickup trucks, SUVs, and commercial vehicles can be purchased with huge cash discounts, and zero or all-in down payments. If you're in the market for a rugged SUV, the Isuzu mu-X 3.0 LS-A 4×2 AT SRP is discounted by ₱300,000: from ₱1.795 million to ₱1.495 million.
Kia
Take on the road with Kia's Worth the Drive deals. The Kia Forte is now available at 0% interest for 24 months. Promo is extended until August 31, 2020. You can check out other offers by visiting Kia Philippines website and get a quote online.
Maxus
Cash discounts up to ₱50,000 are offered for the Maxus T60 pick up, Maxus V80 van, and Maxus G10 minivan this month.
Mazda
The Mazda CX-9 SUV and BT-50 pickup are now available to be purchased with a ₱200,000 cash discount and an additional two-year year PMS on top of their free three-year PMS care of Yojin3 Total Care. Offer is only good until the end of August 2020. Visit Mazda's website (https://www.mazda.ph/offers) for offers on their other models.
Read: LTO Driver's License Application Guidelines During MECQ
Mercedes-Benz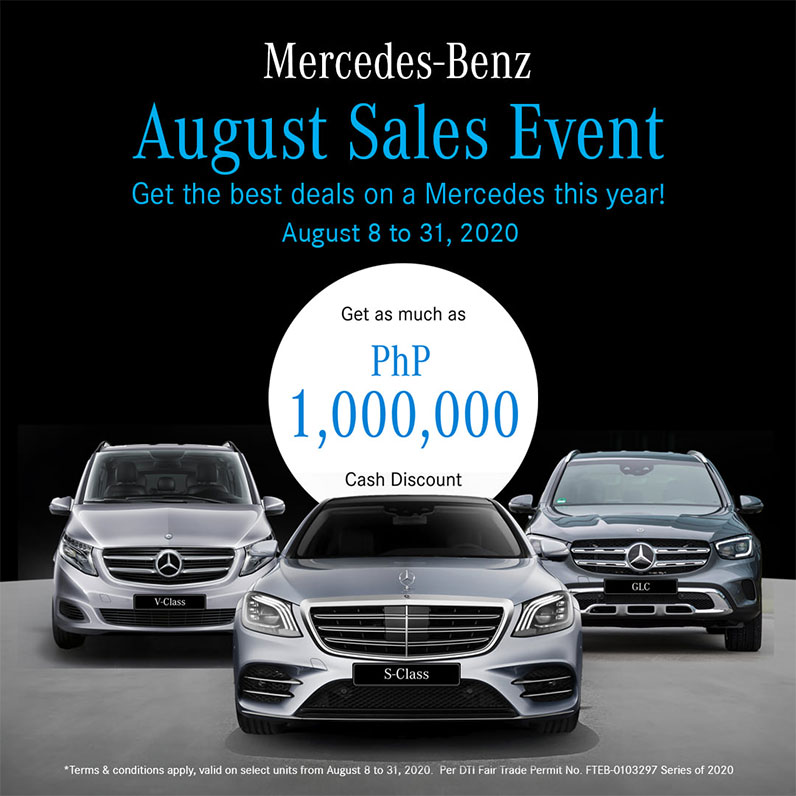 Until August 31, get the best deals from Mercedes-Benz for 2020. Avail of discounts of up to ₱1 million. Plus, 0% monthly amortization promo is still open to all customers who will purchase these Mercedes-Benz units:
A180 Progressive
C180 Avantgarde
E180 Avantgarde
E200 Avantgarde, Exclusive, AMG
E220d Avantgarde
S320
V220 Base
Promo ends on September 30, 2020.
MG
Select MG vehicles are now available for zero downpayment, with additional cash discounts to boot with MG's Back on the Road promo. Promo runs until September 6, 2020.
Mitsubishi
This month, enjoy Mitsubishi's Head Start promo. Save your first two months amortization with every purchase of the Mirage G4 and Mitsubishi Xpander. Promo is valid until August 31, 2020.
Nissan
With the kick off of Nissan's rebranding and virtual showroom, they're offering zero downpayment for all their vehicles such as the Nissan Navara, Terra, Urvan, X-Trail, and Almera. Experience their immersive virtual showroom here.
Peugeot
Get your Lion Pass to enjoy up to ₱100,000 on cash discounts or La Boutique accessories. All purchases include three years + two years extended warranty coverage, plus Easytrip and Autosweep RFID. Offer is good only until August 31, 2020.
SsangYong
Enjoy cash discounts with SsanYong's car promo deals this month of July. Up to ₱235,000 in savings await those who choose to buy the SsangYong Rexton 4×4 AT SUV.
Subaru
Good news for those who want to experience Subaru's brand of driving. The Subaru XV, Forester, Levorg, BRZ, and WRX are up for grabs with cash savings as much as ₱200,000. Also, you can purchase your pick of the lot without leaving the comfort of your home with Subaru SPEED. Select the Subaru model you want, go through the buying process, and have your brand-new car delivered to you without ever stepping on the showroom floor.
Suzuki
Suzuki is extending their Back 4 More deals until August 31, 2020. Low all-in down payments available for all models and variants (except for the Jimny). Check out the full details of their promo on their website.
Toyota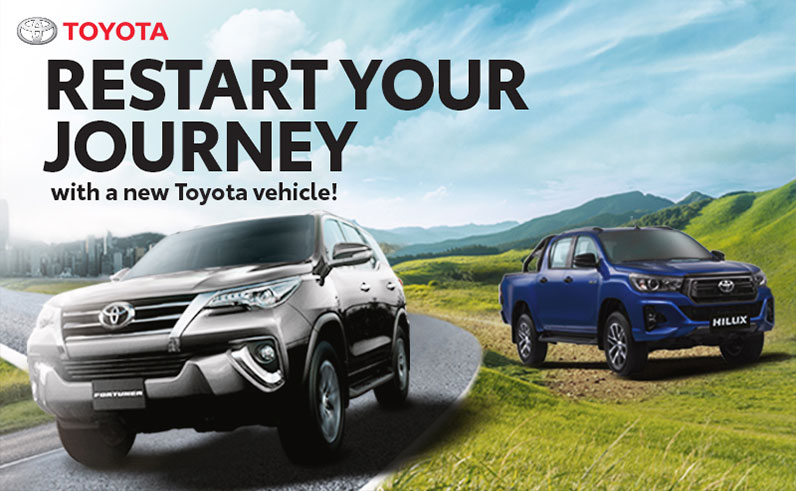 Restart your journey with Toyota's pay low, pay light, or savings deals. Choose among all-in packages, low monthly amortization plans, and outright cash discounts at any Toyota Motor Philippines' dealer nationwide. Promo runs until August 31, 2020. For more information, check out their promos website.
Read:2021 Toyota Vios: Here's A Look At The Prices, Features, And Variants
Volkswagen
Volkswagen Philippines wants us to get ready to move with their special offers for the Lavida and Santana. Get savings of up to ₱85,000 for the Lavida, their midsize sedan; and up to ₱90,000 discount on the Santana, their compact sedan. Promo is extended until August 31, 2020.
Volvo
Feel the Swedish Summer with Volvo. Enjoy up to ₱1 million on special deals on their range of award-winning models. You can inquire via the Volvo Concierge:
Website: www.volvocars.com/ph/
Email: volvoph@volvophils.com
Mobile Number: 0917 623 6366