'Build, Build, Build': This Is Where Your Taxes Are Going, According To The Government
2 min read
It has been a month since the Tax Reform for Acceleration and Inclusion Act (TRAIN) was officially implemented. Amid mixed reactions from taxpayers, the Department of Finance (DOF) has stressed that the tax pesos are going to 75 flagship infrastructure projects worth a combined total of $36 billion.
According to Finance Undersecretary Grace Karen Singson, the enactment into law of TRAIN will ensure a steady revenue flow totaling P786 billion over the medium term for the government. This is a means for the administration's "Build, Build, Build" program to have the funds it needs to push through.
What are they building?
The Build, Build, Build program is part of the current administration's vision to reduce poverty incidence from today's 21.6 percent to 14 percent by 2022. By modernizing the country's infrastructure, the government hopes to sustain rapid growth, attract investments and attain economic inclusion for all Filipinos.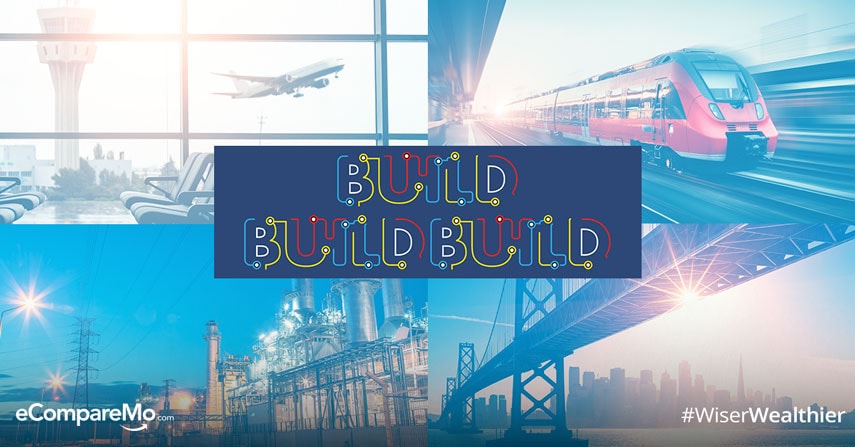 Most of the projects on the pipeline aim to improve the country's aging transportation sector to bring down the cost of production and improve the movement of goods and services. It's also hoped that they will encourage countryside investment and improve rural incomes. The projects include:
6 airports
9 railways
3 bus rapid transits
32 roads and bridges
4 seaports
The program will also be focusing on providing cheap and stable electricity; a stable water supply for the agriculture sector; protection against the impact of climate change; and redevelopment. These projects will be broken down as follows:
4 energy facilities
10 water resource projects
4 flood control facilities
3 redevelopment programs
The Build, Build, Build program's projects are also expected to create 1.7 million jobs by 2022.
Less income tax, greater economic activity
Singson's optimism echoes that of her boss, Finance Secretary Carlos Dominguez III, who expects the economy to expand faster this year as the government's plan to modernize public infrastructure begins to fall into place with the additional revenue from TRAIN.
More ever, Dominguez adds that he expects the sizable personal income tax cuts that the public will experience due to the TRAIN implementation will boost consumer spending and spur greater economic activity.
When will we see the change?
According to Undersecretary Rolando G. Tungalan of the National Economic and Development Authority ground was already broken for one of these projects before 2017, and 15 were already rolled out last year. Next year, 10 flagship projects will be launched and four are planned for rollout in 2020. The groundbreaking schedules for the remaining projects have yet to be determined.
According to a report in The Philippine Daily Inquirer, the Department of Public Works and Highways will be rolling out many of the planned infrastructure projects this year.
12 bridges that will cross the Pasig and Marikina Rivers and the Manggahan Floodway.
Panguil Bay Bridge project connecting Tangub City, Misamis Occidental and Tubon, Lanao del Norte
The Department of Transportation will also be implementing several key Build, Build, Build projects this year.
Mindanao Rail project
Philippine National Railway North 2 project
Extension of PNR North 1 from Malolos, Bulacan, to Clark International Airport and Clark Green City
PNR South Long-Haul project