Boracay Hotel Accommodations: From Affordable to Expensive [Updated]
15 min read
The Philippines is home to many beautiful beaches, but Boracay's beauty never ceases to impress. The island remains one of the most popular tourist destinations, being ranked seventh in the 2017 TripAdvisor Travelers' Choice Awards.
Apart from the famed Boracay White Beach, the charm of this island in Aklan also lies in the unbeatable combination of fine white sand beaches, majestic sunsets, and crazy fun night life, flavored with genuine Filipino hospitality and filled with both luxury and affordable beach resorts.
You may ask (especially if you've been there before), what's left for me to do in Boracay? Well, tons, really. There's literally never a dull moment here. To get you started, here's a rundown of the top 20 things to do in Boracay–consider it your Bora bucket list.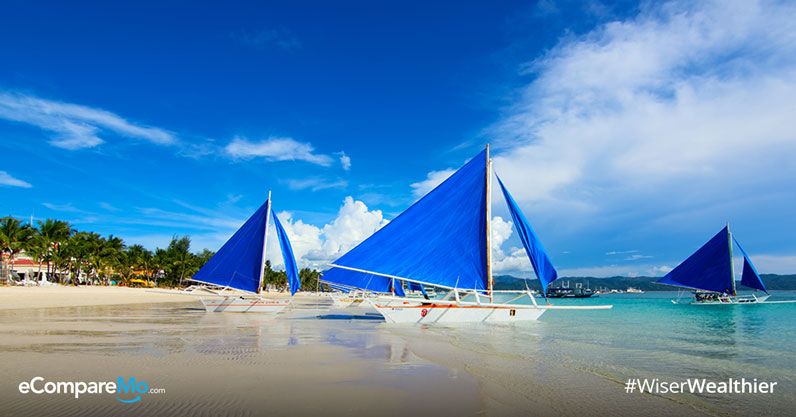 Some of these activities may be booked together with your hotel accommodation. Just inquire about Boracay travel packages from your chosen hotel.
Cliff Diving – Ariel's Point
Kite Boarding
Snorkeling
Helmet Diving – like diving, but with a glass helmet and you're standing underwater (no special training required)
Free Diving
Scuba Diving – PADI certification
Wind Surfing
Parasailing
Wave Riding
Paraw sailing
Aquarium Ocean Walk
Mermaid Swimming – at the Philippine Mermaid Swimming Academy
Island Hopping
Jet Ski
Zipline
Banana Boat
Kite Surfing
Fly Fish
Cultural Tours
One such tour is going to the Motag Living Museum. It's only a 10- to 15-minute drive from the Caticlan Jetty Port, or from Caticlan airport. This community-based museum gives visitors a glimpse of the unique life and culture of Aklan province, before the tourism boom took place.
NOTE: Prices may vary per season, so it's important to note the following tourist seasons in Boracay.
(Read: Kalanggaman Island: A Pocket Guide For Weekend Warriors Of All Kinds)
Peak season
Chinese New Year. Every first or second week of February
Christmas and New Year
Holy Week
Labor Day. Every May 1. Going to Boracay for Labor Day is a long-standing tradition, so the island is jam-packed for the week-long festivities.
Lean season
According to Boracay tourism websites, this generally starts in October, continues until the summer months, and ends in May. Come May, there's what's known as LaBoracay or the Labor Day festivities, so room rates can get pretty steep. Advanced booking is highly recommended.
Off-peak season
This is during Habagat season, from May to October. This is when the island experiences more rain and occasional storms. It's also not uncommon to see the occurrence of green algae marring the shoreline of White Beach. This is the best time for tourists who prefer to enjoy a quieter and less-crowded Boracay experience.
We've taken our pick of the best and most affordable accommodations in Boracay.It's divided into three price ranges, so you'll surely find the one that's right for your budget.
You'll be surprised at all the affordable hotels in Station 1, as well as beachfront and budget-friendly hotels in Boracay's Station 2. Though a bit farther, there are also charming residences and inexpensive accommodations in Station 3, or even further along Bulabog Beach, for those looking for more privacy and an intimate beach experience.
And since Boracay is a world-renowned international destination, we made sure that each of these hotels on the list accept credit cards for reservations and online bookings to make things easier for everyone. Most, if not all of them, are also found on travel booking sites like Agoda or Bookings.com.
We've also thrown in the best list for affordable accommodation in Boracay especially for backpackers, as Boracay's travel culture is rich and diverse all year long.
Top Hotels in Boracay: P5,000 to P10,000/night
1. Boracay Beach Club
This family owned business is located along the strip of more established Boracay hotels in Station 1. The 30-room establishment can be found just across Ariel's House lounge, and is a few minutes' walk to the Station 1 main beach. It's conveniently located near restaurants and night spots on the island, guaranteed to give you an enjoyable and pleasant stay.
Their Deluxe King room starts at USD 80 or roughly P4,000 per night, excluding 12% VAT. Room reservations includes free breakfast for two. You may also opt for their travel packages, with more information available on their website.
Boracay Uptown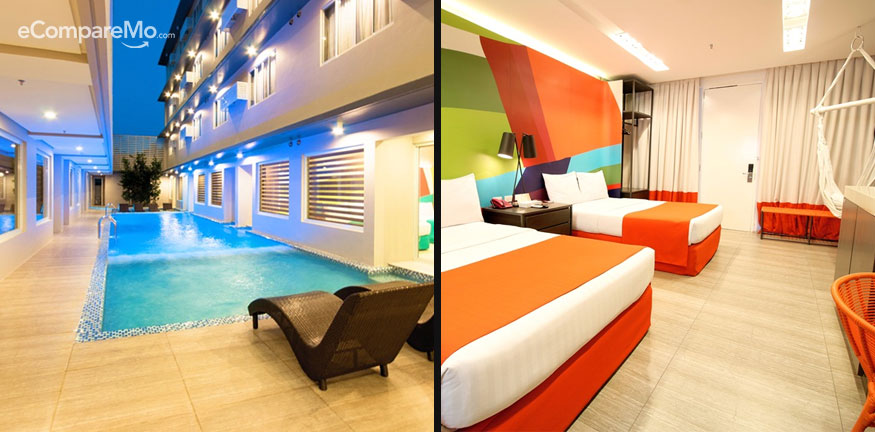 You'll find Boracay Uptown in the middle of busy restaurants, bars, and hotels lining the shores of Boracay Station 2. This is mainly where all the night life is happening, so booking a room at Uptown means you'll be in on all the fun near your accommodation.
Room rates start at P5,000 per night for their Superior Room, which includes breakfast for two. Discounts are available especially during lean season – whether you book through their website or aggregator sites like Agoda.
2. Ferra Hotel
The 37-room boutique hotel is located in Laketown, a 6-minute walk from D'Mall, Boracay's central hub for restaurants and shops. Their Standard Queen room starts at P4,200 with breakfast for two, free cancellation, and no prepayment.
From Ferra Hotel, White Beach is only a 10-minute walk away. Aside from their Standard and Superior Twin Rooms, they also have Deluxe Queen Rooms, One Bedroom Suites, and One and Two Bedroom Lofts backed with lots of positive reviews on Trip Advisor.
They have an outdoor swimming pool, a roof deck bar you can lounge in and meet other tourists at, a restaurant, as well as tour services you can avail to truly make the most of your vacation.
3. The Tides Boracay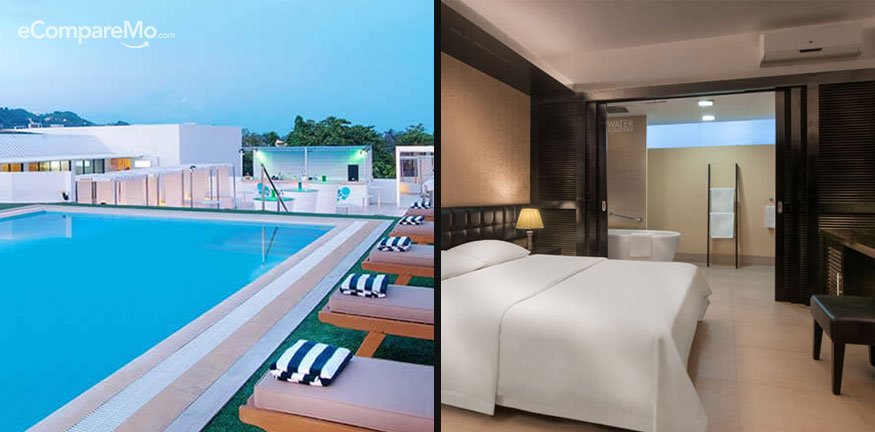 Another luxurious yet affordable hotel is The Tides, providing uniquely-themed rooms, complete with spa treatments, an outdoor swimming pool, and a fully-equipped fitness center. Its strategic location at D'Mall Station 2 gives you easy access to nearby restaurants and clubs, right in front of White Beach.
You may also enjoy a panoramic view of Boracay's famed sunset at the Solstice Sun Lounge, the first-of-its-kind chill-out bar and bistro with a swimming pool and full-service bar and kitchen. Whether you're going on vacation with your family or intimate getaway for two, you are guaranteed to enjoy the comforts and central location of Tides.
Room rates start at a total cost of P3,375 with their Essential Room (Superior) – Deluxe. Choose between two twin beds, 1 queen sized bed, or 1 king bed. You may also opt for their Exceptional Room (Premiere) at P4,275 per night.
4. Boracay Holiday Resort
Welcoming you with its beautiful gated façade and swimming pool, you can find the Mediterranean-inspired Boracay Holiday Resort a few minutes away from the Station 2 main road. Their prices range from P1,465 to P3,789 per night, including breakfast and free parking.
Amenities include a bar and lounge, restaurant, and a fitness center. It's only three minutes away from White Beach –  an affordable accommodation with spacious rooms with veranda to complement your relaxing and comfortable beach trip.
5. Agos Boracay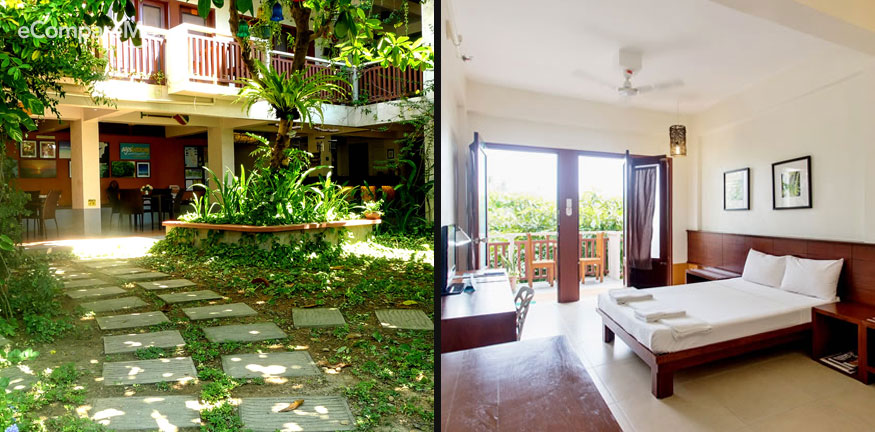 Another high-rated hotel is Agos, an apartment hotel with rooms and suites starting at only P2,410 per night for their Superior Room. Their 27 air-conditioned rooms are spacious and clean, complete with the comforts of a hotel. If you're looking for a peaceful and relaxing Boracay accommodation, Agos is perfect for families or couples looking for an intimate stay on the island, since it's far from the highway and noise from the beach side, especially at night.
Agos is owned by a Filipino family, providing you with authentic Pinoy hospitality. If you need more information, visit their website and see the rave reviews of customers from leading travel sites.
6. Le Soleil de Boracay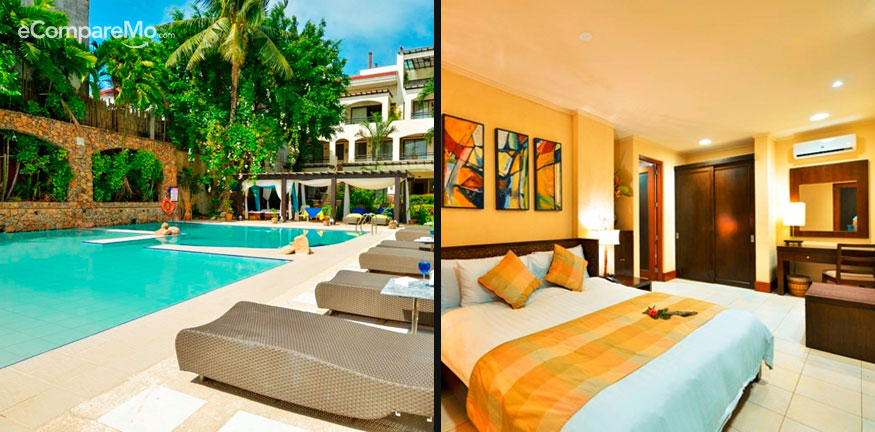 Le Soleil is one of the more popular and established hotels of Boracay. They made this list not only because of their popularity, but because they've maintained quality accommodation and efficient staff service, as shown by consistent positive reviews from their satisfied customers.
Room rates this low season start at P2,778 for their Deluxe Room with breakfast. This special rate is offered on aggregate travel websites, but Le Soleil's website shows that their rates can go up to P6,000 per night – particularly during peak season.
7. Fairways & Bluewater
For those who seek privacy and quality time with loved ones, Fairways and Bluewater offers complete resort amenities away from the busy white beach. It is located on the other side of the island, with private beach coves, six swimming pools, and an 18-hole championship golf course set within their luxurious resort building.
This low season, total cost per night starts at P3,940 for their Superior room with breakfast, including complimentary shuttle services from the resort to D'Mall – the central hub of Boracay – from 9AM to 10PM.
And since the beach is private, you can freely go jet-skiing, parasailing, and even horseback riding along the shore.
8. Boracay Haven Resort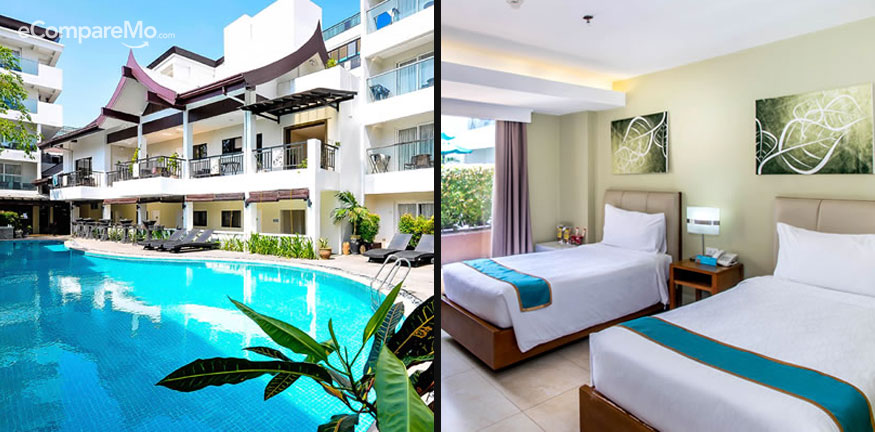 Three-star hotel Boracay Haven is situated at Station 2, 10 minutes away from D'Mall and White Beach. You can choose to stay at the Boracay Haven Resort, or at Boracay Haven Suites, with their luxurious rooms featuring a classy and reasonably-priced loft.
Their Deluxe Room starts at P3,185 per night, with one-month advanced booking. Amenities include an outdoor swimming pool and a restaurant. If you need more convincing, positive reviews of their world-class customer service and affordable accommodation are posted on Trip Advisor from both foreign and Filipino customers.
9. Astoria Boracay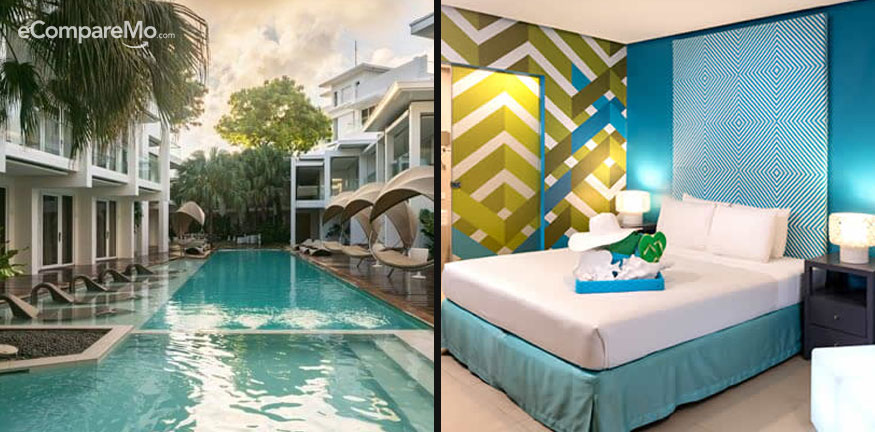 Though it's pricier than most of the other hotels on the list, Astoria's classy and luxurious accommodation makes it part of this list. Total cost per room starts at P7,260 for their Deluxe Room with buffet breakfast and first-class amenities. Free airport pick-up is also available when booking their rooms. Choose from Deluxe, Deluxe Pool Room, Luxury Room, Premier Room, and the Honeymoon Suite, which comes with a Jacuzzi and private veranda.
Located in Station 1, lounge by the beach in front of the hotel, or enjoy a morning dip in their stunning outdoor pool. Beach activities may also be arranged with their courteous staff.
10. Discovery Shores Boracay
This award-winning hotel has it all. Luxurious and world-class service, set at a classy and quiet location at the more tranquil tip of Boracay's Station 1. This year, it ranked number 7 on the Top 25 Hotels in the Philippines, and 9th for the Top 25 Hotels for Service.
Their outstanding accommodation is lauded by satisfied customers on Trip Advisor. Room rates start at P10,500 for their Junior Suite, which of course comes with 5-star amenities, including "bathrooms [that] feature a full glass wall overlooking a scenic rock garden." This resort offers:
One Bedroom Suite
One Bedroom Suite Premier with a private Jacuzzi by the balcony, with a breathtaking view of the beach.
Two Bedroom Suite that can house up to six guests; this 120-square meter suite has a living and dining area with toilet and bath for each room.
Two Bedroom Suite Premier with a mezzanine level, with a private deck and Jacuzzi on the first level and a lovely view of the beach.
Affordable Boracay Hotels: P3,000 to P2,000/night 
1. Spiderhouse
One truly unique way to experience Boracay is by staying at Spiderhouse Resort in Diniwid Beach. Located on the other side of the island, it's only a few minutes' tricycle ride from the main beach.
Spiderhouse has native-style bamboo rooms by the sea, and tree houses perched along the mountain. The rooms are open and spacious for that authentic beach experience, so there's no air-conditioning unit or a TV in any of their 12 rooms. There are, however, mosquito nets over the beds, and fans in all the rooms.
Room rates start at USD 55 this low season, which converts to roughly P2,772 per night. Other rates are as follows:
Room Type
High Season
(Oct 25 – May 31)
Low Season
(June 1 – Oct 31)
Peak Season
(See Below)
Bamboo Double w/ Sea Views
$60.00
$55.00
$70.00
Treehouse Double w/ Partial Sea Views
$75.00
$67.50
$90.00
Bamboo Queen w/ Sea Views
$90.00
$80.00
$110.00
Treehouse Twin w/ Partial Sea Views
$90.00
$80.00
$110.00
Bamboo Twin w/ Sea Views
$100.00
$90.00
$120.00
Bamboo Suite w/ Sea Views
$110.00
$100.00
$130.00
Room rates as posted on their website.
2. Deparis Beach Resort
Right in front of Station 2 White Beach is Deparis Beach Resort. They offer one of the cheapest beach front accommodations starting at P2,100 this low season for their Front Standard room, including breakfast for two.
They also offer their Full Accommodation at P4,600, which covers your room of choice, airport pick-up upon arrival, boat transfer, environmental and terminal fees going to the island, and a dinner buffet.
Happy hour at their bar is from 5 to 10 p.m., with discount promos. Their diverse cuisine ensures that all their customers' cravings are satisfied, with the option for buffet, and seafood and a la carte servings too. Enjoy dining by the beach from sunset until 11 p.m.
3. Boracay Gems Boutique Resort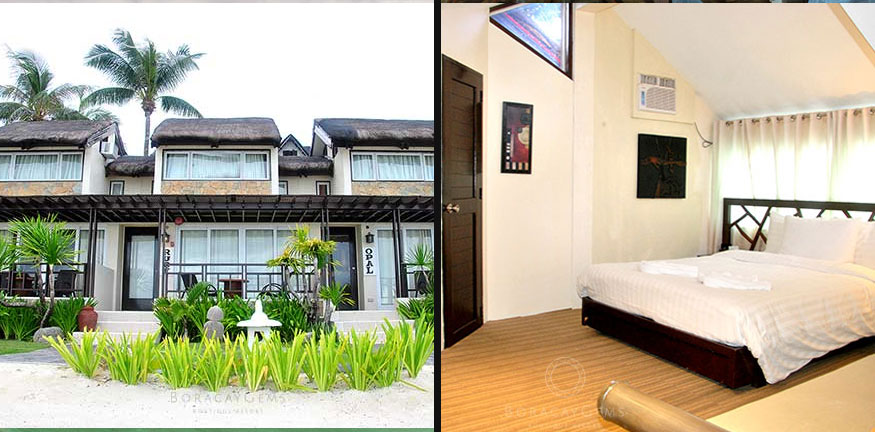 Located at the east side of Boracay at Bulabog Beach, where most kitesurfing and windsurfing take place. It's 15 minutes away from the bustling White Beach, and has its own unique atmosphere with a number of hotels lined up on the shore, too.
Boracay Gems' Sapphire Studio rate starts at P2,500 per night. This beachfront hotel also offers suites with Jacuzzi and private balconies, for those who want a superior hotel experience.
4. Shore Time Hotel
Visible from the main road, Shore Time Hotel provides clean and spacious rooms that can accommodate guests in their Standard Room, Standard Twin Room, to their Penthouse and Loft rooms.
You won't have a hard time finding it, as it's just across the popular restaurant Obama Grill. Room rates start at P3,000 per night, breakfast included. As it's one of the top-rated and best value-for-money accommodations in Boracay, it's best to book your stay at least three months ahead.
5. Chateau De Boracay
Found at the back of Villa de Oro Resort in Station 2, it provides comfortable, clean, and affordable beachfront accommodations. They offer all the comfortable amenities you expect to find in a budget-friendly hotel, including good food and outstanding staff service.
Room rates start at P2,200 via Booking.com.
6. Hey Jude Resort Hotel
This budget hotel is right in the middle of D'Mall, with room rates starting at P1,686 per night (with breakfast). You'll be in the middle of all the shops and restaurants, and you won't run out of nearby dining options, from the affordable jaunts to the fine dining at nearby hotels and restaurants by the beach. It's conveniently located next to bars, clubs (check out Epic), and basically everything that's happening in Boracay.
7. The Lazy Dog Bed and Breakfast
Quite popular among backpackers, the Lazy Dog's native ambience gives off a rustic and bohemian vibe. Tourists who prefer to enjoy more contemporary amenities also have the option to stay in their modern and spacious hotel rooms.
Their Standard Twin Room starts at P1,425, while Dorm rooms are only priced at P660 for their 8-Bed Mixed Dorm.
(Read: 5 Affordable Beach Resorts In Batangas)
Affordable Hostels in Boracay: P1,000 and below
Boracay's eclectic culture makes it a great place for backpacking, and an exciting place to meet fellow travelers. Those on a budget will be happy to know that the island has plenty of accommodation options for them, too.
Upon your arrival at the Caticlan Jetty Port, you may already be greeted by locals who have readily available rooms at really low rates–convenient if your trip was a spontaneous one. But for those who are planning to book beforehand (a wise move especially during peak season), here are the best picks a comfortable yet budget-friendly stay on this beautiful island.
1. Frendz Resort and Hostel
Hang out at the Frendz common area and meet fellow sun worshippers. They also have rooms that meet every budget traveler's needs. It's only a few minutes away from D'Mall, and situated in between Stations 1 and 2.
One offer are beach activities such as Island Hopping, Kitesurfing, and their Legendary Pasta Night, where you can mingle with fellow travelers and other locals to the tune of live music every Wednesday and Sunday. Here are their rates:
| | |
| --- | --- |
| Basic Native Room | P1,000 |
| Deluxe Native Room | P1,400 |
| Standard Native Room | P1,200 |
| Casa Female Aircon Dorm | P300 |
| Casa Mixed Aircon Dorm | P300 |
| Casa 4 Bed Aircon Dorm | P300 |
| Aircon Mixed Native Dorm | P300 |
2. Mad Monkey Backpackers Hostel
This backpacker hostel has a swimming pool and bar, and houses dorms with affordable, comfy, and clean rooms. They're known for their legendary Booze Cruise and Go-Kart tournaments.
Dorm rooms have air-conditioning, a secure locker for each guest, and access to their private pool and lounge area and bars. The Boracay night life is only a few minutes' walk away.
Take a look at their room rates. No deposit required, with discounts available especially during low season.
| | |
| --- | --- |
| 4 Bed Dorm Standard (Mixed) | P350 |
| 4 Bed Female Dorm | P350 |
| Superior Twin Room Private | P1,000 |
| Superior Double Room Private | P1,200 |
| Superior Triple Room Standard | P1,400 |
| Deluxe Double Ensuite Standard | P1,300 |
| Deluxe Twin | P1,300 |
| Private 4 Bunk En-Suite | P1,300 |
3. Boracay Backpackers
Another well-known spot for backpackers is Boracay Backpackers, which hosts travelers from all over the world with their range of spacious and clean dorm rooms and private rooms amid a festive tropical vibe. Their rooms include free breakfast, mostly with no refund once booking is confirmed.
It's also between stations 1 and 2, and is literally a minute away from White Beach.
| | |
| --- | --- |
| 8 Bed Dorm | P345 |
| 4 Bed Dorm | P419 |
| Fan Room | P750 |
| Deluxe Standard | P1,450 |
| Budget Room | P1,150 |
| Standard Room | P1,650 |
4. MNL Boutique Hostel Boracay
Road 1-A, Bulabog Beach
You may have seen MNL Boutique Hostel along Makati Avenue, but they also happen to house even more travelers at their snazzy place in Boracay. Each bunk bed has its own secured drawer and night light, and your booking comes with free breakfast, too.
Meet fellow travelers at their common room, or simply chill out and take in the beach vibe at their rooftop terrace. Either way, you're in for a comfortable and budget-friendly stay. Rates are as follows:
| | |
| --- | --- |
| Twin AC – 2 persons, private | P825 |
| Double AC – 2 persons, private | P800 |
| Deck Suite AC – 2 persons, private | P850 |
| 4 Bed Mixed AC | P600 |
| 6 Bed Mixed AC | P500 |
| 8 Bed FEMALE AC | P600 |
| 8 Bed Mixed AC | P450 |