Bonifacio Day: The Myth Of "Poor" Bonifacio And Other Things To Know
4 min read
Every November 30, we get the day off for the Bonifacio Day holiday. The holiday is meant to commemorate the heroism of Andres Bonifacio, who was born that day way back in 1863.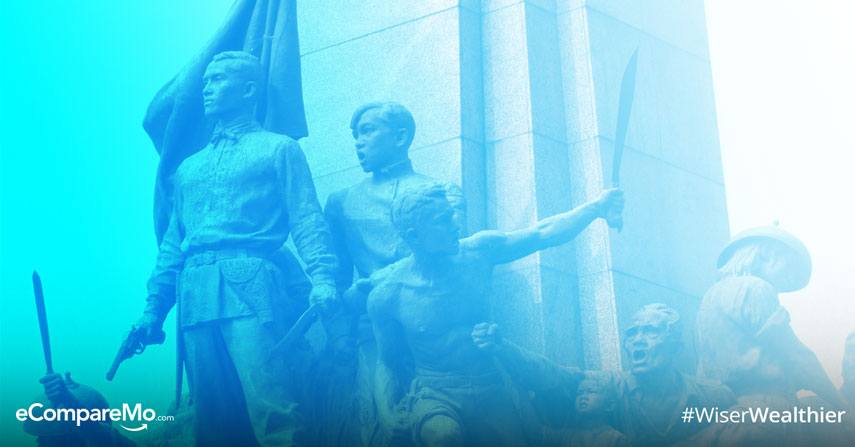 Dubbed the Father of the Philippine Revolution, Bonifacio founded the Katipunan and rallied Filipinos against the Spanish colonizers in a bid for freedom.
A regular holiday
Like Independence Day and Rizal Day, November 30 is a regular holiday. Like all regular holidays, work is suspended in both public and private sectors and employees will receive their daily wages. If companies require their employees to work on a regular holiday such as Bonifacio Day, they will be entitled to twice their daily pay and their hourly overtime rates are multiplied 2.6 times.
(Read: Here's A List Of Mandatory Employee Benefits In The Philippines)
Since Bonifacio Day is considered a regular holiday, keep in mind that banks also follow the same schedule so don't expect them to be open on the 30th. This means you have to schedule your transactions like credit card bill payments before or after the holiday.
Unlike Rizal Day, which was celebrated on the date our national hero was executed by the colonizers, Bonifacio Day is remembered on his birthday. This is because he was killed by the Filipino revolutionary government when Emilio Aguinaldo ordered his arrest. He was subsequently tried on sedition and treason charges against the Aguinaldo government despite insufficient evidence. Bonifacio was executed in Cavite on May 10, 1897, with his brother Procopio.
The myth of poor Bonifacio
In contrast to Jose Rizal who is the embodiment of the bougie crowd among the people who revolted against Spain, Andres Bonifacio is often depicted as a man without culture and riches, often imagined by the majority as a camisa de chino-clad leader who would rather fight the colonizers with guns and bolo knives. Is there any truth in this popular depiction of Bonifacio?
Turns out, scholars beg to differ that the hero of the masses was poor. Although Bonifacio's socioeconomic status is still confusing up to this day, it isn't accurate to say that he was impoverished.  Ambeth Ocampo wrote that Bonifacio's sister Espiridiona said tried to combat the stereotype perpetuated against her brother.
"There is nothing wrong with being poor as I am now, but we were not poor as rats as pictured by some writers. Just because we made fans and canes does not mean we were destitute. In fact, the family business was doing fairly well and some of our best canes sold from P50 to P100 each," said Espiridiona.
Aside from hawking their family wares at what were pretty expensive prices for the time, Bonifacio was also known to be a sharp dresser. According to a report by Rappler, a historian revealed that the Supremo would always appear neatly dressed and "and of his penchant for carrying an umbrella regardless of the weather." In addition, the only surviving photograph of the hero is him wearing what seems to be a coat and tie. This is in contrast to the barefoot camisa-wearing depiction of Bonifacio in popular culture.
Jack of all trades
Bonifacio's socioeconomic status isn't the only aspect of his life constantly surrounded by misinformation. Because he was orphaned at a young age, people thought he was uneducated as well.
But, according to the National Historical Commission of the Philippines, Bonifacio received his education from a certain Guillermo Osmeña in Cebu, where he stayed until he was almost 14 years old. His schooling was cut short by the death of his parents. He supported his family by selling fans and canes.
Aside from hawking their goods, Bonifacio also worked as a warehouse keeper, clerk-messenger, poster maker, and a performer at a moro-moro theater, a street play that dramatized the victory of Christians against Muslims. According to historian Xiao Chua, Bonifacio would be raking in a salary that would equivalent to P18,000 in 2013.
(Read: 6 Filipinos Who Achieved Great Feats At A Young Age)
Bonifacio wasn't just a hardworking individual; his hunger for knowledge matched his work ethic as well. While working as a sales agent at the German company Carlos Fressel & Company, his employer would catch him reading at their warehouse titles such as History of the French Revolution, Victor Hugo's Les Miserables, Lives of the Presidents of the United States, The Wandering Jew, and so much more. He is also known as a big fan of Jose Rizal, having read the author's two novels, Noli Me Tangere and El Filibusterismo. Despite having no formal higher education, he also went over various law and medical books.
These books fanned his yearning to struggle for independence which later gave birth to the Kataas-taasan, Kagalang-galangang Katipunan ng mga Anak ng Bayan. The secret revolutionary group is also known as Katipunan or KKK.
Like the statues that now celebrate his heroism, Bonifacio stood tall and proud despite the countless trials and tribulations he faced, both as an ordinary person and as a leader. Since we live in an age where "heroes" are no longer admirable, maybe it's time to look back at our heroes from decades back and learn from their ways.