Toyota Rush Recall, CAVITEx-C5 Link, And Other Motoring News
4 min read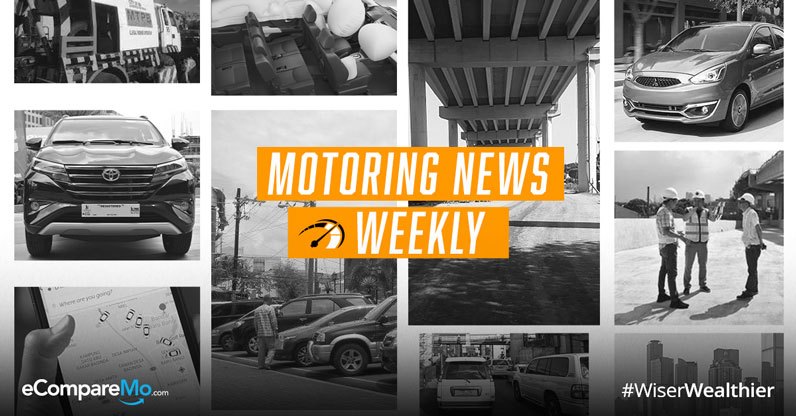 First part of the CAVITEx-C5 Link project now open to the public
A 2.2-kilometer segment of the Manila-Cavite Expressway (CAVITEx)-C5 Link is now open to the public, effectively cutting the travel time from Villamor area in Pasay City to Fort Bonifacio in Taguig City.
According to DPWH Secretary Mark Villar, the first portion of the CAVITEx-C5 Link Flyover will serve as an alternate route for those who want to cut through the traffic on Sales Interchange, reducing the travel from 90 minutes to more than half.
The CAVITEx-C5 Link will charge drivers with P22 for class 1 vehicles, P44 for class 2 vehicles, and P66 for class 3 vehicles.
As for the rest of the 7.7 elevated expressway, the entire infrastructure will be open to the public in 2022. It is expected to benefit more than 50,000 vehicles every day.
Isko Moreno orders crackdown on illegal parking attendants
Manila City Mayor Isko Moreno recently ordered the arrest of illegal parking attendants after members of the Mendiola Consortium aired their parking woes in the area.
"That is usurpation of authority. They are not deputized by the city government. They don't belong to our personal services or as an employee. I-entrap niyo iyan, gawan ito ng proseso," said Moreno in a report by ABS-CBN News.
According to the Manila Consortium, a group of educational institutions within the area, these "car watchers" would bill parking owners more than the fee the Manila Traffic Parking Bureau charge them. Vehicle owners, who are mostly students from nearby universities, would be forced to pay up to purportedly avoid damage to their cars.
The Consortium also reported broken CCTV cameras in the area, the influx of illegal vendors on the streets, and other concerns regarding the safety and security of the students in the area.
Government orders return of hatchback as TNVS units
Transportation Secretary Arthur Tugade finally gave hatchbacks and subcompacts the green light to operate as transport network vehicle service (TNVS) units.
According to Tugade, the Land Transportation Franchising and Regulatory Board (LTFRB) should reallow hatchbacks and subcompacts under certain conditions. They can only operate as TNVS units within the three-year transition period. In addition, they should only fetch and carry passengers within Metro Manila and charge commuters with lower fares.
Buendia-Plaza Dilao Skyway portion to open
Although not yet completed, the Department of Public Works and Highways (DPWH) has announced that portions of the Skyway Stage 3 will be open to motorists.
According to DPWH Secretary Mark Villar, Section 1 of Skyway's Stage 3 from Buendia to Plaza Dilao will be opened to the public. While the construction is still underway, they will allow one lane for each direction to make driving from Manila to Makati more convenient.
"Skyway Stage 3 Section 1 is not fully completed yet but we are opening two lanes, one each for north and southbound so that vehicular traffic will be dispersed from the congested main roads in the area," said Villar.
With a maximum speed of 40 kilometers per hour, motorists, according to Villar, would be able to cut their travel time from Manila to Makati to 10 minutes or even less.
NLEX Harbor Link construction to cause heavier traffic
Brace yourselves, northerners: parts of the C3 Bridge in Navotas will be closed to motorists to give way to the construction of NLEX Harbor Link Segment 10 C3-R10 Section.
According to Metropolitan Manila Development Authority (MMDA) General Manager Jojo Garcia, car owners who usually pass through the bridge should know the rerouting scheme designed by the agency.
Vehicular traffic from C3 Road to Radial Road 10 and vice versa will now have to pass through Dagat-Dagatan Avenue and Lapu-Lapu Avenue. Meanwhile, heavy vehicles can keep the course as the remaining lanes of the C3 Bridge are designated to them. Traffic constables of the MMDA and NLEX Corporation will be present in the area to assist drivers in the area.
"We are advising motorists to plan their trips ahead and, at the same time, seek their understanding as the partial closure of C3 Bridge is necessary to complete this project on time," said Garcia.
The NLEX Harbor Link project is expected to be completed before the year ends.
Toyota PH issues recall of Rush units
Toyota Motor Philippines said that units of Rush produced between April 2018 and December 2019 should take their units to the nearest dealership.
According to the company, some units of Rush have a defective airbag electric control unit (ECU) that deploys the shield airbags even during the slightest vibrations sent to the vehicle such as driving over potholes.
According to Toyota, the company already sent notices to Rush owners to take their vehicles to any of the company's dealerships nationwide for a free replacement of the airbag sensor.
"As safety is Toyota's No. 1 priority, we strongly urge our customers to bring the unit to their preferred dealership immediately upon receipt of our notice. While servicing of the unit is pending, we urge our customers to take extra precautions when driving on uneven roads," the company said in a statement.