2020 Best Budget Laptops In The Philippines
5 min read
With the extended community quarantine, a work-from-home setup is quickly becoming the new normal for an increasing number of employees.
If you're one of those affected by this shift—or are simply a student, professional, or freelancer looking for a reliable notebook computers—here's a list of affordable laptops to buy this year. We've sorted them into different prices ranges, starting from ₱15,000 to as low as ₱9,000.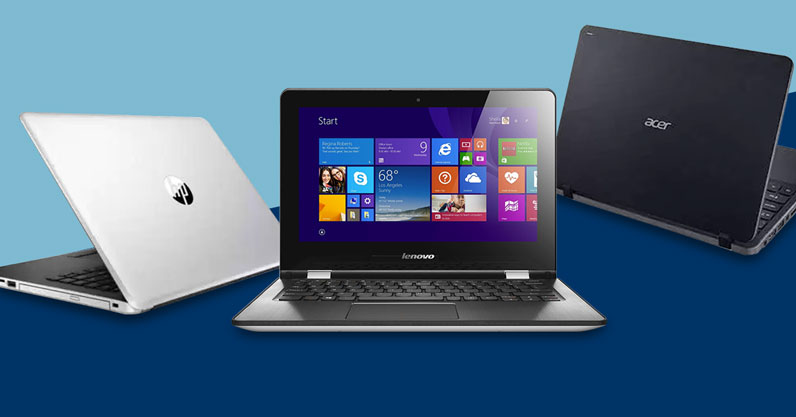 ₱15,000 and below
Lenovo Yoga 300-11IBR
Price: ₱14,859
Unlike most laptop and desktop computers, the Lenovo Yoga 300-11IBR can play videos in 4K ultra high definition resolution with ease so you can enjoy watching your favorite films or shows in its utmost crisp and smoothness. It's made possible by a built-in HD graphics chip that can handle strain of heavy resolution videos.
However, this Yoga model doesn't have the best hardware for video games. This unit is perfect for your personal use and visual media viewing.
Acer TravelMate TMB117-M
Price: ₱14,699
Commonly, laptops worth ₱15,000 and below have a battery life that can only last for about six hours. The Acer TravelMate of the same price range boasts nine hours of battery life even on continuous use, which can also be extended through its energy-saving features.
The budget notebook computer also has built-in solid state drive (SSD) for more efficient operations and transfers of data, making it the best choice for people who love traveling or remote employees who work outside and unable to find an electric outlet.
Read: Make 'Work From Home' Work For You With These Best Practices
Acer Aspire ES1-132-C2HG
Price: ₱14,448
OS and built-in apps usually eat up a big portion of the storage even without personal files. That's one problem resolved by this Acer model. It has 500GB of storage capacity all for your important files and utilizes ChromeOS, which takes up a significantly small portion of it.
The Acer Aspire ES1-132-C2HG comes with an 11.6-inch display but has an HDMI port that's usually found in 14-inch laptops and above—if you need a bigger external display option. Although it has limits on performance because of the OS, it's useful for storing bulks of files in various formats.
Acer Extensa 15 EX2519-C49F
Price: ₱14,449
­­­­­­­Strained eyes are a normal result of prolonged exposure to computer screen radiation—a problem this Acer unit intends to address. The Acer Extensa 15 EX2519-C49F has technologies called ComfyView and BluelightShield to lessen the eye discomfort and screen glare.
This budge laptop also has a full-sized keyboard and anti-slip casing for efficient typing and safe unit transfer.
Lenovo Ideapad 100S-14IBR
Price: ₱13,999
A quiet system is what this model offer. It doesn't have a fan or any cooling system, but its build makes it stay at normal temperature even with multiple tasks and applications open.
The Lenovo Ideapad 100S-14IBR also has an extra M.2-2280 slot in its motherboard that allows users to expand the memory storage by installing an additional SSD or eMMC. It also lessens the noise during video calls.
HP Laptop 14-BS582TU
Price: ₱13,999
Affordable laptops have screens that are difficult to look at under bright light, but this model is singled out with its high-definition LCD screen and WLED backlights—an appropriate device for people who stay outdoors. The downside is it only has the MS Office trial (pre-installed but without a product key). You either need to buy the full product or use alternative apps that come at a cheaper price.
Lenovo IdeaPad 120S-11IAP
Price: ₱13,999
A laptop is made for easier transport, but carrying one can be a hassle because of its bulkiness and weight. This Lenovo model is lightweight at 1.2 kilograms for truthful mobility, and is considered the most portable and suitable for outdoor use on this list because of its matte screen with an anti-glare feature. However, the IdeaPad 120S-11IAP has a small 64GB storage, which is only good for the OS and essential programs. You have to bring an additional external drive or opt for cloud storage.
₱13,000 and below
Asus E402WA-GA010T 14″
Price: ₱12,359
If you are a writer or a professional who often writes long documents and reports, this Asus 14-incher is perfect for you. It chiefly boasts a highly sensitive keyboard that only needs 68 grams of force to type, making fast typing very efficient. It also has a 14-inch screen weighing 1.2 kg—highly recommended for remote work.
Acer Chromebook CB311-7H-C5ED
Price: ₱10,489
This uber affordable laptop is a winner among the lineup of affordable models. It's powered by ChromeOS, and comes with a solid keyboard and an array of pre-installed Google applications. If durability is your concern, it has a military-grade build of MIL-STD-810G that can resist forms of damage like humidity, vibrations, mechanical shocks, and others.
Though it doesn't have a keyboard backlight, which is normal among low-cost laptops, this Acer Chromebook is something you can rely on especially if you are looking for a reliable workhorse.
Read: Best Gadgets 2020: Top Tech To Watch For In The Philippines
₱10,000 and below
Nextbook Flexx 10
Price: ₱8,499
Entry-level laptops usually have problems with viewing angles because of the low-grade screens. In this model, the problem is not a thing to worry about because it has an IPS screen with a good display at any angle.
The unit has a micro HDMI port as compared to the standard one, so a converter is needed for you to connect the laptop to a TV or media player. This is best for sharing movies without the need to use another device.
These affordable laptops may not be chock-full of powerful features, but if you are able to sort out your priority (or the purpose for the laptop use) or are looking for a capable work-from-home machine, any of the gadgets mentioned above are worth the buy.