Beat Inflation: A First-Timer's Guide To Buying An Electric Scooter
6 min read
If you want the portability and maneuverability of bicycles and the convenience of a motorcycle, then the electric scooter just might be the answer to your city commuting woes. So here, we've come up with a guide to buying an e-scooter.
Bikes may be the most economical and environmentally friendly way to beat traffic. However, pushing the pedal for hours can make you sweaty and grimy.
Heavy traffic and high oil prices won't go away any time soon, so how about we reinvent the way we get around the city?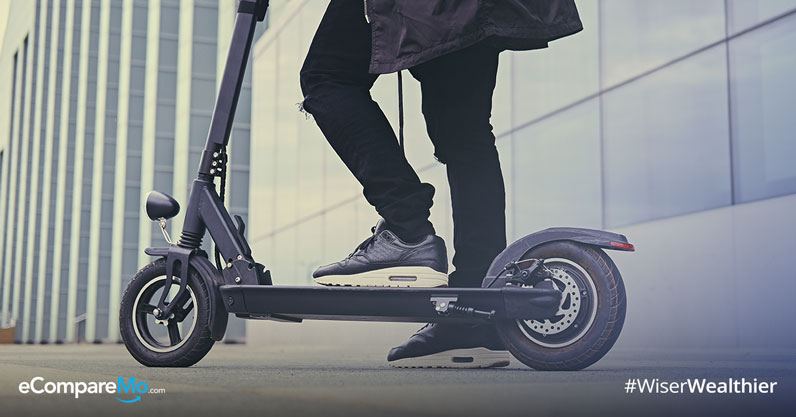 What are the types of e-scooters?
In a nutshell, an electric scooter, or e-scooter, is a motorized two-wheel transport device powered by a battery. In the Philippines, you can find two common types.
First are kick e-scooters, which are convenient because they're light and portable. The second one resembles lightweight motorcycles with low engine displacements of 125 or 150 CC. Think of a Vespa, but only with electric engines.
Why electric scooters? For starters, cruising in the city with one is easy, especially during a standstill traffic. You can squeeze yourself in between cars with ease because of its size. In addition, you can fold them in a few seconds so you can board public transportation and unfold them after you alight.
Battery can last for 30 kilometers, or up to eight hours. But you can also operate them manually in case the juice runs out in the middle of your ride. Overall, it's better than getting stuck in traffic or waiting to get a booking on your transport app.
e-Scooter buying guide
With the rise of online marketplaces in the Philippines, it's now much easier to find your dream ride without even leaving your home. After browsing our favorite e-commerce websites, we found the following electric scooter models that are available locally, and their corresponding prices:
Xiaomi MiJia M365 : P18,995
Ninebot KickScooter ES1 : P24,999
GOGO Roam : P11,999
HX X6 : P24,999
Whether you're gunning for the top-of-the-line model with all the smart integration systems or something spartan that will just ferry you without breaking a sweat, you must consider a few factors in getting your first ride. We've compiled a list of qualities you should look out for when getting an e-scooter:
Top speed. Although they cannot compete with motorcycles in terms of speed, a good scooter should be fast enough to be a good replacement to walking. Ideally, your scooter can go twice the average walking speed, which is 5 kph. After all, what's the point of getting a model that you can outpace on foot
Brakes . Band brakes are a big no-no, since you don't have the option for deceleration and it wears out parts much faster. Your choice of scooter should either come with either V brakes (similar to the ones fitted on bicycles) or disc brakes. In addition to the braking system, get a model that offers both front and back brake controls.
Body material.  Unlike the kiddie version of kick scooters, the electric ones should have durable materials that can withstand the daily grind. The fork and the frame should use high-grade aluminum alloy for the best compromise between durability and weight. If the body is too heavy, it will add too much stress on the electric motor and shorten its lifespan.
Battery . The juice is important, especially if you want to make sure you won't run out mid-ride. Charging it to full capacity should take more than 8 hours. This way, you can juice up your scooter while working. We promise we won't tell.
Parts and support. There are a handful of generic e-scooters out there that you can get for a steal. However, they come with little to no aftersales support and parts can be scarce or even nonexistent. Make sure that the brand you choose offers customer support.
Safety first
Electric scooters may not require registration with the government, especially that they're considered personal mobility devices. However, it doesn't mean you can act outside of common traffic rules or be a total jerk just because you can breeze through everyone else. You should follow these safety tips whenever you go out:
Get a helmet. You don't have to shell out money for a full-face Shoei or AGV helmet as if you're driving an expressway-legal motorcycle. At least, invest in a half helmet with padded inner cushion and durable straps.
Observe traffic rules as if you're a motorcycle rider. Just because you ride a scooter doesn't mean you're above the law. Like everyone else, follow common traffic rules like stoplights, pedestrian crossings, and others.
Do not use it on sidewalks. Are you annoyed by motorcycles beating the traffic by riding their bikes on sidewalks? Then don't be like your average kamote rider. You're better than that.
Avoid uneven roads and potholes. Unlike motorcycles that can go through minor potholes with little chance of getting in an accident. However, scooter wheels aren't big enough to drive through potholes unscathed. Go around these and save yourself from some bruises and your unit from potential damage.
Do not overcharge your batteries. Some electric scooters come with voltage regulators to prevent them from getting overcharged. However, it doesn't mean you can leave it overnight while plugged. Time your charges carefully and unplug them when full to extend your battery's lifespan.
Have a firm grip on the handlebar. Being in control can save you from crashing, especially when you encounter uneven terrain on higher speeds. If you have a flimsy grip on your handlebar, your scooter will wiggle and one sharp turn can send you flying in the air.
Money saving?
We can talk all day about how great these two-wheelers are as a way to beat the traffic and inflation. However, the question still remains: Can you really save money by switching to electric scooters? To check if a scooter can really beat inflation, we pitted the cost of owning the scooter and its everyday costs against commuting.
Let's say your average Makati Central Business District worker who lives in the city also decides to get MiJia M365 electric scooter, which has a wattage of 71 W and a charging time of approximately five hours. If fully charged, a MiJia M365 e-scooter can cover approximately 30 kilometers on ideal conditions.
The distance from West Rembo to Makati Central Business District is 6.4 kilometers, which means that a fully charged scooter can be used to get to the office and back for two days before it requires charging. For the sake of simplicity, let's say he charges his scooter at home thrice a week for five hours per charge.
To compute the cost of owning an electric scooter, we need the following figures:
Wattage: 71 W
Charging time: 5 hours
Times charged per week: 3 times
Using Meralco's Appliance Calculator, we can get the cost of charging the electric scooter per day, week, and month.
For a household with an average electricity bill of P2,000 per month, the e-scooter that's charged thrice a week will only cost a person P42.82 per month, which translates to a little below 2.5 percent of the monthly electric bill—or P3.57 per day!
Meanwhile, commuting every day from West Rembo to Legazpi Village will still cost exponentially higher than charging an electric scooter. On average, it will take two jeepney rides to get a person from one end and another two jeeps back. That's already P36 spent getting stuck on traffic or waiting.
If you're a big fan of habal-habal to beat the traffic, a ride from the queue of riders waiting outside the Guadalupe Station of MRT-3 to Legazpi Village will be P100. Meanwhile, you can only guess how a taxi ride will cost for a single trip, with the P2-per-minute charge now in full effect.
But is there a downside to riding an e-scooter? Unfortunately, you cannot use it to make long trips with its limited charge. That's about it.
Should you get an e-scooter? Again, this is only ideal if your workplace is within 10 kilometers away from your home. For greater distances, you can take with you during your long commute and just unfold it when you need to cover some short distances. But that's for another discussion.