Guide To Bataan Travel: Where To Go, Where To Eat, And What To Do
12 min read
Blessed with beautiful mountains and beaches, a rich culture, and plentiful historic sites, Bataan is one of the best places to visit near Manila.
Just about three hours away from the city, Bataan offers a chance at a relaxing getaway without the need for pricey airline tickets.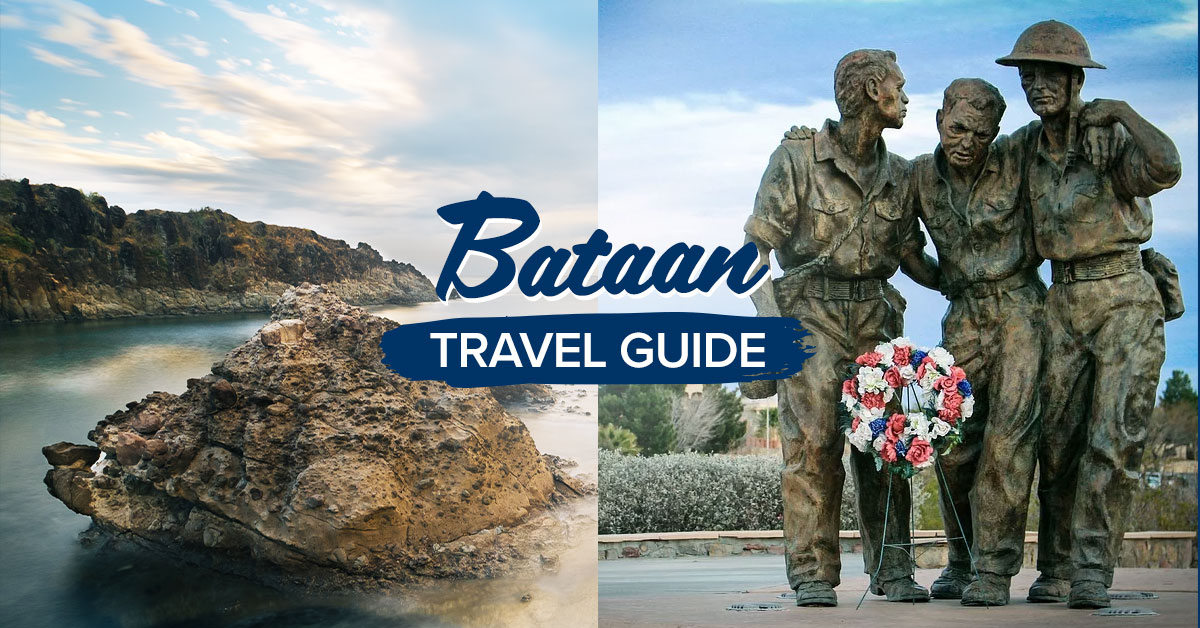 Additionally, this region will provide you a glimpse of the past through World War II sites, giving you a clearer perspective of how our forefathers fought for freedom.
To familiarize yourself with Bataan's affordable beaches and other important places to visit, read on.
How to get to Bataan from Manila
Enclosed by the provinces of Pampanga and Zambales, Bataan is reachable through land and sea travel.
Below are the transportation modes that can take you to this historic place. We suggest you leave early in the morning to avoid traffic rush.
Via private vehicle
Travel time: Two to three hours depending on road condition and traffic
Once you're in the North Luzon Expressway (NLEX), you can either take the San Fernando Exit or the Subic-Clark-Tarlac Expressway (SCTEX).
If you choose the former, once you exit San Fernando, go to Jose Abad Santos Avenue. Upon reaching the junction at Layac, proceed to the Roman Superhighway going to the City of Balanga, Bataan.
On the other hand, if you decide to travel via the SCTEX, head to the Dinalupihan Exit and turn right at the Roman Superhighway.
Via public bus
Travel time: Three hours
Genesis Transport. Their terminal in Avenida has daily trips from 2AM to 10PM going to Balanga, while those traveling to Mariveles may choose to ride from 4AM to 8PM. Their station in Cubao provides 12MN to 10PM trips to Balanga.

Additionally, their hub in Pasay offers 12 noon to 10PM trips going to Balanga and 12 midnight to 10PM journeys to Mariveles.

For clarifications, you may reach them at (02) 551 0845.

Bataan Transit Co. Inc. You can find their terminals in Cubao and Avenida. They also provide daily trips to Mariveles, covering the provinces of Pilar up to Mt. View.

Furthermore, Balanga via Orani routes can be availed, and that will cover the towns of Culis up to Abucay.

For queries, you may send your concerns through their customer service hotline number at 0998 5952645
Via ferry boat
Travel time: One hour
For a convenient journey, 1Bataan Integrated Transport Service offers ferry services from the Esplanade Seaside Terminal at the Mall of Asia going to this region. Daily trips scheduled at 7 AM, 2 PM and 5:15 PM are available priced P299 for Sulit Economy; P600 for Premium Economy, and P1,200 for Business Class all for a one-way trip.
On the other hand, going back to Manila is also a breeze as you can avail of their ferry services from the Bataan Central Terminal or at the FAB Town Terminal with scheduled trips as early as 7:15 AM up to 5:00 PM. For further inquiries, you may reach 1Bataan Integrated Transport Service at 0917-6294766 or 0908-8886849.
(Read: Best Budget Destinations Near Metro Manila)
Affordable beach resorts in Bataan
Unlike those found in Batangas and some parts of Cavite, beach resorts in Bataan are not yet fully commercialized. There's not a lot of people in the beach, so you can have a more peaceful experience and a chance to be closer to nature.
Listed below are the most reasonably priced accommodations in the area per night. Note that prices may vary depending on the lodging's location and season.
Morong
1. Kai Lodge
UN Avenue, Bataan Technology Park 0998-9640350 P1,660
Serene and surrounded with trees, Kai Lodge will give you the rest you deserve while enjoying a healthy dose of sea breeze daily.
Additionally, the area used to be a housing facility for Cambodians and Vietnamese migrants, which makes this place quite interesting.
2. Checa Mountview Hotel
Block 5, Lot 21, Bernabe Subdivision, Barangay Binaritan 0917 816 9029 P1,800
True to its name, Checa Mountview will refresh you with a spectacular view of highlands and greeneries surrounding its location.
They have fairly sized rooms that come with internet connections and other basic amenities. Parking is secured and free giving you a worry-free stay.
3. Sage Leaf Hotel
UN Avenue, Bataan Technology Park 0998-9640350 P2,176
Elegant and spacious rooms await you at this quiet inn that also offers yoga classes, hiking adventures, and a nice pool.
Additionally, this tranquil place is highly suggested for mini-retreats as it is enveloped with a lush grove limiting muffling noise from the surrounding area.
4. OYO 194 Treasure Point Bataan
Lot 9, Block 1, Barangay Panibatuhan For booking concerns, click here. P2,275
OYO 194 Treasure Point should be on top of your list if you're looking for a fairly priced establishment fitted with polished necessities that is also near the coastline.
Though their food choices are limited, their highly trained staff can suggest nearby restaurants serve the best of what you crave.
5. MorongStar Beach Resort and Hotel
Panibatuhan, Poblacion 0977 770 7456/ 0922 733 0003/ 0947 933 2005 P3,945
Traveling with kids? MorongStar Beach Resort and Hotel will keep them busy while you enjoy basking under the sun as they offer activities such as bike trails for kids.
Furthermore, we highly recommend booking an ocean view room with a balcony that gives you a daily supply of sea breeze.
6. The Waterfront Beach Resort
Crossing Morong 0919 991 2480/ 0917 137 4375/ 0917 137 9848 P3,999
Minutes away from the shore is The Waterfront, famous for their hospitable crew eager to assist you with your needs.
Though simpler compared to nearby hotels, they are particularly loved for their outdoor movies that are shown through a projector every night.
7. Bataan White Corals Beach Resort
Sitio Panibatuhan, Poblacion (02) 8514 8244 P5,405
Looking for a pet-friendly guest house? We recommend staying at this hostel where they will gladly accept your fur babies.
Aside from the inviting beach, you can enjoy their freshwater, saltwater, and kiddie pools which they maintain daily.
8. Brisa Marina Beachfront Resort
Barangay Nagbalayong P7,054
Spend your vacation in style with Brisa Marina's polished façade, charming rooms and well-maintained facilities carefully planned to exude a modern vibe.
(Read: Best Affordable Beach Resorts In Batangas [Updated])
Mariveles
9. Casa Veles Hotel
Lot A Commercial Area, 8th Avenue, Freeport Area of Bataan (FAB) District (047) 633 9647 P2,800
Though reasonably priced, expect nothing less than the best when you stay in Casa Veles.
Their rooms are furnished with five-star quality mattresses tested to give you uninterrupted sleep.
Due to its prime location, its clients, ranging from businessmen to leisure lovers, rave online at how efficient this establishment really is.
10. The Wharf Transient Hotel
Seventh Avenue, Freeport Area (047) 633 1730 P3,894
Conveniently found near a gas station is The Wharf Transient Hotel, providing tidy and minimalist themed rooms with a basic supply of toiletries
Additionally, it is near popular attractions like the Zero Kilometer Death March which you can visit during your stay.
11. The Oriental Bataan
Hilltop Street, Freeport Area of Bataan (02) 8536 1111 P5,782
Another in-demand accommodation is The Oriental, equipped with adequate amenities backed with courteous staff.
It offers a calming mountain view that is best enjoyed with their generous buffet dinner.
12. Camaya Coast Hotel
Sitio Wain, Barangay Biaan 0915-9856480 P9,285
Aside from the residential properties up for sale, you can rent a room in Camaya Coast that comes with enjoyable amenities such as a beach bar, grill spot, and fitness center.
Furthermore, you can experience a soothing massage followed by a wide array of wellness treatments at their Bali-inspired "Mandara Spa."
(Read: Top Instagram-Worthy Destinations In The Philippines)
Bagac
13. Bagac Bay Beach Resort
0918-9265023 P2,500 per room, good for 10 to 12 guests
If you think finding a group accommodation is challenging, head to this lodging where they offer rooms that can comfortably house 12 guests under a budget.
Additionally, food is not a problem as it is near a wet market where freshly caught seafood is available.
14. Lumier Beach Resorts
0977-1519744 P4,000
Lumier's ideal location will give you limitless tranquility the beach and lush green landscape.
With this, enjoy a healthy dose of sea breeze and the calming sound of trees rustling during your stay.
15. Las Casas Filipinas De Acuzar
0917-8729361 P8,376
Bringing back the glamorous vibe of yesteryears is Las Casas Filipinas De Acuzar, with gorgeous constructions and elegant rooms.
At night, you can stroll around their beautiful landscape made romantic with dim lights.
Balanga
16. D' Samat Lodge
32 Camacho Street, Bagumbayan (047) 237 3869 P1,450
Situated at the town proper, this humble but efficient hostel is perfect for those who want access to the comfort the city provides while on a budget.
It offers ten homey rooms that range from Simple to Classic that are good for two to five guests.
17. Balanga Travellers Home
594 Waling Waling Street, San Jose Subdivision 0918 935 4945 P1,488
If you're looking for a place that can accommodate a big group, head to this laid-back guesthouse that offers dormitory-type rooms ideal for eight guests.
Also, share travel stories and tips with new friends as they provide a common lounge and TV area where you can meet acquaintances and future travel buddies.
18. Elison Hotel
001 Aguirre Street, Barangay Poblacion (047) 237 2942 P1,570 with breakfast
Three minutes away from the Balanga Cathedral is Elison, guaranteed to provide you an enjoyable stay with their spacious rooms fitted with standard features.
Though the ambiance is a bit dated, expect fast and efficient service people from this province are known for.
19. Crown Royale Hotel
Capitol Drive, San Jose (047) 237 1961 P1,890
With good amenities such as their own restaurant, fitness center, and a KTV bar is the three-star rated Crown Royale, another option to consider when you're in the city.
They have large and well-kept contemporary guestrooms all fitted with a modest bathroom.
Additionally, it offers a spacious event area that can be rented for out of town group gatherings.
20. GAP Plaza Hotel
Capitol Drive corner Sampaguita Street, San Jose (047) 237 6757 P2,150
Close to the convenience of the city is Gap Plaza, best for first-time travelers who prefer easy access to malls, restaurants, and other shops that can provide instant relief for their various needs.
Though a budget hotel inn, each room comes with a minibar and a refrigerator proving that "reasonable" doesn't have to be incomplete.
(Read: La Union Budget And Itinerary Guide For Non-Surfers)
Where to eat in Bataan
A day at the beach or roaming the city will make you hungry. From Vietnamese food to mouth-watering desserts, we listed down the best restaurants in Bataan that can satiate your appetites.
Sampalukan Restaurant General Kapinpin Street, Balanga City (047) 300 0881

From the well-loved "Kare-Kare" to their specialty "Sampalukan Manok sa buho", this diner is a must-try for your Pinoy comfort food cravings.

After your meal, we highly suggest you order the gabi flavored ice cream by "Geno," a popular ice cream brand in Bataan.

Loleng's Hu Tieu-an Mayor's Street, Binaritan, Morong 0949 721 1635

For everything Vietnamese, proceed to Loleng's Hu Tieu-an and savor their freshly cooked dishes priced affordably.

Additionally, expect long lines of visitors and locals all waiting for a tasty and authentic food experience.

Espada Grill Lerma Street, Ibayo, Balanga City 0999 497 3979

Hungry and tired from the long travel? Go to Espada Grill in Ibayo and have a buffet feast for only P195.

Furthermore, their restaurant is ideal for family or group events as it can be rented for a fair price inclusive of food and other services.

Café Kyoto at the Plaza Hotel Third floor, The Plaza Hotel, Balanga City (047) 237 1037/ 0998 541 1741

Savor yummy Japanese cuisine while enjoying a great view of the city at Café Kyoto, one of the region's well-received specialty bistro headed by a Japanese chef.

We recommend trying out their generously sized bento box, best paired with a refreshing tempura ice cream after.

Stregato Gelateria St. Joseph Street, Balanga City (047) 237 1233

Instagrammable and ready to fill your sweet tooth with frozen goodness is Stregato Gelateria, Bataan's leading ice cream shop.

Aside from the different flavors of gelatos, you can also try out their entrée, pasta, crepes, and sandwiches served by their hospitable staff.
(Read: Cebu Itinerary And Budget Travel Guide 2020 [UPDATED])
Things to do in Bataan
Aside from basking under the sun, swimming in the beaches, and feasting on delicious meals, Bataan still has so much to offer.
Below are the exciting activities you must do to make your stay memorable.
Visit the Bataan National Park

Familiarize yourself with wild monkeys, civet cats, eagles, fruit bats, and other protected species at this region's National Park measuring 23,688 hectares.

After enjoying the flora and fauna time, take a rejuvenating hike going to Dunsulan and Pasukulan Falls to appreciate this well-protected natural area.

Go to the Pawikan Conservation Center

We suggest going to this center during the Pawikan Festival held in the last week of November or the first week of December as you can watch turtle hatchlings being released into the sea.

On the other hand, if you want to observe these majestic animals lay eggs, visit from August to February.

Note that there is an entrance fee of P30.

Relive your history lessons at the World War II Museum

For only P50, walk through history presented in dioramas, photos, memorabilia, and other valuable items from World War II.

This museum is located behind the Balanga Elementary School.

Pay your respects at the Mount Samat Shrine of Valor

Also called the "Dambana ng Kagitingan", this important cross gives homage to Filipino and American soldiers who fought the Japanese army during the war.

Additionally, a viewing deck is available where you can see the whole Bataan Peninsula and Manila Bay for a P20 entrance fee.

Continually pray for peace at the Filipino-Japanese Friendship Tower

Measuring 27 meters tall and constructed in 1975, the Filipino – Japanese Friendship Tower is important as it is the ultimate symbol of peace and settlement between the Philippines and Japan during WWII.

During your visit, after appreciating its beautifully designed structure, don't forget to pray for the continuous peace and strong bond with the Japanese people.
(Read: Coron Palawan: Travel Guide, Activities, Budget, And Sample Itinerary)
Sample itinerary for Bataan
Day 1
| Time | Activity |
| --- | --- |
| 7AM | Ride the ferry boat for one hour going to Bataan |
| 8AM to 1PM | Arrival at Bataan Ride a tricycle going to town. Have your lunch at Espada Grill. Explore the town and look for pasalubong shops. |
| 2PM | Check-in at the MorongStar Beach Resort and Hotel. Inquire about their available activities and secure valuables inside your room. |
| 3PM | Visit their adventure park, ride a bike, and enjoy all the amenities this resort offers. |
| 6PM | Rest and take a relaxing shower. |
| 8PM | Dinner time. You can check out nearby restaurants or try other entrees offered by their diner. |
| Midnight | Time to sleep |
Days 2 & 3
| Time | Activity |
| --- | --- |
| 8AM | Have your breakfast, lounge, swim, and relax. |
| 11AM | Go back to your room and fix your belongings. Take a shower. |
| Noon | Check out. Ride a tricycle going to the city. |
| 2PM | Check-in at Kai Lodge. Secure your belongings. |
| 3PM | Go to Loleng's Hu Tieu-an for lunch. |
| 4PM | Visit the WWII museum, Dambana ng Kagitingan, and Pawikan Conservation Center. |
| 8PM | For dinner, head to Sampalukan Restaurant. Go to Stregato Gelateria for dessert. |
| 10PM | Stroll around town and look for interesting finds. |
| Midnight | Go back to Kai Lodge to sleep. |
| 9AM | Wake up and have your breakfast. |
| 10AM | Check out and ride a tricycle bound to Bataan Central Terminal. |
| 11AM | Ride a ferry boat going back to Manila. |
| Noon | Ferry boat stops at the Esplanade Seaside Terminal in the Mall of Asia. |