Air Travel In The Philippines: How GCQ Restrictions Will Affect Domestic And International Flights
7 min read
It is well-documented how the ease and frequency of flying from one place to another is a major contributor to the rapid spread of communicable diseases.
That's why for the past few months, the suspension of air travel due to the COVID-19 pandemic was necessary. This undoubtedly had a negative impact on not just the industry itself but also to those who rely on it for work, business, or leisure.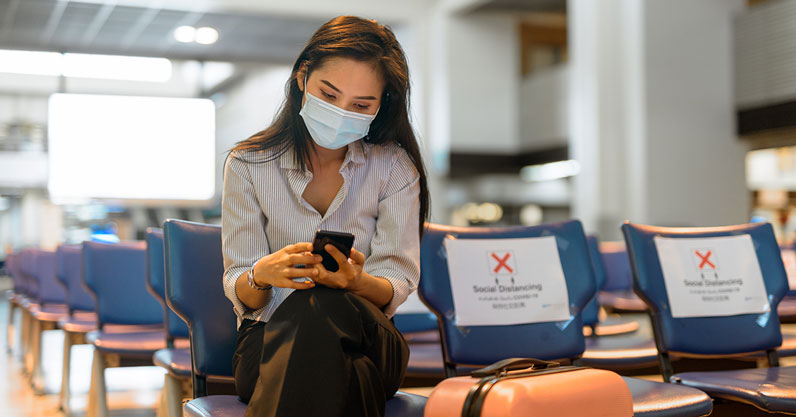 Air travel restrictions as per GCQ guidelines
With the country's transition from modified enhanced community quarantine (MECQ) to general commmunity quarantine (GCQ), some travel restrictions have been lifted and the Inter-Agency Task Force (IATF) has allowed some concessions, particularly on air travel. But to ensure everyone's health and safety, the Civil Aeronautic Board requires all passengers and airlines to strictly comply with the following guidelines in accordance to the IATF GCQ advisory:
Mandatory wearing of face masks
Mandatory temperature checks, use of foot baths, and disinfection/sanitation facilities
Mandatory physical and social distancing and minimum contact at all times and in all places within the airport premises, and during all procedures, from check-in, boarding, inflight, disembarking to retrieving of check-in baggage
Mandatory public safety announcements before closing of doors and during flight for cabin and health security protocols
Strict compliance with safety procedures on handling of suspected/ill passengers on board, which include keeping the last three (3) seat rows of the plane vacant as isolation area for suspected ill passengers already on board
Regular sanitation and disinfection of airline facilities and equipment, and in coordination with the airport authorities, all airport facilities and equipment, including lavatories, frequently touched surfaces, wheelchairs, trolleys, countertops, etc.; Daily first aid stocks available on board the aircraft
International and domestic flights are still limited at this point. Movement of persons in areas under GCQ for leisure purposes shall be under the approval of LGUs. In addition, persons below 21 years old, those who are 60 years old and above, those with immunodeficiency or other health risks, and pregnant women are also restricted except under allowed circumstances.
For international flights, please refer to the latest travel advisories of the country you're going to. To help you plan properly, please refer to this interactive map prepared by the International Air Transport Association (IATA).
While these are general guidelines that everyone needs to follow, there are still some specific things you need to keep in mind from top airline companies in the Philippines.
Philippine Airlines (PAL) advisory on COVID-19
To address the ever-evolving situation of the pandemic, the nation's flagship airline has complied with the highest safety standards set by International Civil Aviation Organization (ICAO), a specialized agency of the United Nations. This involves setting some precautionary measures to ensure the safety and sanitation of the aircraft, staff, and facilities. These include:
Equipping High Efficiency Particulate Air (HEPA) filters in air circulation systems
Ground & in-flight staff training to handle passengers with suspected communicable diseases
Suspension of digital boarding passes to ensure all passengers pass through check-in protocol
Airports all around the country have also enacted additional screening in line with containing the pandemic. Therefore, Philippine Airlines advises all their passengers to prepare accordingly:
At least 4 hours before scheduled time of departure or by 8:00PM latest for international flights from Manila
At least 3 hours for all other International flights
At least 3 hours for all Domestic flights or by 8:00PM latest if departing from Manila
On the other hand, all arriving passengers may encounter some adjustments in their flight plans. According to the PAL website, certain flights may land in Cebu instead of Manila, due to limited COVID testing slots in Manila.
If so, passengers will undergo testing and hotel quarantine in Cebu. PAL will arrange for transfer to Manila (NAIA) for those who receive negative test results, usually within 24-48 hours of testing.
Everyone is still required to accomplish arrival cards and to undergo screening through immigration counters. Expect to spend more time on this because eGates for Philippine Passport holders are temporarily disabled.
For bookings affected by the fluctuations in travel advisories, PAL has listed various passenger options that can be taken should you opt for it. Please refer to their website for more information.
You can check up-to-the-minute developments on flight updates, passenger options, and travel rules & requirements on PAL's COVID-19 Travel Update page.
(Read: Are Cancelled Flights Due To COVID-19 Covered By Travel Insurance?)
AirAsia Covid-19 Flight Guide
AirAsia has also stepped up their precautionary measures to ensure the well-being of guests and staff. For pre-flight screening, AirAsia has implemented the following:
Multiple temperature screening will take place at different checkpoints, including boarding gates of cabin crew and guests
Social distancing at queuing areas, including check-in counters & kiosks
Sanitation areas through journey processing points for guests and staff
2-hour aircraft cleaning and disinfection process at every night stop
Pre-flight briefings on safety and hygiene following the most up-to-date advice
Contactless web and mobile check-in to reduce surface and physical contact in check-in and boarding processes
All AirAsia operational aircrafts are fitted with hospital-grade HEPA filters to filter out particles and airborne contaminants such as viruses and bacteria. All cabin crew will also be in protective equipment including masks and gloves.
Boarding and in-flight procedures are also implemented:
Guests are required to wear masks before boarding, during flight, and at baggage claim.
All guests are allowed only ONE small carry-on bag or laptop bag. Baggage size shall not exceed permitted dimension.
Onboard meals can be pre-booked at least 24 hours online. Packaged snacks such as chips, nuts and chocolate, and canned or bottled beverages will be available as usual.
Food and beverage service will be handled in accordance to food safety standards. Handles will be wearing masks and gloves at all times.
As for AirAsia flights affected by travel bans based on nationalities, cities of origin, travel history or purpose of travel, AirAsia has dedicated special flexible options with AVA such as Free Unlimited Date Change until October 31, 2020 and flight-to-credit conversion that's valid for 2 years. To know more about these, please refer to the Flexibility for You with AVA page of AirAsia.
More information on the latest news and flight updates is also available on the #InThisTogether AirAsia website.
Cebu Pacific travel advisory and 'new normal' measures
Cebu Pacific has adopted "new normal" measures to assure every Juan will have a pleasant safe journey to their destinations. As part of their preparation, CebuPac will continue to promote social distancing and roll out specific measures for contactless flights.
Ground safety
All Cebu Pacific ground staff are required to wear Personal Protective Equipment (PPEs) while on duty. Self-check in kiosks, check-in and bag drop counters, as well as shuttle buses will undergo frequent disinfection procedures to limit transmission of communicable diseases. Alcohol-based hand sanitizers will also be stationed at CEB passenger areas for guest and staff use.
Self-check in and no-touch boarding
Prior to flights, Cebu Pacific strongly advises their passengers to check-in online for faster processing and lesser human contact. Guests are also expected to be at the airport at least three (3) hours early as their check-in counters will be closed for 60 minutes before flights. When carrying more than two luggages, only one representative is allowed to go to the baggage drop-off counter. Upon boarding, passengers will be required to hold out their boarding passes for touchless scanning.
Changes in in-flight experience
Wearing face masks is mandatory for all passengers for the duration of the flight. Passengers will have to stow their own hand-carry luggage in the overhead bins. Self-disposal of trash and waste is to be practiced at the end of every flight. Middle seats will also be kept vacant as much as possible to give way for social distancing. Changing of seats during the flight will be strictly prohibited.
Rapid crew testing before flights
Cebu Pacific has implemented rapid testing for pilots and cabin crew before boarding to ensure their health and condition. They will be given their own PPEs, gloves, and face masks to be worn on duty at all times, as well as disinfectants to be used to clean the aisles and seats in the cabin.
Keeping cabin air clean and safe
Cebu Pacific's fleet of Airbus jets are equipped with HEPA filters to block bacteria and viruses. Air inside the cabin is also changed every 3 minutes to maintain fresh and clean air.
Intensified aircraft cleaning measures
CebuPac has also put in effect thorough daily disinfection of all aircraft according to the procedures approved by the World Health Organization. These include misting of the cabin using specialized disinfectants for Airbus jets, as well as regular sanitation of all surfaces inside the aircraft.
All lavatories will also be sanitized every 30 minutes during a flight. Flights affected by travel bans will be indicated on their flight schedule available online.Guests with cancelled flights will receive email notifications and options for free rebooking, travel credit, or full travel refund.
You may consult Cebu Pacific's COVID-19 FAQ page online for more information on their booking options. For their latest travel advisories, routes, and flight frequency, you can refer to their travel advisory page.