A Millennial's Guide On How To Be A Smarter Shopper
4 min read
Currently, millennials are the key generation for consumer behavior studies. New technology and market research have emerged to get to know us better.
We're the most active shoppers of this day and age and it's gotten even harder for us to make sound decisions when shopping because of the marketing strategies they've put in place.
We're also at a point in our lives where, even if we're earning more money, it's still crucial we make savings a priority. If we can spot some of the tricks they use to make us buy more, then it could help us avoid falling for them.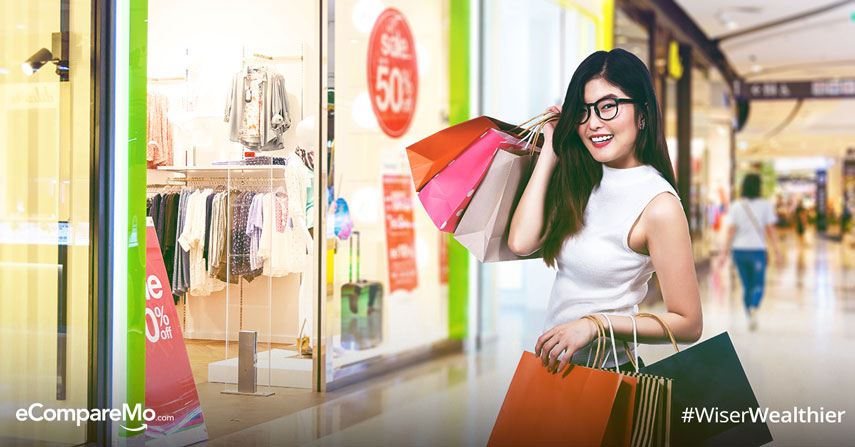 This guide is a compilation of little tips that, with some extra effort, can help us become smarter shoppers and avoid the perils of impulse shopping.
Plan ahead
"If you know neither the enemy nor yourself, you will succumb in every battle."
– Sun Tzu, Art of War
Sun Tzu was right, not just about war but also, kinda, about shopping. When stepping into a store, you need to know and be very specific about what you want to buy. This will help you see and avoid consumer traps.
You can't save money without setting up a budget, or a shopping plan. Be prepared with a list and allotted budget. List and budget for the essential items first. Only after you've taken care of the essentials should you think about splurging a bit on the non-essentials.
Vouchers, Loyalty Points
The easiest way to get huge discounts on products and services is to visit deal sites. Vouchers are offered for up to 90% off on the stuff like restaurant buffets, gadgets, and salon and spa services.
Know about any reward programs the establishments you frequent have. Loyalty points, which you accumulate every time you spend, will allow you to collect future discounts and even freebies.
Support local grocers
There's so many ways you can save more at your local grocery stores. For one, they tend to have only the most essential items, which can be cheaper compared to supermarkets. The price difference may not be that big, but the general experience will be quick and convenient – you're more likely to follow your list and save more money by going there.
Vist the nearest wet market, too. You will find they have vegetables, meat, and fish – especially seafood faves like shrimps, crab, and squid – at almost half the price of the supermarket. Sure, the veggies won't be conveniently pre-packed, but you're sure to save a lot. Also, pre-packed supermarket veggies tend to come in family sizes, so not only are you paying more, you might get more then you need and some might just go to waste.
If you're nearer a mall then a wet market, one supermarket savings hack to remember is to go straight to the end or edges of the store where the essential food items are. Avoid the middle part where the processed and artificial food are. You save time, avoid distractions, and get healthier food too.
Use cash
Paying in cash makes you more conscious of your spending. Bring only enough cash according to your budget, you know the drill.
Don't shop on an empty stomach
Shopping when you're not hungry will help you make sound decisions, because you're not a slave to your cravings. A full stomach will help you walk past food aisles, the rotisserie, and that delicious smelling bakeshop at the store entrance.
Watch out for sales and bazaars
June is the start of the rainy season, it's also the time the end of season sales happen. Even travel packages tend to be cheaper around this time. And now that it's Christmas season, you can go shopping at Christmas bazaars and haggle for much lower prices.
Conveniently served, pre-cut, prepared foods cost more
Packed foods are useful when we're feeling lazy. But by putting some effort to cutting your own fruits and vegetables, you save more money.
Don't go after branded items
Don't always going for branded items. Try all-natural or organic, and cheaper brands. Some of them are proudly Filipino-made, too. Do some online research and check online reviews, you'll find counterparts of your favorite products, minus the harsh chemicals.
Don't let them play with your senses
Everything from the packaging to the entire ambiance of mall shops are set up to tempt you to buy more.
It's called Sensory Marketing, and it's explained by consumer psychologist Dr. Kit Yarrow as such: "A lot of this is about brand image. It's to get you to feel a particular way. One of the things I've found works really well is when you create a theme or a lifestyle, and people can see themselves living in this lifestyle. That causes them to want to buy those things."
Be aware of these sensory manipulations, and try your best to stick to your own shopping plan and budget.
Don't fall for emotional, relatable ads
Big brands target us by trying to get us in the feels with their ads. When they successfully stir our emotions, we remember their brand even more. Unless it's an ad for discounts or a sale, try not to fall for the emotional, relatable campaigns.
Savvy online shopping
By being smart about online shopping, we can get some great bargains. Before buying anything, do online price comparisons. If it's cheaper online, go ahead. But if it's cheaper in the mall, make the trip.
As for plane tickets, take advantage of lower prices on days like Tuesday, Wednesday, or Saturday. Use comparison sites like Traveloka to compare airline prices. Sometime booking on the airline's website will allow you to accumulate useful loyalty points, too.