A First-Time OFW's Guide: Things You Should Never Forget Before You Board Your Flight
6 min read
The day you'll leave the country to be an Overseas Filipino Worker (OFW) can be truly nerve-racking.
You are going to feel a roller-coaster of uncontrollable emotions, from saying goodbye to your family and coming to terms with the fact that you'll be leaving everything familiar.
But there's one thing you can control, and that's how prepared you are ahead of your departure date.
That said, we've made a checklist on what to expect on your departure as a first-time OFW. This also comes with a financial reality check on how to set financial goals as early as now.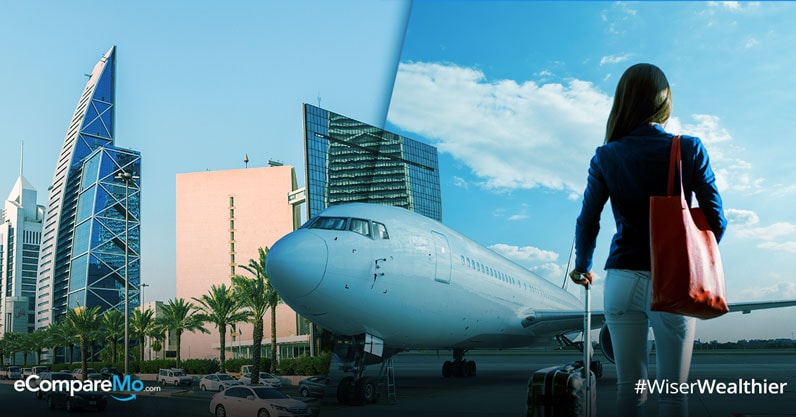 What should I have prepared before facing Immigration?
Note that this checklist is for a first-time OFW who's about to depart. This means that you've already secured your work abroad, have your Certificate of Employment, and a confirmed flight booking and plane ticket in hand.
If you already have these three, here are other important things you need to bring with you. There may be other documents you need to submit specific to your employer, so make sure you also have those completed.
Bring the original copies, photocopies, and digital copies (preferably in a USB drive) of the following documents. It is important that you bring these with you all the time while traveling:
Pre-Departure Overseas Seminar (PDOS) Certificate

You are required to attend a seminar and briefing from the Commission on Filipinos Overseas (CFO). This should prepare you for things such as immigration, travel regulations, settlement in another country, how to deal with cultural differences, social security and employment guidance, and learn about your rights and obligations as a Filipino migrant. The seminar usually takes two hours, depending on the country you will be working.
Passport
Visa
Flight ticket and boarding pass
Overseas Employment Certificate (OEC)
Seaman's Book (for Seafarers)
Employment Contract
Letter of Guarantee or Letter of Endorsement for work (if applicable)
NBI Clearance valid for work abroad
Valid photo-bearing government IDs\
What will I need at Immigration?
At Immigration, you will be handed a Departure Card that you will need to fill up with personal details. This brings us to one more thing you should have:
Line up in one of the Immigration Officers (IO) and provide them with your passport with Visa, OEC, plane ticket, or a seaman's book if applicable, and the duly filled out departure card.
The immigration officer (IO) might ask for the other documents, so make sure you have all of them orderly stacked in one envelope.
You may be asked some questions; just answer them as directly and correctly as you can. After this, the IO will stamp your passport or seaman's book with your departure date.
Just in case, have a notebook filled with important contact numbers, including that of your employer. This serves as a backup in case of emergency, such as a drained phone battery, upon arrival.
What should I be prepared for in the airport?
One of the most important things to know is to check and remember the right airport to go to. Does your airline ticket say NAIA Terminal 1, 2, or 3? NAIA 2 and 3 have international flights too so best make sure where to go.
Bring extra cash.

Note that the Airport Tax and Terminal Fees are free for all OFWs. You only need to show your OEC. However, it still pays to bring some extra cash, preferably with half of it already converted to the currency of the place you'll be working in.
Bring clothes and items appropriate to the weather and culture.

Travelers often make this mistake too. Examples are bringing spring-appropriate clothes when it's winter in their destination, or not bringing moisturizers and lip balms on a negative two degrees (-2°) weather, which brings them with chapped, sometimes even bloodied lips, and dry skin.
Take all these things into consideration, especially the current weather in your new workplace. You wouldn't want to be buying winter clothes in your destination because it might be too expensive there. Preparation and foresight are key.
It always pays to be early. Arrive at least four hours before departure so you can say proper goodbyes to your loved ones, have plenty of time to check in your baggage, and line up at the immigration.
Once you are in the airport, follow these steps:
The first place to go is the OFW lounge. Have your OEC and Employment Contract Validated. Once done, proceed straight to airport security and scanning.
Line up on your designated airline and check-in your luggage. Make sure you've met the baggage weight limit or you'll have to pay a hefty amount for the extra kilos of baggage.You will be handed your boarding pass and baggage claim tag/safer check-in.
Head to the departure lobby/waiting area with your hand-carried baggage, stamped passport, and boarding pass with the baggage claim tag/s. Your baggage will be scanned again.
After the second baggage check-in, head straight to the Immigration counter OFW Express Lane. You will be given a Departure Card that you need to completely fill out your personal details. Once at the counter, present your passport, visa, and filled out Departure Card. There might be other documents that the Immigration Officer will ask you to provide. Once approved, your passport or Seaman's book will be stamped of the departure date.
After getting approved by the Immigration Officer, you need to pass through customs. Your hand carry luggage will be scanned again. There you will go through body searches and may be requested to take your shoes off.
After getting past customs, go straight to the pre-departure gate to wait for your boarding time, as indicated in your boarding pass.
What financial preparations should I make upon arriving at my country of destination?
Once you're there, find the most convenient way to send money or remittances to your family. It would also be wise to have your beneficiaries or immediate family member set up a personal savings account where you can easily wire your money from abroad. This will also be a big help in case there's a need to apply for an OFW Loan, because your remittances are already on record.
Set short- and long-term goals for savings. When do you want to retire? Will you go back for another contract? These are some of the important questions you have to ask yourself early on.
For short-term secure savings, you can open up a personal savings account where you can send some of your money to, or choose to get an investment vehicle such as a Unit Investment Trust Fund (UITF), or a life insurance.
Long-term goals can be saving up enough money to buy a property or set up a business.
If you haven't yet, learn how to cook. It can be as simple as going to the local market and buying food in bulk. This way you not only save more money, you also get to be more healthy.
If you're already able to do so, save at least 30% of your income. You can even send at least 5% of it to your personal savings account in the Philippines.
There have been so many stories about OFWs who came home and lost all of their savings. Thankfully, there's a lot of financial advice available that helps OFWs avoid that trap.