8 Best Noodle Places To Visit On A P250 Budget
4 min read
Aside from coffee, hot chocolate, and cuddles from your loved one, what better way to keep you warm on a cold night than a large steaming bowl of noodles? Thankfully, restaurants where you can find the best noodles in Manila are a dime a dozen.
This rainy season, help yourselves with the best budget noodle bowls for only P250 and below. We are not talking about instant noodles here.
It's time to get some hot broth, filling noodles, and everything in between in this awesome list of noodle soup joints in Metro Manila.
1. Caution Hot!
Magiting corner Maginhawa Streets, UP Village, Quezon City
14 E Capitol Drive, Kapitolyo, Pasig City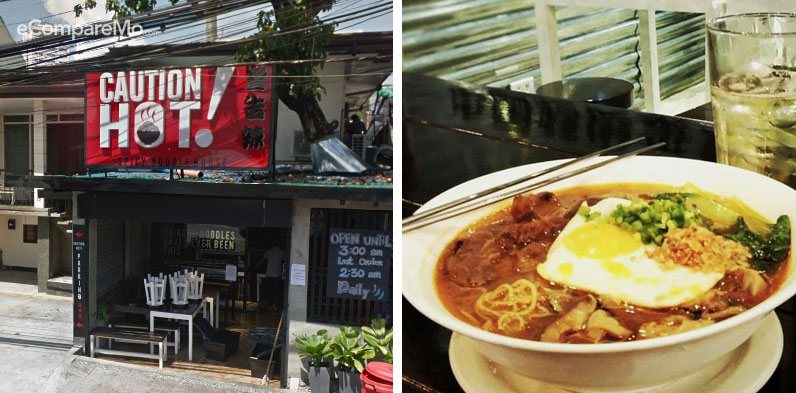 People who used to frequent Maginhawa before the food park craze would know that Caution Hot! has been a strong and constant presence in the area's ever-changing foodscape.
Aside from the price, what makes Caution Hot! a great place to get some hot noodle bowl is their customizable bowl sets.
Choose toppings of either vegetables (P175), pork (P185), beef (P205), or seafood (P220). Once you've picked your toppings, choose your broth (Szechuan, laksa, and classic), noodles (wheat and egg noodles), and level of spiciness and your bowl will get to your table nice and hot.
2. Masuki
931 Benavidez Street, Binondo, Manila
368 Sekai Center, Ortigas Avenue corner Madison Street, Greenhills, San Juan City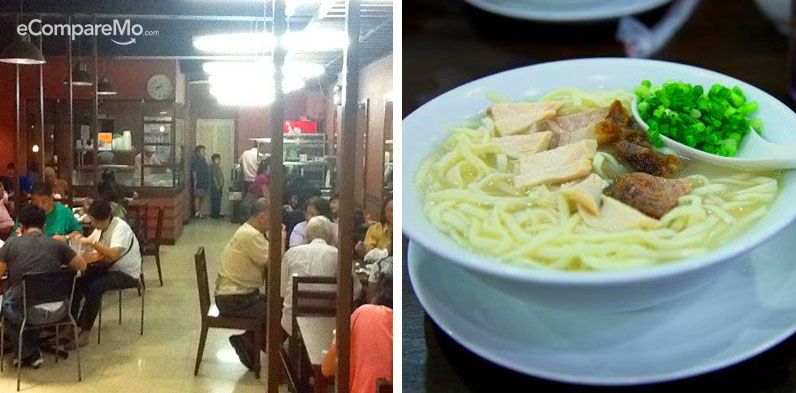 Masuki is one of the OG mami places in Metro Manila. Their staying power over the years proves the secret is not in the ingredients but rather the great quality food.
They have a long list of mami bowls that vary depending on the toppings, but we personally recommend their beef asado mami (P215), wonton asado chicken mami (P215), and something as simple as chicken mami (P150).
If you have extra budget, why not get their asado (P60) or bola-bola (P65) siopao for a full Masuki experience?
3. Eat Fresh Hongkong Famous Street Food
691 Jose Abad Santos Street, Little Baguio, San Juan City
32 General Ordoñez corner Bayan-Bayanan Avenue, Marikina Heights, Marikina City
100A Maria Clara Street, Sto. Domingo, Quezon City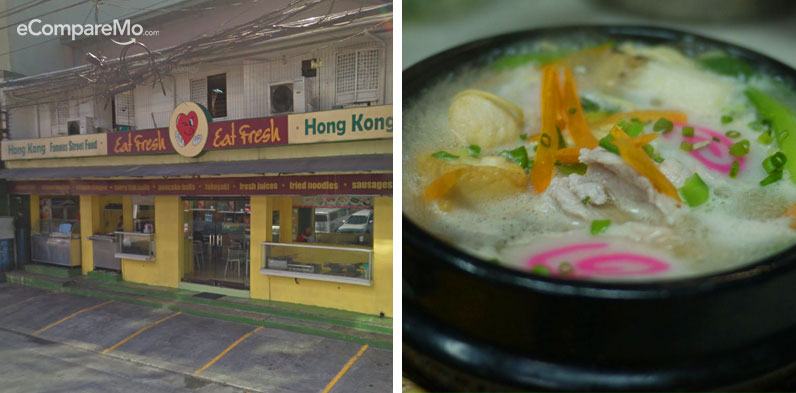 Eat Fresh takes you to the culinary heart of Hong Kong's street food scene; without the need to fly.
Although they're known for skewered treats and their claypot rice meals, the restaurant also takes pride in its noodle bowls.
They offer an assortment of Asian noodles like the Hong Kong noodle soup (P150), udon noodle soup (150), beef tendon noodle soup (P195), and laksa (P235). That's a lot of places covered already—and you don't even have to fly!
(Read: 2018 Buffet List: Top Affordable Eat-All-You-Can Restaurants In Metro Manila)
4. Original Pares & Mami House
España Boulevard corner Blumentritt Road, Sampaloc, Manila
N.S. Amoranto Sr. Avenue, La Loma, Quezon City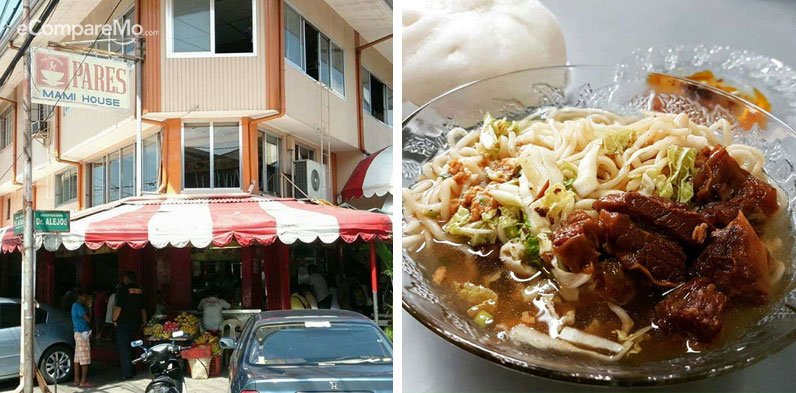 Everyone knows that N.S. Amoranto (formerly Retiro, but the name has long been, well, retired) is the birthplace of two pares joints.
One of them is Original Pares & Mami House, which not only excels in serving pares but also in noodles.
Using the same flavorful sauce that makes their pares great, you can get the plain and simple beef mami (P75) or you can go all in with super mami (P110).
5. Mogu Tree Noodle House
60-E Lilac Street, Hacienda Heights, Concepcion Dos, Marikina City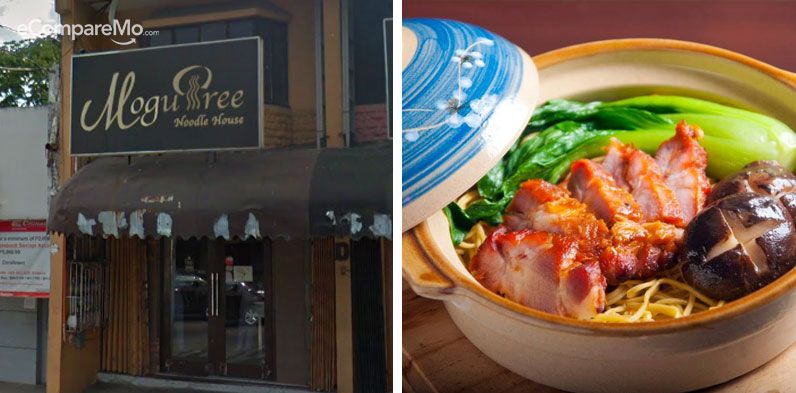 If Caution Hot! bases its prices on the kind of toppings you'll get, at Mogu Tree House it is more about their broth.
Take a pick from the following for your next noodle dish: pork chicken stock (P168), laksa (P198), pesto green curry (P210), and tonktosu shoyu (P210).
From there, you can build your bowl from different kinds of noodles like flour noodles or spinach noodles and select from their more than 20 kinds of toppings. Pick four toppings from the wide assortment of picks like tofu, mushrooms, meatballs, crab balls, corn, and so much more.
6. Tan Tan Men House
Ground Floor, Rada Regency, Castro corner Dela Rosa Streets, Legaspi Village, Makati City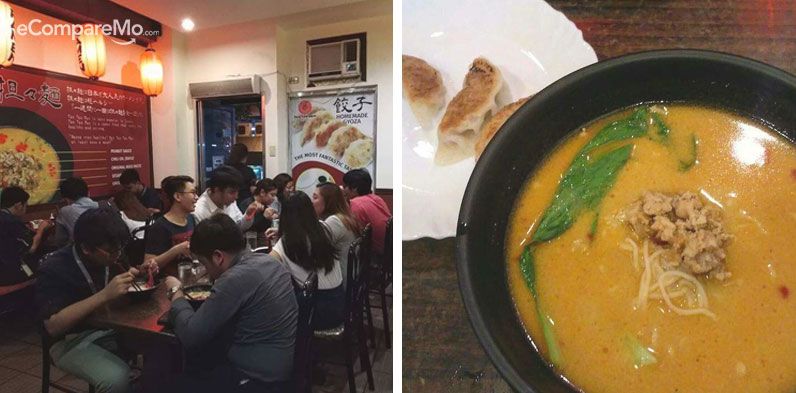 They say that the best ramen bowls in Metro Manila are the ones priced P300 and up. However, Tan Tan Men House in Makati begs to differ.
Although they have cheaper bowls priced below P150, let's go a little bit closer to our ceiling budget and enjoy life a little more.
For a little extra, you can get more cuts of chashu with their tantan chashu men (P210), tonkotsu chashu men (P210), and shoyu chashu men (P180) than their regular counterparts.
If you're going there, don't expect the Makati workers to let you in first because it has been proven to be a crowd favorite.
7. Cu Chi
5767 Ebro Street, Poblacion, Makati City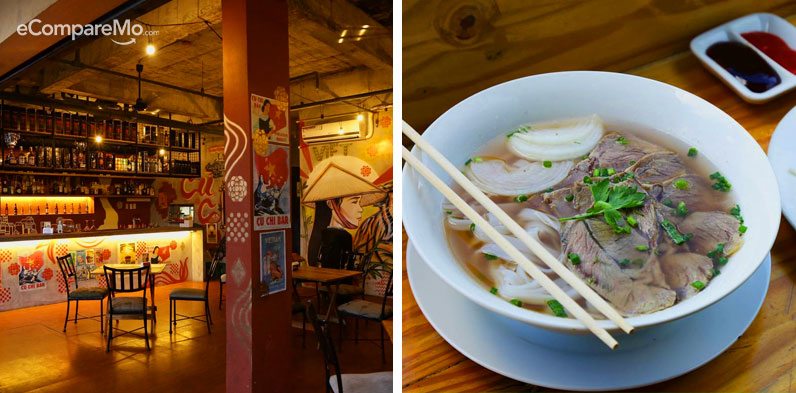 Beyond the "Instagrammable" tag attached to it, Cu Chi is a Vietnamese place that has more substance than looks.
Cu Chi, a relative newcomer to the noodle scene, has earned its stripes by serving great Vietnamese food. Everyone knows that their pho (P220) is where it's at: tender slices of beef, rice noodles, and herbs doused with their world-famous broth.
8. Likha Diwa
1 Lt. J. Francisco Street, Krus na Ligas, Quezon City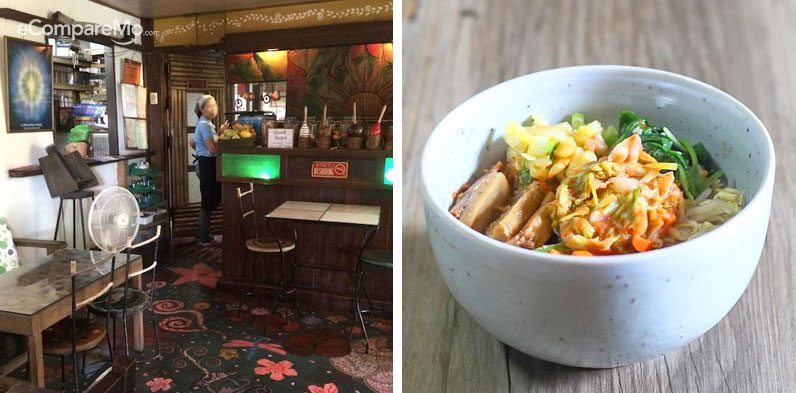 Tucked beside the legendary Sarah's just outside the University of the Philippines, Likha Diwa takes pride in offering affordable and delicious vegetarian meals.
Although the all-time favorite there is their vegetarian kare-kare, they also have soup dishes you should try. They have a veggie version of molo soup dish (P60) and miso ramen (P90).
Next time you're in Maginhawa, skip the food parks and take the extra hike to Likha Diwa.
Source: Zomato