7 Cities In PH, 18 Areas In Metro Manila Most Prone To Flooding
4 min read
Anyone who has seen the 1995 film Waterworld will have a picture of what can happen in the Philippines in 2085—only without Kevin Costner.
Manila-based international lender Asian Development Bank (ADB) reported that some coastal and low-lying areas in the Philippines are highly likely to suffer from constant flooding and severe typhoons due to climate change in the year 2085.
In a research called "A Region at Risk: The Human Dimensions of Climate Change in Asia and the Pacific" written in partnership with "Potsdam Institute for Climate Impact Research," the multilateral lending firm said that Asia-Pacific countries like the Philippines are "extremely vulnerable to the impacts of climate change" and subsequent adverse effects on the climate "could significantly undo previous achievements of economic development and improvements of living standards."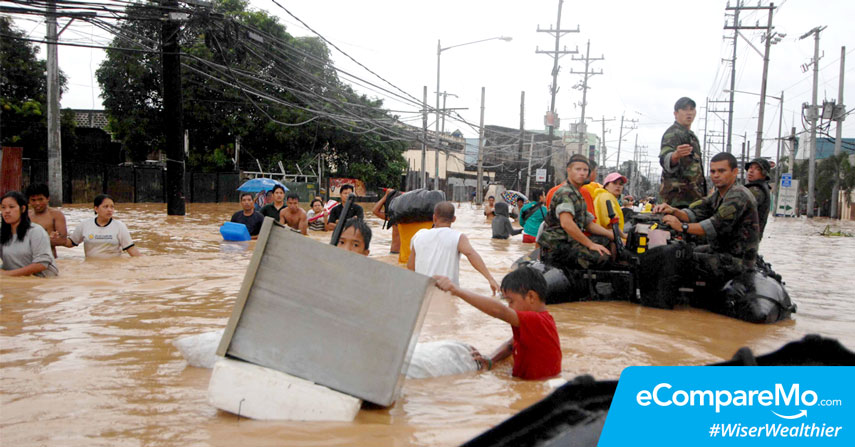 According to the ADB paper, climate change can cause a number of following flood-inducing factors in the Asia-Pacific region. These threats loom in should we fail to abide by the Paris Agreement in finding more sustainable ways to reduce our carbon footprint:
Mean summer temperatures in Asia will increase by more than six degrees Celsius while areas in higher latitude can reach up to eight degrees Celsius.
Heat extremes, such as heatwaves, will become the new norm by 2070.
Annual mean precipitation by the end of 21st century is looking to swing toward an upward trend, causing more severe flooding.
Glaciers and rivers will recede and people will become more dependent on rainwater.
Tropical cyclones will become stronger and more devastating, leading to damage in property and loss of lives.
Adverse climate changes will severely affect the growth of the country and create a negative impact in the economy such as damaged cars due to flooding, destroyed properties, and even loss of lives.
The country in focus
The Philippine Daily Inquirer reported that seven cities in the Philippines are in more at risk than others if the projections of ADB are right. Cities such as Butuan, Davao, Iloilo, Caloocan, Malabon, Manila, and Taguig are more exposed to the negative effects of a one-meter sea-level rise.
The paper also revealed that "according to the Climate Risk Index, the Philippines was the fifth most risk-prone country in the world in 1994–2013." In the same year, we became the most globally affected country by natural hazards.
Due to this, migration from places that suffered from catastrophic natural disasters to urban regions like Metro Manila and Cebu becomes more prevalent. One particular case was during the aftermath of typhoon Haiyan where residents of Tacloban City moved to Manila, Cebu City, and other urban destinations.
Aside from more severe typhoons battering the country, ADB also found out that decline in rice yield is inevitable with such weather conditions.
"The cross-border migration of women was more affected by climate change as a push factor than the cross-border migration of men," the report furthered. "This can be explained by the fact that the group of female migrants is often made up of unskilled agricultural workers who seek labor as, for example, housekeepers, whereas the group of male overseas migrants often consists of skilled laborers who previously worked in more technical fields, which are not as affected by climate impacts as agriculture."
Near-future projections
If the multinational lender is looking at the future, we can actually see where we stand five years from now. NOAH, which stands for Nationwide Operational Assessment of Hazards, is a multi-purpose tool that allows Filipinos to have instant access on scientific disaster data in real time. Aside from rainfall and typhoon indicators, NOAH also shows information on landslides, tsunamis, flooding, and dengue monitoring.
Using NOAH's five-year flood hazard map, we've found that the following areas in Metro Manila are most prone to flooding:
NLEX-Balintawak Cloverleaf
EDSA-North Avenue
EDSA-Camp Aguinaldo Gate 3
EDSA-SM Megamall
EDSA-Pasong Tamo Magallanes
Philcoa Area
Quezon Avenue-Victory Avenue
Papa-Rizal Avenue
España-Antipolo-Maceda
Padre Burgos-Manila City Hall
Buendia-South Superhighway
Don Bosco
Osmeña-Skyway
East Service Road, Sales Street
C5-Bayani Road
C5-BCDA
C5-McKinley Road
C5-Bagong Ilog
In addition to these areas, NOAH also indicates that areas near rivers such as Tullahan, Marikina, Pasig, San Juan, Manggahan Floodway, and other major streams of water will see worse floods in the next few years.
For the 25- and 100-year flood hazards, NOAH also projects the same results with much more widespread areas affected. Creeks and other arterial bodies of water can also affect the severity of flooding.
An article published on NOAH's blog states the areas highlighted above all have certain qualities, which are mainly topographical and geographical.
"Majority of flood-prone areas are along the intersection of creeks and streets located in topographic lows. When creeks overflow or when rapidly accumulated street flood does not drain fast enough to the nearest stream channel, the intersecting road also gets flooded," the article said.
What are thoughts on this? Share