6 Very Pinoy Features We Wish Waze Had
2 min read
When Filipinos first got hold of navigation app Waze, drivers were both perplexed and confused because it clearly wasn't ready for the monster that is Philippine traffic.
After more Wazers made the app more attuned to the country's roads and kingdoms, Waze has become the go-to guide for drivers who wish to get out of our labyrinthian road conditions. However, the fact remains that the app is still as western as its origin.
So what if we got a chance to make a 100-percent local version of the app–more Pinoy, much like your friend who loves to ride shotgun or a mouthful of a backseat-driving uncle? Driving, if not the traffic conditions, would be so much better.
1. A more appropriate logo
Waze's logo seems like a little ghost ball trotting happily, but this is an inaccurate reflection of the Filipino driver's mindset. With humongous willing to crush you to death, nightmarish traffic jams, and probably a lack of coffee in the morning, a more appropriate Waze logo would be a fuming red hot fireball who can't wait to be unleashed get to its destination.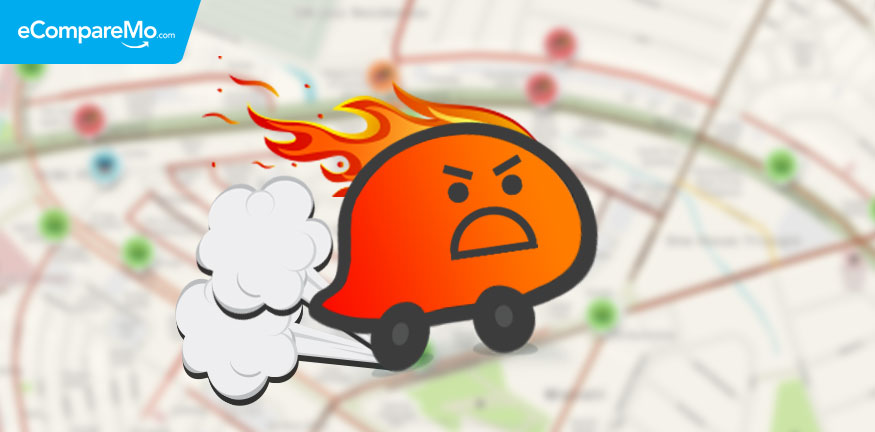 2. UV Express driver decoder
Valiant Metro Manila commuters know how UV Express drivers are known for using cryptic codes such "Sagada" (Buendia as the end of the SM Fairview-Buendia route) and "Double Mike" (MMDA officers) among each other. So how about a feature that can predict UV (and other PUV) drivers' behavior before they even make that haphazard switching of lanes?
3. A navigation voice you can't ignore
Waze has previously offered the option to change the navigation voice to Morgan Freeman, Terry Crews, and Elvis Presley. Now how about having the option to use none other than President Rodrigo Duterte's voice?
Imagine: the foul-mouthed, no-holds-barred, paradoxically amusing leader cussing at you at every turn and threaten you using his trademark intemperate language if you disobey the app.
4. Traffic selfies
To celebrate Pinoys' obsession with duckfaces and #WokeUpLikeThis, our local version of Waze should have a selfie function. It's simple: Just shout "selfie," wait for the app to open the camera, and strike your best "stuck in traffic" pose. As an added plus, the app will also let you do your own version of Carpool Karaoke with the whole fam-bam.
5. Who's gonna drive you home tonight?
What if, based on your navigation history, the app can detect if you just got out of a relationship? (Skipping your usual stopover and going straight home from work for two straight weeks? #Alamnathis.)
Also, ask Waze, "Where do broken hearts go?" and it will recommend to take you to Sagada over the weekend a la That Thing Called Tadhana, or maybe to the nearest ice cream parlor where you can eat your emotions.
6. Navigation made easier
The beauty of Waze is that it allows you to navigate with precision. But us Pinoys aren't used to measuring distance in meters, but rather, in terms of numbers of "kanto," or street corners.
To make the app more Pinoy user-friendly, 100 meters should be replaced with "sa unang kanto"; 300 meters with "pangatlong kanto"; and so forth. Landmarks like "sa may tindahan" and warnings like "Abangers na pulis reported ahead" would also help a great deal.
Have more truly Pinoy Waze features in mind ? Share them in the comments.