6 Essential Tips On How To Use Your Credit Card Wisely
3 min read
As a credit card user, you've probably been there and done that: Excited to get your hands on your new acquisition and make your first purchase, only to get stumped upon receiving your first bill.
It's a common oversight that not only first-timers, but also long-time cardholders, commit, using a credit card as an extension of their wallet rather than a means to score deals and discounts.
Whether you are new to credit card ownership or a decorated cardholder, it's important that you follow these tips on smart credit card usage. Your noble end goal: Take full advantages of rewards and exclusive benefits, and avoiding mounting credit card debt altogether.
Below are six credit card usage tips that every responsible cardholder should know by heart:
1. Always pay your balance in full
One of the perks of having a credit card is getting a "grace period" for payment. This is usually a three to four weeks buffer before your billing statement comes in and you have to shell out money for your purchase.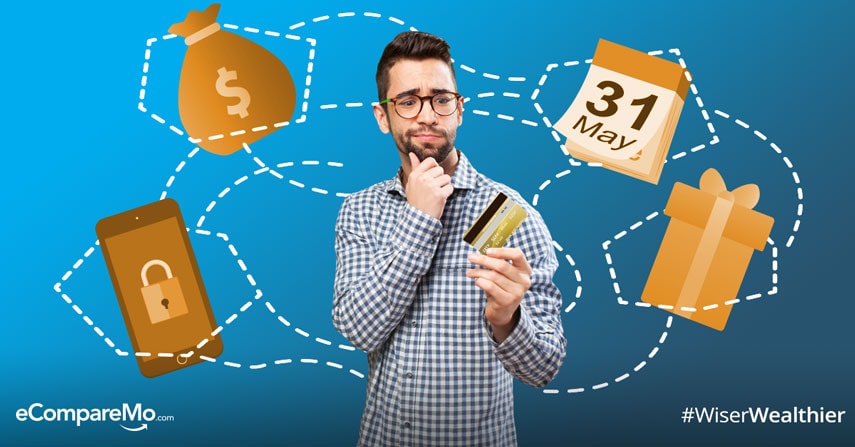 While there is an "option" to partially pay your credit card bill, this means that when your next bill comes around you will incur an interest charge which will grow until the debts are fully paid off.
Remember that your credit card should be a convenient payment method – not an added expense. Don't charge anything on your card that you know you won't have the capacity to pay in full when your monthly statement comes around.
2. Be mindful of the due date
Your payment history is a key factor in determining your credit score. Paying your credit card bills on the due date will prove to lenders that you are a responsible and trustworthy customer. This is how you build and maintain a good credit score.
Late and skipped payments can cause a decline in your credit standing and might lower your chances to get approved for future financial services.
3. Keep an eye on your credit card limit
Your card can either work for you or against your finances. The smartest way to use a credit card is to keep track of your spending.
Remember that the credit limit granted to your account isn't a cue to spend-away. The truth is, maxing out your credit limit is a red flag to banks. Be mindful of your credit utilization ratio and keep your balances below 25 percent of your credit limit.
(Read: 5 Best Credit Cards For Starters)
4. Use your rewards and benefits
Your chosen credit card is loaded with perks and privileges like cash backs, air miles, discounts on groceries, gasoline, shopping, and dining.
While some perks are built in, there are others that credit card companies offer for specific time periods. Stay alert and look out for different credit card promos every month.
Not only does your credit card provider offers benefits for your retail needs, you must also know about security features like purchase protection and fraud protection.
5. Take advantage of technology to avoid credit pitfalls
Credit card providers and banks offer many tools that allow you to conveniently manage your account. Common financial monitoring tools are toll-free 24/7 customer service, online and mobile access, automatic bills payment, balance and promo alerts via text and e-mail, as well as money transfers feature. Aside from swiping for purchases, some cards also allow you to take out a cash advance in cases of emergency.
6. Note important fees and charges
Credit cards come with fees and charges for the services provided. Some dues are standard and mandatory, some may depend on customer's use and can be avoided.
Annual fee – Charged every year of membership. Other companies waive this fee for the first year.
Cash advance fee – This is charged when you withdraw cash on top of your credit limit.
Late payment charges – Charged by issuers for if customers fail to make monthly payment on due date.
Balance transfer fee – Charged when you transfer a remaining balance from another credit card.
Foreign transaction fee – This is charged when you make purchases and other transaction in other currencies and countries.
Sources: The Balance, Finder, Marvin Germo, Capital One