5 People Share How They Bought Their First Home
10 min read
If it was up to most of us, we would already have bought and paid for our own homes by now. Here are five people who've done just that.
We often talk about buying our own homes or owning a property, but this usually takes place somewhere in the nebulous "near future."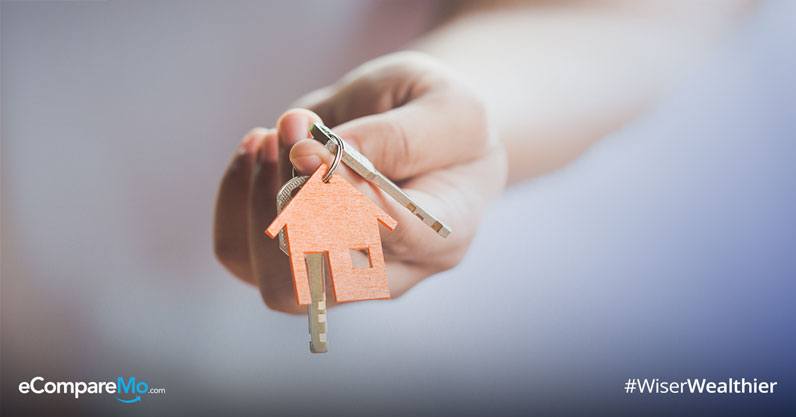 Some of us have more solid plans, setting a timeline of three to five years from now. Others are financially limited, so these plans are set for "when I get more money/a better job" or when they work up the nerve to apply for a housing loan.
Well, in this post, I interviewed five people for whom the "near future" has already come. I asked them how they went about getting their first homes.
Whatever it is you're looking for, we can learn from the ways these people acquired their first homes, including important tips so we can start a solid home buying plan as early as now.
1. Hannah, 28, marketing manager
Married with 2 kids
Working for 8 years
Home buying tip: Research and compare. Also, make sure you know what other fees you need to pay.
I applied for a bank home loan in April 2018. Prior to that, I did thorough research on the different requirements and rates of banks. At that time, I found that other banks had higher downpayments required, at 20% of the appraised value.
The house and lot we wanted were initially priced at P2.2 million, but we asked the owner for a discount, and he gave it to us for only P2 million, with the agreement that we shoulder the processing fees. Little did we know, this "discount" was going to cost us more because the fees cost us a total of over P300,000!
The property we wanted was appraised at P1.9 million, and it was good for us because we got a lower downpayment of P110,000. But it was with the processing fees that we almost wanted to back out. Since we were already deep into getting the new house, we just braved through all the fees. Some of the fees we had to pay were a total of P57,000 for the documentary stamps. It reached 180,000 for the transfer of title, and around P20,000 for the broker who processed all the taxes and other documents.
The housing loan term we got was for 20 years, with a fixed interest rate in three years. Our monthly amortization is around P13,800. Our current rent now is P11,000, and we're happy to finally have our own home where instead of paying rent, we're already going to pay for something that's ours. We will move in next summer, so our son can start with the new school year.
My advice is for homebuyers is to check everything and to prepare financially. Talk to your agent and/or broker and clarify all the other fees. The fees do not end with just interest rates, downpayments, and monthly amortizations.
(Read:  Pag-IBIG Housing Loan: The Complete Guide To Funding Your Dream House)
2. Marianne, 33, HR supervisor
Single
Working for 11 years
Home buying tip: Ask around from trusted people who have experienced purchasing a property. Use comparison sites to find the best terms.
I bought a condominium. Why? Because it's cheap and practical, location-wise. I didn't know then that I would be working in Makati so it's far from my workplace, but it's still a great place to live in as it's only two hours away, even with traffic.
I've already paid for the  P220,000 down payment, so I asked around for financing options, either through Pag-IBIG, or bank. I heard from most of my officemates that it can take longer with Pag-IBIG, so I opted with a bank. This was in March, and my sister was coming home in April, and we could no longer wait.
It was the condo developer that sent the housing loan application to the banks. It just so happened that PSBank got back to me the fastest. I submitted the complete documents on a Monday, and PSBank called me a week after.
They processed my application and in less than two weeks and I got approved for a housing loan. They let me know that out of P1.9 million I had asked for, I only got approved for P1.7 million, payable in 25 years. There is an option to settle all the payments earlier than the loan tenure of 25 years, with a rebate for extra payment.
For PSBank, there's over P43,000 I needed to pay for miscellaneous fees, including fire and calamity insurance of P15,000. These are payable from June to September 2018. So, I still have to pay the remaining P200,000, and I had to loan in other banks.
At this point, I used a comparison tool, which led me to two institutions that offered terms that I felt I could payback easily. I tried BPI for a P60,000 personal loan. It was really fast processing. Then I also applied online with PBCom, for P180,000. I got approved within two days. I applied on a Thursday, and on Monday, I got approved. I got the money on Tuesday.
Now, there's still the P20,000 moving-in fee for electricity and water meter, all that stuff. After I pay that for that, I can already move in within five days. All the titles, and transfers, are for free. The process started in May and ended this August.
This was my goal when I was 30, and it's been three years in the making. It was actually my dad who urged me to have an investment. After all this time I've been working, I wanted to have something tangible. This is for my future family as well.
3. Christian, 45, businessman
Married with 3 kids
Working for 26 years
Home-buying tip: Don't be afraid to invest in real estate, especially in areas that are just about to develop.
I got my first home when I was 19, but I never really lived in it. It was really more of a property my mom who was a real estate agent, urged me to buy.
This was around 1995, and the house and lot was just worth around P500,000. It was located in Cabuyao, Laguna, which was still pretty rural by then. But my mom already had the foresight to see the development potential in the area.
I only spent around P50,000 for the downpayment and paid for the property for two years. I was already a working student by then and earning P7,000 a month, and P5,000 would go to the monthly amortization of the house.
I didn't get to finish the payment term, because my mom decided to sell it on my behalf. This was how she first taught me the concept of flipping: You buy a house and lot not because you're going to live there, but rather, you buy it knowing that it increases in value. When the right opportunity arises, you sell the property at a much higher price.
People usually think they can't buy a house because they don't have millions, as if they're going to get all of the property amount out of their pockets. At age nineteen I was taught that very seldom does anyone buy a house in cash.
Basically, you buy a house and lot, and you just pay for down payment and all other miscellaneous fees, and the rest you loan from the bank. I bought my first property, and I didn't have to shell out a million.
After I sold it, my mom told me not to spend the money I earned off the property. She told me to invest it again, into something that's more expensive this time. She encouraged me to buy a condo unit worth P800,000. This was around 1997.
The property is in Las Piñas, right in front of South Mall. It's 40 square meters. It used to be residential, but my mom exchanged it to a commercial unit. I really don't understand the mechanics, but she knows how to play with the property. I still have that property to this day, and I've just been renting it out.
The last property I bought is located in Greenwoods, Pasig. I've been renting it out to a family since I got it in 2005.
I bought it for P2.2 million. The down payment was P1 million in cash. By this time, I already had enough savings to pay for the house and lot. During the time we bought it, there was already someone renting. I only had to pay P14,000 monthly. The rent was P12,000, so it was basically paid for by the renter.
I assumed the loan from the previous owner and paid it within 7 years.
Recently, someone wanted to buy it from me for P4.5 million, and I refused the offer. I know I won't be able to buy a house and lot in a prime location for that amount. We stopped renting for a few months now, so we can renovate it and get it rented out for P35,000 per month.
After all these buying and selling, I realized that the house depreciates and needs a lot of maintenance, thus, more expenses, so I invested in land instead. My last purchase was four (4) lots in Biñan, Laguna.
This is all my mom's legacy. She taught me the value of buying all these properties and really try and see into the future developments of the area. This is why I never bought a car [even after having a family with 3 kids]. A car can cost more than P1 million and it will depreciate in, say, 5 years, whereas a piece of land, worth about the same, will sure be worth double in around 5-8 years.
With regards to buying and selling condos nowadays and getting the new owner to assume the loan, it can also be very risky because what if they don't continue the payment, then it's your name that will have a bad credit record.
In my case, when I assumed the loan, I took care of it in their nae, and had zero delayed payments in the years I paid for it. I would advise that you invest in provincial or rural areas instead, where there's plans for future development.
(Read: 5 Important Things To Look For When Buying Your First Home In The Philippines)
4. Dani, 37, operations manager
Married with 2 kids
Working for 16 years
Home-buying tip: Take note of what the agents told you about fees, rates, and terms and conditions. These can still change or increase in price.
My husband and I bought a condominium in San Juan, Mandaluyong. It's worth P4.5 million, with a 20% down payment required. We found this through an agent. The total down payment we paid in cash was P500,000, paid by my husband's parents. It's all ready for occupancy and on a rent-to-own scheme.
The P500,000 was the 10% spot cash down payment. The next would be the 20% amortization, which is P900,000, payable in three years. We would only be paying P25,000 monthly. After the three years of payments, that's when we have to loan for the P3,150,000 or 70% of the property value.
What got me were the changes in the fees that we were told. For instance, the agent told us that the association fee is only 5% per square meter, and now it's up to 9% in just a month. They also changed the amortization term to 25 months, which would have made our monthly amortization bigger. Good thing we fixed all these, and we finally agreed to pay on the original offer.
My advice for new home buyers is to always be careful of who they're talking to, and not be too fast in paying for the non-refundable reservation fee. Take note of the fees they're telling you, as well as the payment terms. The agents can entice you with all the low costs, but it can all still change in an instant.
(Read: Property Buying Guide for OFWs: 5 Steps To Buying Your Own Home)
5. Michelle, 30, Sous Chef
Single
Working for 9 years
Home-buying tip: If you want to rent out or invest in your property, renovate.
The two-storey property was given to me by my mom. It's located in a subdivision near Emilio Aguinaldo Highway in Tagaytay and is worth over P3 million.
My dad was in the construction business, so my parents knew the real prices of the properties and which ones have depreciated in time. My parents gave it to me because as they said, I'm the only girl and I'm still single, so it would be good to have my own home as early as now.
I'm just very lucky to have been granted this property that's already under my name, without paying for anything. Right now, I'm getting renovations done. The plan is to get it rented out, 'cause it's in a prime location.