5 Christmas Titles On Netflix That Will Make Your Binging Holidays Warm And Fuzzy
4 min read
Going out during the holiday season is a terrible idea.
Since people are loaded this time of the year, everyone will be out and about spending their 13th-month pay and bonuses to make their loved ones happy. This means that commuting is terrible and getting around will be difficult. So why bother?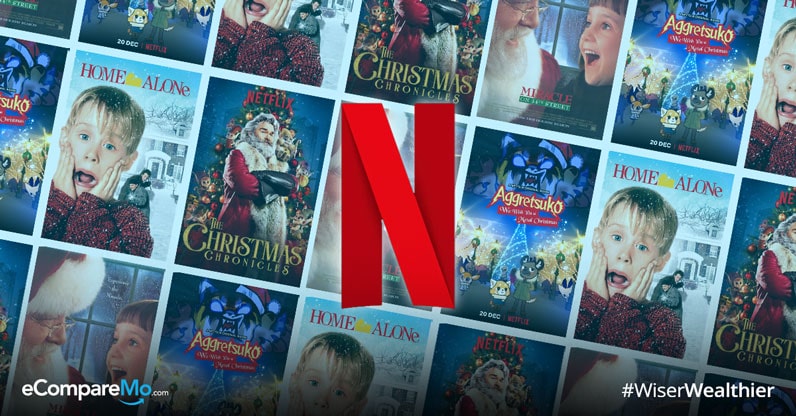 This Christmas season, we would like to appeal to reason to just stay at home, open your Netflix account, and just watch your day away—and there are a few reasons to seriously consider this move. For starters, you don't have to spend money outside, which means extra savings for the holidays. In addition, you don't have to brave through the swarm of shoppers out there. It's a win-win situation!
Since it's the holidays, we have checked our Netflix queue for some titles you can enjoy yourself—or with others—this Christmas break. Unfortunately, they already pulled out Die Hard from the platform, which is inarguably the best holiday film of all time.
1. Home Alone (1990)
It's hard to imagine anyone who hasn't seen this John Hughes classic in this day and age. But to the uninitiated, here's a bit a spiel: rascal Kevin McCallister was left alone in the house by his family on their way to Paris, with the events taking a weird turn as he has to defend his home by himself from thieves planning to rob their house.
What makes this movie a classic heartwarming Christmas movie? Aside from being set during the holiday season, Home Alone is also a chock-full of gags and a strong performance from the supporting cast, particularly Joe Pesci over-the-top portrayal of the hot-headed Marv. Just don't ponder too much on Kevin's ability to set up elaborate traps a la Saw or how terrible his parents are for forgetting about him.
(Read: 15 Handy Tips On How To Survive Holiday Reunions)
2. Aggretsuko: We Wish You a Metal Christmas (2018)
Ever since the hit animated series came out on Netflix last April, the lovable anthropomorphic red panda has amassed a following, especially among young professionals. Aggretsuko follows the story of Retsuko, a regular office drone who unleashes her frustrations about her routinely life through heavy metal karaoke. After ten episodes and a healthy dose of ear-piercing metal tracks, we want more.
Although season 2 is still in the works, the streaming platform will give us a taste of heavy metal karaoke this season with Aggretsuko: We Wish You a Metal Christmas. This Christmas, Retsuko has to find a resolution to her social media addiction, her blossoming relationship with the hyena Haida, and her usual office woes.
To make things even better, the holiday special episode will feature a punk version of "Jingle Bells" performed by Tim Timebomb and the Interruptors, a side project led by Rancid frontman Tim Armstrong.
(Read: 5 Fundraising Campaigns Worth Supporting This Christmas)
3. BoJack Horseman Christmas Special: Sabrina's Christmas Wish (2014)
Christmas is just around the corner—but everyone's second favorite raging alcoholic wants nothing to do with it. In BoJack Horseman Christmas Special: Sabrina's Christmas Wish, Todd bugs the titular character to watch a Christmas special of BoJack's old sitcom, Horsin' Around. If you've been following the show for years now, this is the perfect way to stave off the anticipation for the sixth season.
Shuffling between the characters' commentary on basically everything and the exploration of common Christmas themes disguised as a gaudy 90's sitcom, Christmas Special can is a nice roller coaster of emotions yet ending with a satisfying resolution. By the time the credits roll, you'll definitely blurt out Sabrina's catchphrase "that's too much, man!" Cue laugh track here.
4. The Christmas Chronicles (2018)
Kurt Russell as Santa Claus? Why not? The Escape from New York star now takes the reins of the most common holiday symbol in this new Netflix movie. This time, Santa is cooler and suaver than your average big-bellied man in a red suit.
The Christmas Chronicles follows the adventure of two siblings who accidentally find out that Santa is real, only that their pursuit to prove it causes his sled to crash. They have to team up with Santa to make sure that Christmas will continue to be magical to kids around the world. The film has surprisingly heartwarming and funny moments that will make you believe in the magic of the holidays all over again.
5. Miracle on 34tth Street (1994)
The original Miracle on 34th Street that acme out in 1947 was met with critical acclaim due its warm and fuzzy take on the spirit of Christmas amidst the growing nihilism of its time. Several decades later, The Breakfast Club director John Hughes put his magical spin to the classic flick, giving the movie a fresh spin without taking away any of its essence.
Starring Richard Attenborough, Mara Wilson, and Elizabeth Perkins, Miracle on 34th Street is a story about an ordinary elder being reluctantly reeled in to become a department store's Santa Claus after his predecessor got sacked for being intoxicated before their Thanksgiving parade. Problems ensue as the previous Santa exacted revenge on the new Santa actor due to success in his role. Mystical and touching, Miracle on 34th Street will make you appreciate the power of the holidays in transforming people's lives for the better.