#GoalGetter: How This 24-Year-Old IT Consultant Became A Three-Time Microsoft MVP Awardee
9 min read
Recent reports indicate that Information Technology (IT) remains the highest-paying job in the country. It's also one of the most hired occupations of 2017, and it's with good reason that more young adults are pursuing a career in this competitive and fast-growing industry, as it's also one of the most hired occupations of 2017.
In this month's edition of our #GoalGetter series, we get to know Michael John Peña, a 24-year old IT professional who has earned an awe-inspiring cred in the IT industry at a young age.
Michael started as a web developer, and worked his way up as an architect and consultant, with a consistent three-year Microsoft Most Valuable Professional (MVP) award. The Microsoft MVP award is given to technology experts who share their expertise with the community.
Michael is currently a senior IT consultant for a software development company in Sydney, Australia, training people for Xamarin cross-platform technology.
Before that, he co-founded Gluon, Inc., a London-Based financial technology (FinTech) startup and became its director and chief technology officer.
In between his jobs as a web developer and architect, he's had speaking engagements since 2011, sharing his expertise by training and motivating people to work with the latest technological developments.
So what does it take to be successful in the IT industry? For one, Michael attests that proactiveness is necessary. And as sure as everyone has to face challenges in their own careers—IT or not, we can all learn from Michael's insights and experiences.
Your Microsoft MVP profile says you've been into computers since you were eight. What piqued your interest in tech at such a young age?
I was six years old when I first touched a computer using my mother's office PC. I was just doodling around with the mouse and somehow felt a "calling," an instant connection of the limitless possibilities I could do with this machine.
But it was only until I was 8 years old when we had access to a PC on a day-to-day basis, when a secondhand Pentium 1 PC arrived in our house.
What are some of your skills in computer technologies?
By profession, I am a software consultant with architecture and full-stack engineering experience ranging from mobile, cloud, middleware, back-end technologies, front-end technologies, testing, devops, and even business analysis.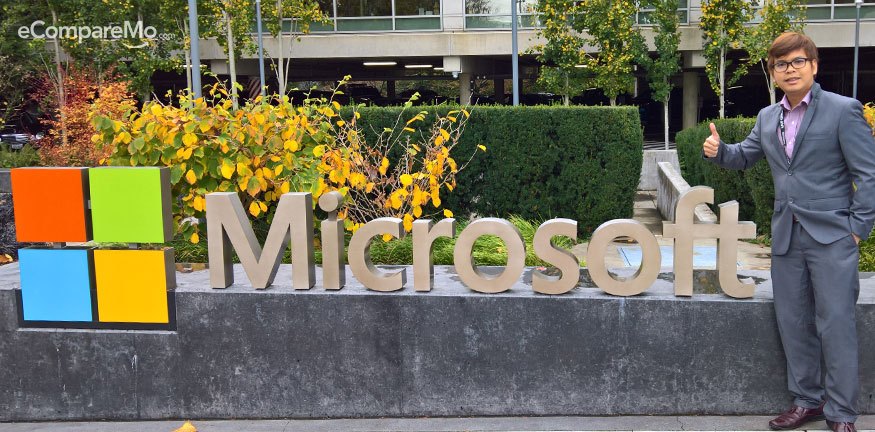 I do however specialize in using Microsoft technologies such as Xamarin, a cross-platform native technology to create iOS, Android, and Windows apps using C# and .NET Framework.
I also specialize in using Microsoft Azure as my go-to for "infrastructure" and cloud services.
Right now, I am doing consultancy work for enterprise organizations on existing Mobile strategy ranging from Architecture, Development, Security, Delivery, Testing and even conduct Training for team upskilling.
What are some of your biggest accomplishments so far?
I'd always dreamed of visiting Microsoft HQ in Seattle and Silicon Valley. I fulfilled that last year. As part of sharing my passion with the community, I am currently recognized as a three-year Microsoft MVP. Recently, I was also awarded as Xamarin MVP because of my strong discipline of the technology.
Career-wise, I'm glad that I was able to conduct a lot of enterprise training and coaching from small to large organizations. It also felt great each time customers see the business value of the work me and my team have done for them—helping them grow. Also, I was fortunate enough to have an experience of starting my own consulting company with trusted business partners that gave opportunities to a lot of people.
I see that the highlights of my accomplishments are the people I helped, bonded, and befriended in this journey.
All of this is achievable with the right discipline, focus and determination. All of this are a mere product of information and processes, that you just need to connect and stitch. But beyond all of that, my greatest achievement in life is becoming a dad to my son and having a supportive and loving partner in life.
What motivates you to do better in your job?
Knowing that I am not on this mission alone. I've always had the support of my family to pursue this career. Working in this field also gives me the challenge that I need in life, a sense of purpose to solve problems.
Lastly, I feel that I have this sense of mission that whatever I am learning or experiencing, I can always pass it on to someone or share it with the community.
What are your other skills, interests, and hobbies? Do some of these help you with, or relate to, your work?
I am currently learning how to be a great daddy to my son. I think being a dad enhances my soft skills, especially in leadership, patience, and optimism.
I regularly attend or present in user-group events or conferences to network with people and enhance my listening and speaking skills. I jog at least five kilometres twice a week to relieve stress and align my thinking to the tasks on hand. I watch TV series and movies, especially sci-fi, as a form of entertainment. It's also a way to enhance my vocabulary, creativity, and imagination.
As the IT industry is constantly evolving, it also becomes more and more competitive. What do you think is your advantage in this area?
I don't think I share the same love and passion to the IT industry as the majority does. Some practice it because of the monetary incentives, job availability, or will of their parents. Me, I love what I am doing.
No one needs to tell me to be updated on latest trends and technology; no one tells me to learn constantly—it is in my DNA.
Lastly, through community involvements, I've had the best mentors and friends, locally and internationally, who guided me and are still guiding me along this journey.
What are some work or personal habits that brought positive results in your life?
Proactiveness is one of them. You don't wait for things to happen to you. You do something for things to happen. Success may involve some luck, but majority of it comes with your own effort in the process.
I keep a balance of working "smart" and having fun. I know when it is time to party hard and when to have a focus when executing work. I automate a lot of tasks such as paying bills. I have a very comprehensive to-do list with integrations to a lot of services. I take advantage of technology.
Some days, you feel dull and unmotivated. But I always stay positive and think better days will come.
On the other hand, what were some setbacks that you had to go through in your job? How did you overcome them?
A lot of people want to hear about your successes, but only a few would like to know your failures. I experienced a lot of failures in life.
In the early phase of my career, where I felt that I was invincible. Everything else follows if you have a big ego and sense of entitlement. It was a big setback, as I learned a lot from this experience. There are things you can do by yourself, but there are many things you can perform better if you are well coordinated with a team.
Since then, I've spent more time understanding people around me to develop my emotional well-being. I just have this mindset that in anything you do, someone out there can replace you who can do it faster, cheaper, and better.
Not that I am saying I don't keep myself competitive but I realized that the real challenge in life is not to prove yourself to everyone but to prove yourself that you are better than who you were yesterday.
Would you say you were always well-compensated with your jobs?
I believe that when you are doing a great job, money will follow. I also think that during the early phase of your career, the experiences and exposure are more valuable than the compensation.
Do you have other sources of income besides your work now?
I currently own some stocks and "crypto currencies" like Bitcoin and Ether as a form of investment. I am also currently authoring a video course for a publisher and soon I will get commission and royalties in doing it.
I feel that these forms of side-bets are still related to my profession and won't give me any conflict of interests.
How do you save money? If so, what are you currently saving up for?
I have four different bank accounts. One of which is the account where I get my payroll and other monetary incentives, which we can call Alpha Account.
I have set up a monthly auto-debit to pay my rent, insurance, transport, and other monthly bills in my Alpha Account. Then I send remittance to me and my wife's Philippine joint account to support my wife and baby needs as well as family savings in peso.
From there, I have set up an auto-debit to my Savers Account and Allowance Account. With the money from the allowance account, I can spend that for the rest of the month on anything I want: coffee, food, online transactions, and subscriptions or save up for a gadget.
The Saver's Account is then for long-term expenses such as housing/properties as well as for emergency purposes. The numbers may change once in a while, but the idea and practice of having fixed savings and allowance will never change.
What are some of your long-term plans in terms of career and personal life?
Given that I'm currently 24 years old, my long-term career plan is to retire, at least from employment, in my 40s, or probably have my own tech company around that time. By that time, my baby boy will be in his 20s and attending a university.
In terms of material things, I want to have my own remote farm or ranch in a suburb then go for a boat ride on weekends. Along the way, I'll be investing in different real estate and tech startups in the Philippines.
Another thing is to establish a good pipeline of earning money while having fun even if you're not working, such as authoring video courses and books. Lastly, I want to share all these experiences and journey with everyone.
What advice would you give individuals who are also in the IT industry?
It's hard to say "be passionate" to someone if he or she is not, but if you are—"let the light keep on burning."
What I would suggest is that always give your best and learn to love what you do. In case you're having a hard time, learn the fundamentals of having good focus, determination, and sheer will. Be involved with the community, even if you're still a student.
Start early and be proactive: Write some code or explore all these fascinating technologies while you are still young. Be exposed to the world, join competitions, seek mentorships, learn. Most of them come for free—you just need to invest your time.
Occasionally, you will fail and you need to remember why are you there in the first place. What was your goal? With those failures, you will learn to become better. You cannot change the world overnight, but you can change yourself one day at a time.