How To Build Your Own Home Gym
4 min read
Do you find gym membership fees a bit too heavy for your pocket? Then here's a more frugal route toward achieving your fitness goals: Build your own gym at home.
Whether you crave the convenience of having your own personal fitness center, or you just want more privacy while lifting some weights, having a home gym can help you stick to a regular fitness program.
Wayne Joseph Tulio, a former assistant section editor for Men's Health Philippines, built his own gym for only P25,000. That's equivalent to an annual gym membership fee. Here, he shares some pro tips for budding DIYers.
Step 1: Know how much space you have
Tulio advises that before you start shopping for gym equipment, you may want to make an initial assessment.
He strongly suggests weighing the pros and cons of a home gym before spending some serious money on equipment. Though there are a lot of pros to having your own workout space, he notes.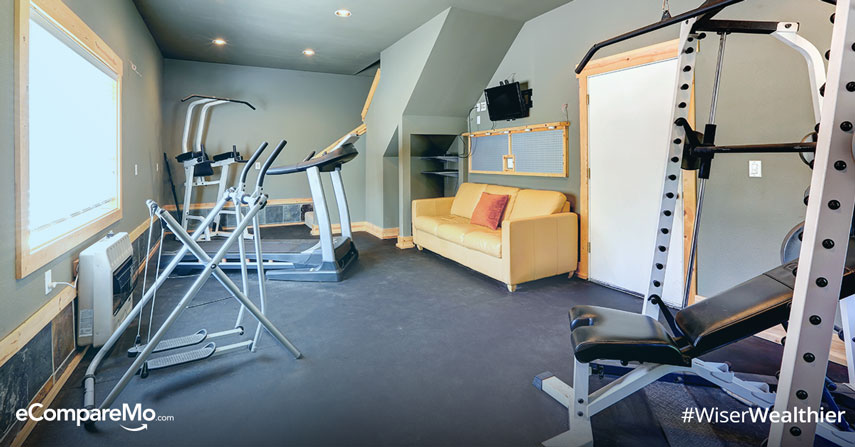 "You don't need to adhere to the opening and closing hours of a gym and you won't have an excuse not to work out since it's really convenient. It's quite cost-efficient in the long run as it's a one-time investment compared to a monthly gym membership," he says.
On the other hand, people who need a lot of variety in life—even just in their gym routine—are better off sticking to their monthly gym subscriptions. A commercial gym offers a wider range of equipment and will allow you to vary your workout routine.
"A commercial gym will always have more, and when you start getting bored with your workouts, you'll have other tools at your disposal," says Tulio.
Step 2: Identify your workout spot
The space you have available can dictate how well-equipped your home gym can be. If you're just starting out, you don't need to empty out your garage right away to fit in some fancy machines. All you need at first is an area big enough for the basic pieces. A high ceiling is also a good component of a fitness-routine area.
"You need ample space to work out and place your equipment. Next, comes your fitness goal and budget—both are crucial when it comes to equipment purchase," Tulio says. "Ideally, a spot should have a higher ceiling so you can jump up. Space-wise, a spot between 4-5 meters by 4-5 meters is a good start."
The dimensions, according to him, should be enough for you to spread out an exercise mat while still having space to arrange some weights like kettlebells and dumbbells in one place. This will give you the room you need for your routines and minimize the chances of your accidentally crashing into loose equipment.
If your bedroom isn't big enough to be turned into your personal training room, no worries, since Tulio says you will just have to "learn the exercises you can do with limited space and equipment."
"You can get a good workout using only your bodyweight, and if you know the right moves, space constraints won't be a problem," he added. This only means that you have zero excuse not to exercise at home.
Step 3: Buy gym equipment online
At the heart of any respectable home gym is the equipment that will help a person achieve their fitness goals. For franchise fitness centers, this means a complete set of barbells and dumbbells as well as several power racks, platforms, bench press units, and other fancy equipment for their customers to use.
(Read: 10 Online Shopping Websites In The Philippines With Great Deals And Discounts)
Do you too need to kit out your exercise area with a complete array of equipment?  According to Tulio, this is not necessarily the case. You can start with the most basic pieces of gym equipment.
"Basic equipment would be dumbbells in various weights, kettlebells in various weights, an exercise mat and skipping rope. You can do a lot of different workouts with these," he said.
If you want a more professional setup, then you may want to expand your array of equipment bit by a bit—and of course, find a place spacious enough to store them.
"The ideal home gym would definitely be spacious, has a high ceiling and has enough concrete walls in which to mount things like a pull-up bar, and suspension trainers. It will have rubber mats for flooring and you have a good set of dumbbells and kettlebells," he said.
If you are serious about putting up your home fitness corner and have a big enough budget, Tulio also suggests: "Buy a rowing machine, a spinning bike, and an elliptical machine. These are great for cardio workouts. I'd also recommend getting a squat rack, various weights and a barbell plus a lifting platform." These pieces of workout equipment will help you achieve more variety in your routines.
Despite already having an impressive personal gym set up in his home, Tulio still sees ways he can improve his setup.
"I wish to have Powerblock adjustable dumbbells that give you weights from 5 lbs to 50 lbs. A pair easily gives you versatile weights to work with, but one Powerblock costs roughly P19,000. I want to have pairs of kettlebells in various weights, too."