You May Not Realize It, But These Things Cost The Same
1 min read
Come petsa de peligro, count on Filipinos to turn into sudden experts at number-crunching. Most other times, however, we find it hard to look at the bigger picture, like when buying things on impulse.
It's only until later that you realize how much the money you've spent is really worth. To put things in perspective, here are a number of items that cost the same,
GoPro Hero 5
Brand New GoPro Hero5 Black: P21,990
Customer Service Associate basic pay: P22,200
The go-to camera of jetsetters and adrenaline junkies has an improved electronic video stabilization and linear view setting for wide-angled images. The GoPro Hero 5 also has voice control feature that supports 11 languages, as well as wind noise reduction. In perspective, it is only P100 cheaper from the median monthly salary of an entry-level customer service representative at a BPO company.
iPhone 7 Plus
Brand New iPhone 7 Plus: P56,990
Roundtrip ticket to Los Angeles, California from Manila: P56,280
The much-anticipated flagship phone from Apple offers a 5.5-inch display, a 12MP primary camera and secondary 7MP camera, and a water-resistant feature. For the same price, you can buy a roundtrip ticket to LA, get a chance to visit Universal Studios, walk at the famous Hollywood boulevard, ride the Ferris wheel at Santa Monica Pier, and discover Griffith Park.
2016 Toyota Fortuner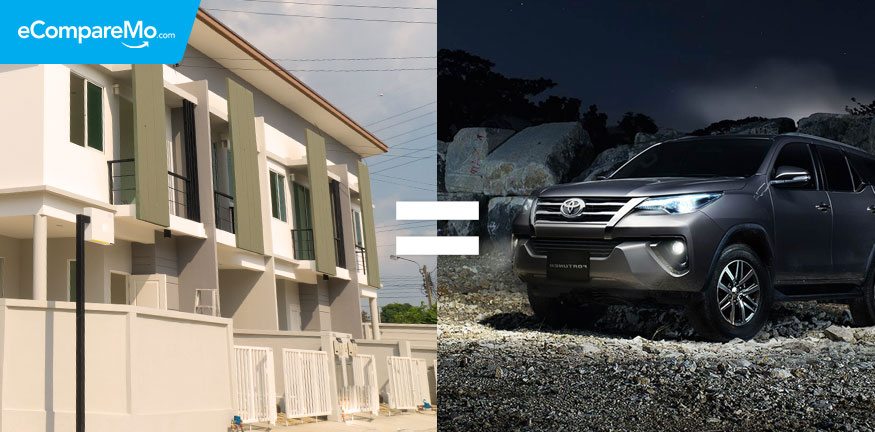 Brand-new Toyota Fortuner 2.8 V Diesel 4×4 A/T: P2,126,000
Three-bedroom house and lot in Carmona, Cavite: P2,120,850
The second-generation Fortuner is a seven-seater SUV fit for your barkada outings and family getaways. On the other side of the spectrum, with just a P6,000 difference in value, is a stylish home situated in Carmona with three bedrooms, two toilets and baths, and one carport. This 119 sq.m. lot area and 84 sq.m. floor area suburban dwelling is perfect for young corporate achievers and early nesters.