Yes, You Can Earn P150,000 From Being A Mushroom Picker In Canada, But There Is A Catch
6 min read
Tired of your stressful office job? Why not become a mushroom picker in Canada? You'll earn around P150,000 a month; just don't believe reports that it's a quick way to become a permanent Canadian resident.
Social media blew up recently with the news that Canadian mushroom farms were ready, willing, and eager to hire Filipinos to pick their crop.
According to the said posts, Canadian mushroom farms were offering P150,000 a month to mushroom pickers. And, as an added incentive, these posts claimed that a job as a mushroom picker could lead to permanent residency and eventual Canadian citizenship.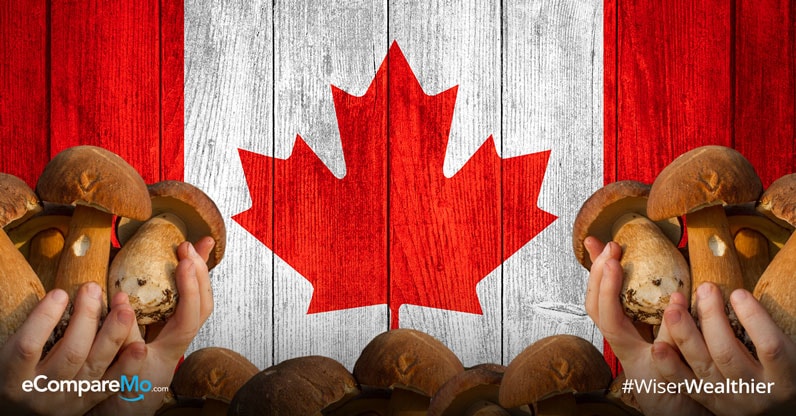 As with many things seen on social media, half of this report was true, and half…not so much. Foreign mushroom pickers in Canada are only allowed in as part of The Temporary Foreign Worker Program of the Government of Canada.
Under this program, workers from different countries come to Canada for specific Canadian employers to do specific jobs.
Canadian employers who want to bring in foreign workers under this program need to apply for a Labor Market Impact Assessment where they must demonstrate that they need to hire a foreign worker because they can't find a Canadian. They can also only hire these workers for specific jobs that have been identified by the government and, these workers are only allowed to stay in Canada for two years.
Path to temporary success
If you're okay with only staying in Canada for two years to work, working as a mushroom picker isn't bad. In a report by ABS-CBN, they spoke to two Pinoy OFWs who decided to become mushroom pickers in Canada and were quite happy that way.
Suzette Alacro used to be a domestic helper in Hong Kong before becoming a top mushroom picker in Sharion, Ontario. She earns about P150,000 a month, enough to provide for her Manila-based family.
Former high school teacher Teddy Legaspi also became a mushroom picker and he earns about P100,000 a month and gets free lodging at a staff house.
ABS-CBN also talked to the president of a legitimate Philippine recruitment agency, A & L Hammers Workforce who confirmed that Filipinos applicants were preferred in Canada as many speak English and are hardworking.
Canada's mushroom farms are part of a $1-billon industry made up of 65 commercial mushroom growers that harvest about 110,000 tons of mushrooms a year. According to Ryan Koeslag, executive vice president of Mushrooms Canada, there is a shortage of workers in the industry which can be filled by workers from the Philippines.
According to Lily Miranda Hammer, applicants for mushroom picker jobs in Canada need to undergo a 3-month seminar and training, but this is covered by the Canadian government. After passing the training and background checks, the mushroom pickers are flown to Canada to work for 2 years.
Philippine Overseas Employment regulations require Canadian employers to partner with both a Philippine and Canadian recruitment agency when seeking to hire Filipino workers.
According to a Reuters report, the farming, and the sea food and meat processing sectors are dependent on foreign worker as many Canadians resist taking jobs that involve manual labor and rural living.
Aside from mushroom picking, a growing number of job opening are also available for Filipinos willing to work as butchers and on oyster farms.
Be careful who you work for
In response to the reports about the plethora of mushroom picking jobs in Canada, the Department of Foreign Affairs released a statement urging job seekers to verify if job opportunities are legitimate through the Philippine Overseas Employment Administration or the Philippine Overseas Labor Office.
Canada's mushroom farms are part of a $1-billon industry made up of 65 commercial mushroom growers that harvest about 110,000 tons of mushrooms a year. According to Ryan Koeslag, executive vice president of Mushrooms Canada, there is a shortage of workers in the industry which can be filled by workers from the Philippines.
The industry employees about 7,000 workers across Canada and Koeslag mentioned that there is a shortage of about 10 percent, or 700 positions that need to be filled.
In response to Koeslag's statements, Philippine Ambassador to Canada Petronila Garcia cautioned interested applicants not to fall victims to illegal recruiters. She recommended hopeful potential mushroom pickers check the website to Canada's Immigration Refugees Citizenship Canada or pass their credentials to www.jobbank.ca to check the accuracy of news about available jobs.
The website Filipinos In Canada also cautioned Filipinos at home to scrutinize mushroom picking jobs carefully. They stressed that mushroom pickers get only temporary employment and are paid minimum wage – which is why many Canadians don't take the job.
They also emphasized that Canada is one of the few countries in the world that doesn't allow placement fees as Canadian employers are expected to shoulder all costs involved in an OFWs' recruitment, including two-way airfare. So, if your potential employer or the agency that says it will set you up with a mushroom picker job asks for a placement fee, the job probably isn't legal.
According to Filipinos In Canada, there are only 9 companies in Canada's official job bank which are offering mushroom picker jobs in the province of Ontario. So, if the job order is from one of these companies, it is probably legit.
White Cap Mushroom Farm Ltd.
Bradner Mushroom Farm Ltd.
Champs Fresh Farms Inc.
Peeters Mushrooms Inc.
Monaghan Mushrooms Ltd.
Avina Fresh Mushrooms Inc.
Brantford Mushroom Farm
Rossland Mushroom Farms Ltd.
Highline Mushrooms
Filipino migrant workers rights group, Migrante Ontario also cautions against the "rosy" picture being painted about mushroom pickers in Canada. Specifically, they targeted reports on ABS-CBN's TV Patrol on Filipino mushroom pickers.
Migrante Ontario released a statement saying that the TV Patrol report was not an accurate portrayal of the "life and working conditions of Filipino temporary workers and of migrant workers in the agricultural sector in general."
The group added "rosy" reports on mushroom pickers lives would just encourage and aid unscrupulous recruiters in deceiving Filipinos OFWs who might end up in Canada picking mushrooms but for exploitive employers under illegal circumstances.
Is it worth it?
There has also been some skepticism as to how great being a mushroom picker in Canada is. While P150,000 sounds like a lot to send home, it's not a lot to live on in Canada. P150,000 is only about 3,677.69 Canadian dollars.
As an Interaksyon report stated, Canada is the fifth most expensive country to live in. Minimum wage in Ontario is around 14 Canadian Dollars an hour and Canada is actually more expensive to live in than the US.
The report quoted figures from The Globe and Mail, which placed the price of a one-bedroom condo in the downtown area of a Canadian city at 1,159.50 Canadian dollars, compared to one in the U.S., which will probably cost 1,115.51 Canadian dollars.
So, if you lived in a Canadian city and worked as a mushroom picker, most of your salary would just go to housing. That's not counting food and utilities. Luckily, then that mushroom pickers who are in the country legally get free lodgings from their employers for two years, at which point you will need to return to the Philippines.
So, if you just want to earn a decent living to send back home or save, you can go to Canada for two years and work as a mushroom picker. If you want to live in Canada longer than that, you might need to look into other options.
Sources:
http://news.abs-cbn.com/overseas/04/07/18/in-canada-filipinos-find-greener-pasture-as-mushroom-pickers
http://www.interaksyon.com/greener-pastures-in-canada-as-mushroom-picker-not-quite
https://filipinosincanada.com/2018/04/11/mushroom-picker-jobs-canada
https://filipinosincanada.com/2018/04/10/why-you-shouldnt-go-to-canada-as-a-mushroom-picker
https://widerimage.reuters.com/story/migrant-mushroom-pickers-in-canada
http://www.journal.com.ph/news/top-stories/canada-s-1b-mushroom-trade-needs-700-pickers
http://www.journal.com.ph/news/nation/pinoy-applicants-for-mushroom-pickers-in-canada-warned-on-illegal-recruitment