Where To Invest Any Amount, From Php5,000 To Php50,000
4 min read
May the force be with you.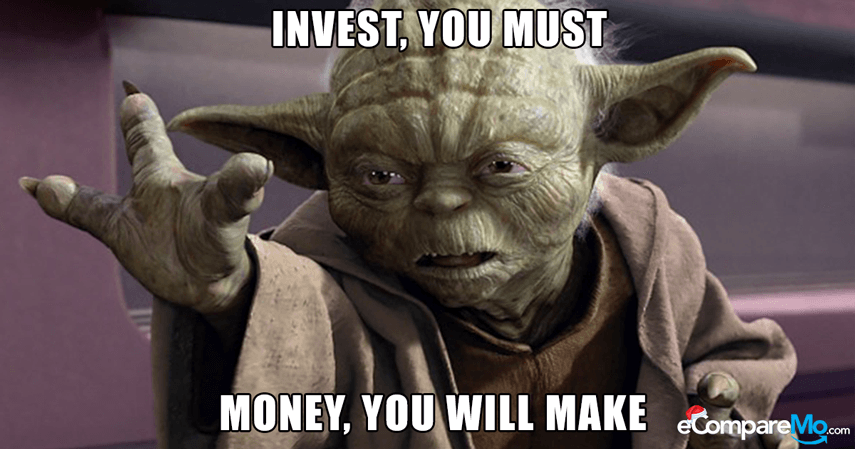 If you've always thought that you need a big amount to start investing, you're terribly mistaken. This may hold true for big-ticket investments, but there are actually ways for you to earn passive income with a relatively low amount. Instead of letting your excess cash go to waste on small, compounding expenses, why not put your money in the following investment vehicles?
Php5,000
An amount like Php5,000 seems easier to spend than save. It may not mean much, but this shouldn't stop you from making investments. Fortunately, there still are some ways you can make your money grow. Put it in different types of peso funds, for one.
Peso funds are investment plans offered by banks and other financial institutions to people who want to shell out a low amount of money. By pooling the amount invested by clients, institutions can use the sum for investments, loans, and other interest-bearing services.
Sun Life, a multinational financial services company, has a wide range of peso funds readily available. In their latest report, they state that their government securities fund can yield up to 19.28% if you invest your money in them for five years. So if you put in exactly Php5,000 and wait for the maturity date, you can earn up to Php1,000 by simply letting your money rest for years.
Php15,000
Do you have a liquid Php15,000 at your disposal and you want to put it to good use instead of, say, buying an iPad? There are lots of options out there for your money to grow, and they vary according to your appetite for risk.
If you feel conservative about your money and are looking into sure yet low returns, then open a time deposit account. For maximum yields, pick the longest maturity date. Or you can opt for unit investment trust funds (UITF), which are medium- to long-term investments. By pooling the money from different clients, trust entities will put the sum in different investments to yield returns for multiple investors.
While the interest earned from time deposit accounts are relatively low, UITFs can generate good profits depending on the performance of the fund managers. Once you've bought units from a trust, you can just watch the price of your units move every day and wait for the perfect time to get your investment—or just roll over your previous capital and your earnings and buy more units.
As of this writing, the top performing fund according to the Unit Investment Trust Fund website, a resource guide put up by the Trust Officers Association of the Philippines is AB Capital and Investment Corporation's long-term bond funds, at 5.7158% year-to-date return on investment.
Php25,000
With Php25,000 in cash, you have more than enough to help you get through a month's worth of expenses. Why not make it multiply by putting it in the right place then?
With this amount of money, you can start your venture into the stock market—even if you don't have six digits in your bank account.
You don't need to go to the stock market as a broker yourself; these days, you can avail of the brokerage services online and become a shareholder even with a low amount. Online stockbrokers are your gateway to the stock market, and you can do trading from your computer.
Pioneering the online stock market trading in the Philippines, COL Financial Philippines offers an account that can be opened for as low as Php5,000. Once you've set up your account and deposited the initial amount, you can start buying shares from the stock market and monitor your trade from the website.
Php50,000
To be fair, Php50,000 is a huge amount, any way you look at it. You can use this as downpayment for a brand-new subcompact vehicle, or to buy an expensive watch or jewelry. But why go that way when you can get a food cart franchise of your own?
There are different types of food cart franchises available for you to get at this amount. It could be something timeless like a dimsum cart or a French fries stall, or something trendy like a milk tea stand.
While banking on a franchise is good for people who have no experience in handling a business, there is also the option for you to make a name for yourself and build your own brand.
Depending on the type of product you plan to sell, you can earn up to 100% of the total cost of certain food items. According to concept provider Food Cart Link, the items with the highest profit percentage are the following: black pearl shake, waffle, palamig, juice drinks, gulaman, and iced tea.
By studying factors like foot traffic, rent, operational expenses, and target profit, you can maximize your net earnings and earn back your investment as soon as possible.
Achieving financial independence is not difficult, even with a very low sum of money. All it takes for you to get out of the cycle of poverty is just knowing where to put your money—instead of spending it right away. –Dino Mari Testa