Where To Get PCR Tests In Metro Manila: Contact Numbers And Prices
7 min read
There are numerous accredited laboratories in the Metro Manila that can conduct reverse transcription polymerase chain reaction or RT-PCR tests. We've listed down some hospitals and labs that can accommodate your testing needs.
At the moment, there are two acceptable tests used to determine if a person may have COVID-19: reverse transcription polymerase chain reaction (RT-PCR) and antibody blood test (more commonly known as rapid test). Between the two, the RT-PCR is the definitive way to tell if someone is infected with the said coronavirus.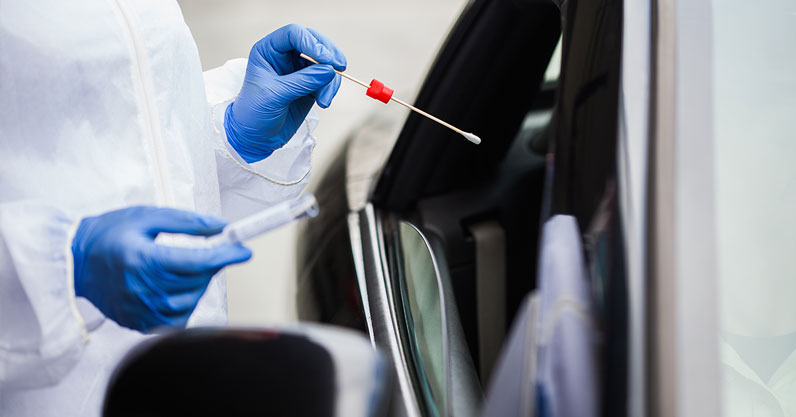 As part of our public service, we're here to list down everything you need to know about where to get PCR tests in Metro Manila, their addresses and contact numbers, and some verified prices from some hospitals and laboratories offering the said COVID-19 tests.
What is an RT-PCR test?
At this point in the pandemic, everyone already knows that RT-PCR is the only definitive way to tell if a certain individual has COVID-19 or not. But what exactly is this type of test?
In a nutshell, the RT-PCR test is divided into two segments: reverse transcription and polymerase chain reaction. If it sounds like a lot of scientific mumbo jumbo, don't worry. We'll break it down for you.
1. Reverse transcription
In this part of the test, the laboratory creates a copy of the virus' DNA using RNA through a process called reverse transcriptase. Using the samples collected from the patient, laboratory officers will break open the cells from the sample.
2. Polymerase chain reaction
Once the viral genetic material has been isolated, health personel will proceed by amplifying the said sample using an RT-PCR machine. Meanwhile, certain genetic material probes that will target coronavirus-related genes will be added to the process.
If the amplification process yields more coronavirus material in the sample, the fluorescent probes will react to the increasing number of viral material and indicate it via spikes over time. An increasing number of upticks indicate that the virus is indeed present in the sample and in turn, the patient.
Read: Face Masks In The Philippines: Which Type Should You Use?
PCR test procedure
To further break it down, these are the steps undertaken when someone takes an RT-PCR test to determine the presence of COVID-19 in their body.
The patient agrees to a swab test to get mucus sample from the nose and throat
Laboratory experts will break open the cells in the samples by combining the samples with a solution called lysis buffer, allowing them to extract the RNA that might contain the presence of the virus
Once the RNA has been isolated, they will conduct reverse transcription of the RNA to create a complementary DNA
The complementary DNA will then be placed in an RT-PCR machine that creates copies of the genetic material
When there is enough sample to test on, scientists will add fluorescent probes that will target gene markers that are specific to COVID-19
Upon finding signs of COVID-19 in the sample, the probes will emit react to these markers by creating a fluorescent glow, which will then be recorded by the machine over time
After a certain period of time, the machine will release the results of the rate of interaction of the probes with COVID-19 genes, with a positive result coming from the continuous amplification of the genetic material
Why does it take at least 48 hours for laboratories to come up with results for RT-PCR tests? There are several factors that can affect the processing time of swab tests conducted on suspected individuals. Some of the are the following:
The samples received by the laboratory did not meet the criteria for proper testing
Labs run the test in batches, allowing them to save time and effort in validating cases
RT-PCR testing labs follow a strict standard in handling viral samples
While RT-PCR tests have a 97 percent accuracy, this doesn't mean that you can no longer get infected by COVID-19 or you should become lax with your health and sanitation practices.
As always, maintain enough distance between you and other people, wear face masks or shield whenever you go out, and seek medical treatment immediately when you exhibit symptoms related to the coronavirus.
Where to get RT-PCR tests in Metro Manila
Whether you're already exhibiting symptoms for COVID-19 infection or you just need to give yourself some peace of mind, you can now get RT-PCR tests from hospitals and other accredited centers in the country.
To start off, here are some of the COVID-19 testing labs in Metro Manila licensed by the Department of Health:
1. Armed Forces of the Philippines Medical Center – Armed Forces Research Institute of Medical Sciences (AFRIMS) Collaborative Molecular Laboratory
V. Luna General Hospital, V. Luna Avenue, Pinyahan, Quezon City
(02) 8246-2111
2. Asian Hospital and Medical Center
2205 Civic Drive, Alabang, Muntinlupa City
(02) 8771-9000
3. Chinese General Hospital
286 Blumentritt Road, Barangay 372, Santa Cruz, City of Manila
(02) 8711 4141
4. Detoxicare Molecular Diagnostics Laboratory
Unit 204 Highpointe Medical Hub, 241 Shaw Boulevard, Bagong Silang, Mandaluyong City
(02) 8897-6994
5. Dr. Jose N. Rodriguez Memorial Hospital
Dr. Uyguanco Drive, Barangay 187, Caloocan City
(02) 8294-2571
6. Lung Center of the Philippines
Quezon Avenue, Pinyahan, Quezon City
(02) 8924-6101
7. Makati Medical Center
2 Amorsolo Street, Legazpi Village, Makati City
(02) 8888-8999
8. Marikina Molecular Diagnostic Laboratory
80 Bayan-Bayanan Avenue, Marikina Heights, Marikina City
9. Philippine Genome Center – University of the Philippines
A. Ma. Regidor Street, U.P. Campus, Quezon City
(02) 8981-8500
10. Philippine Red Cross
PRC Tower, 37 Epifanio Delos Santos Avenue corner Boni Avenue, Barangka Ilaya, Mandaluyong City
8790-2300
11. Philippine Red Cross – Port Area
Radial Road 10, Barangay 650, Port Area, City of Manila
(02) 8527-0861
12. Research Institute for Tropical Medicine
9002 Research Drive, Alabang, Muntinlupa
(02) 8807-2631
13. San Lazaro Hospital
Quiricada Street, Barangay 331, Santa Cruz, City of Manila
(02) 8732-3778
14. Singapore Diagnostics Inc.
4/F Sterling Centre, 131 Dela Rosa Street, Legazpi Village, Makati City
(02) 8845-0655
15. St. Luke's Medical Center – Global City
Rizal Drive corner 32nd Street and 5th Avenue, Fort Bonifacio, Taguig City
(02) 8789-7700
16. St. Luke's Medical Center – Quezon City
279 E Rodriguez Sr. Avenue, Kalusugan, Quezon City
(02) 8723-0101
17. The Medical City – Ortigas
Ortigas Avenue, Ugong, Pasig City
(02) 8988-1000
18. University of the Philippines National Institutes of Health
623 Pedro Gil Street, Barangay 670, Ermita, City of Manila
(02) 8526-4349
19. University of the Philippines – Philippine General Hospital-Medical Research Laboratory
2/F Laboratory Complex, Philippine General Hospital, Taft Avenue, Barangay 670, Ermita, City of Manila
(02) 8554-8400
20. National Kidney and Transplant Institute
East Avenue corner Elliptical Road, Pinyahan, Quezon City
(02) 8981-0300
21. Philippine National Police Crime Laboratory
Camp Rafael T. Crame, Epifanio Delos Santos Avenue, Bagong Lipunan ng Crame, Quezon City
(02) 3414-3334
22. Safeguard DNA Diagnostics Inc.
Unit 103, G Business Hub Building, 728 Shaw Boulevard, Wack-Wack, Mandaluyong City
(02) 8296-7595
23. Tondo Medical Center
Honorio Lopez Boulevard, Barangay 126, Tondo, City of Manila
(02) 8865-9000
24. Tropical Disease Foundation
1 Amorsolo Street, Legazpi Village, Makati City
(02) 8894-0743
25. Hi-Precision Diagnostics
440-442 W. Long Building, Del Monte Avenue, Sienna, Quezon City
(02) 8741-7777
26. San Miguel Foundation Testing Laboratory
40 San Miguel Avenue, Ortigas Center, Wack-Wack, Mandaluyong City
27. Sta. Ana Hospital – Closed System Molecular Laboratory
2692 New Panaderos Street, Barangay 886, Santa Ana, City of Manila
(02) 8516-6790
28. Fe Del Mundo Medical Center
11 Banawe Street, Doña Josefa, Quezon City
(02) 8712-0845
29. Health Delivery Systems Inc.
2/F and 3/F Soho Central, Shaw Boulevard, Highway Hills, Mandaluyong City
(02) 8634-5714
30. Philippine Heart Center
174 East Avenue, Central, Quezon City
(02) 8925-2401
31. Philippine Airport Diagnostics Laboratory
Domestic Road, Barangay 191, Pasay City
32. De Los Santos Medical Center
201 E Rodriguez Sr. Avenue, Kalusugan, Quezon City
(02) 8893-5762
33. St. Martin de Porres Charity Hospital
A. Bonifacio Street, Kabayanan, San Juan City
(02) 8723-0743
34. Philippine Children's Medical Center
Quezon Avenue corner Agham Road, Bagong Pag-Asa, Quezon City
(02) 8588-9900
35. Cardinal Santos Medical Center
10 Wilson Street, Greenhills West, San Juan City
(02) 8727-0001
Read: QUIZ: How Much Do You Really Know About COVID-19?
RT-PCR test prices
Although no medical facility has released their RT-PCR testing price publicly, these are just some of the available cost of swab testing in Metro Manila. Refer to the directory of COVID-19 testing centers above for contact numbers and address.
1. Asian Hospital and Medical Center
Prices: P6,000 regular rate, P4,000 for senior citizens
2. Cardinal Santos Medical Center
Price: P8,000 walk-in rate
3. Chinese General Hospital
Prices: P5,500 drive-thru rate, P5,000 walk-in rate, P3,409 PhilHealth rate, P1,591 PWD/senior citizen rate
4. Makati Medical Center
Price: P8,150 regular rate
5. Philippine Red Cross
Price: P4,500 regular rate
6. St. Luke's Medical Center – Global City
Prices: P12,300 emergency room rate, P8,150 drive-thru rate (prescription needed)
7. St. Luke's Medical Center – Quezon City
Prices: P12,300 emergency room rate, P4,300 regular rate, P6,500 drive-thru rate
8. St. Martin de Porres Charity Hospital
Price: P4,000 regular rate
9. The Medical City – Ortigas
Price: P8,150 regular rate
10. VRP Medical Center
Prices: P9,000 to P10,000 regular rate