What's The Cheapest Way To Get The iPhone 7 In The Philippines?
2 min read
Weeks after the iPhone 7 was announced during Apple's special event last September, fans of the Cupertino-based tech company couldn't wait to get their hands on the new smartphone from Apple.
With two variants offered—namely the iPhone 7 and iPhone 7 Plus—and a plethora of new features like dual camera, bigger display, and performance gains, Apple is adamant to corner the smartphone market.
For iPhone die-hards in the country, the long wait is finally over. The iPhone 7 is finally available in the Philippines, with the biggest carriers here finally give the fans a taste of new tech.
Ready to find out how much the new iPhones will cost you? If you're wondering what's the cheapest way to get the iPhone in the Philippines, we've got you covered.
Read: All Your Hard Questions About Personal Loans, Answered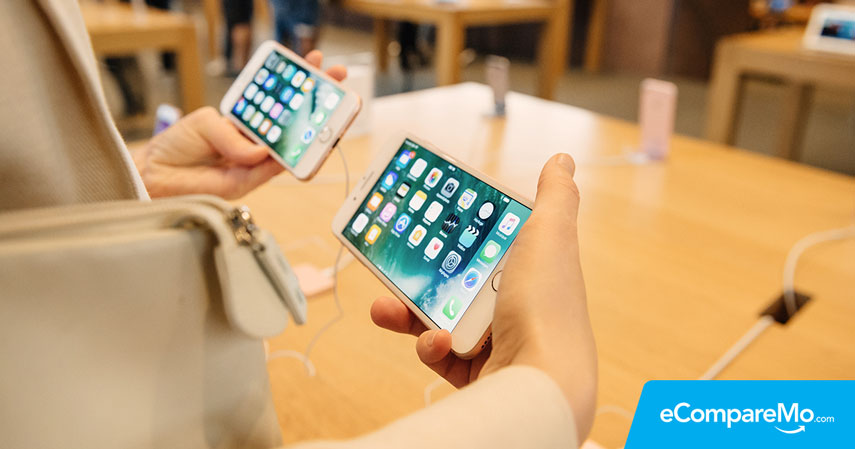 Part of a plan
Globe Telecom doesn't shy away from giving fans full information about the iPhone 7 and 7 Plus.
According to the main page for the iPhone 7 on their site, users can get the handset for P2,599 per month. The disclaimer says this is the it's the price postpaid clients have to pay every month if they're subscribed to Plan 1999 with a P600 cashout every month for two years.
Postpaid users can get their hands on the new Apple smartphone at the following plans. Take note that these plans have a lock-in period of two years and the cash-out will be divided into 24 monthly installments:
| | | | | | | |
| --- | --- | --- | --- | --- | --- | --- |
| Globe Plan | iPhone 7 32GB | iPhone 7 128GB | iPhone 7 256GB | iPhone 7 Plus 32GB | iPhone 7 Plus 128GB | iPhone 7 Plus 256GB |
| Plan 599 | P32,400 | P38,400 | P43,200 | P50,400 | P44,400 | P50,400 |
| Plan 999 | P25,200 | P31,200 | P37,200 | P44,400 | P38,400 | P44,400 |
| Plan 1299 | P22,800 | P28,800 | P33,600 | P40,800 | P34,800 | P40,800 |
| Plan 1999 | P14,400 | P20,400 | P26,400 | P21,600 | P27,600 | P33,600 |
| Plan 2499 | P6,000 | P12,000 | P18,000 | P25,200 | P19,200 | P25,200 |
Read: Telstra Ventures Invests In Leading Financial Technology Company C88 Financial Technologies
Meanwhile, Smart has already announced that they will also release the new iPhones for the customers. However, they haven't gotten down to the specifics, such as pricing and bundled plans, yet as of this writing. But interested users can already fill up the registration form on their website.
Marked on the gray market
Usually, telecom companies are the first to release the newest and hottest handsets in the country, but it seems like premium resellers like Lazada have already caught up with the trend.
To those who want to just buy the smartphone without getting postpaid plans with the local carriers, here are just some of the price range listed on Lazada:
| | |
| --- | --- |
| Variant | Price |
| iPhone 7 32GB | P39,899 to P60,490 |
| iPhone 7 128GB | P43,999 to P47,699 |
| iPhone 7 256GB | P48,799 to P52,099 |
| iPhone 7 Plus 32GB | P49,199 to P78,498 |
| iPhone 7 Plus 128GB | P54,999 to P55,999 |
| iPhone 7 Plus 256GB | P60,499 to P103,495 |