What We've Gained From China, And What We Might Lose From The US
4 min read
It seems like Christmas came in early after the Duterte administration's first, heavily spectated state visit to China.
According to a report by the Philippine Daily Inquirer, China pledged $24-billion worth of investments and credit line to the Philippine government that the country can use to further develop its infrastructures.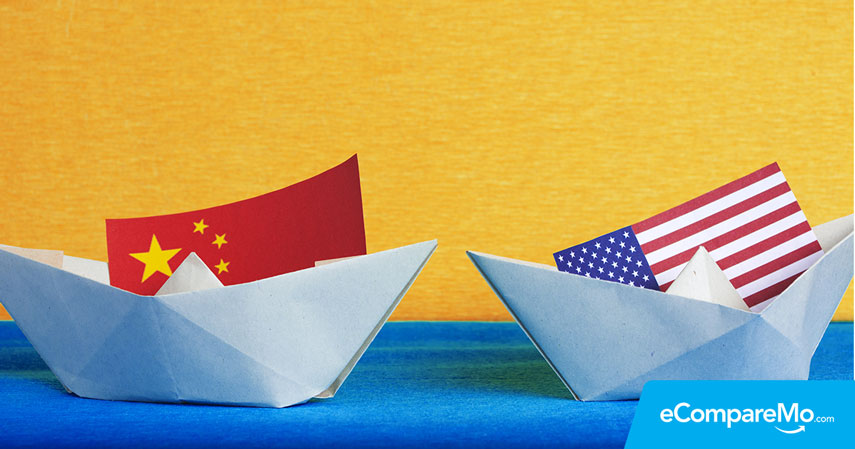 In a message to the media, Trade secretary Ramon Lopez said the deal secured by Duterte's state visit is "a display of 'greater confidence' in the future economic relationship of the two countries."
What did the deal actually accomplish and how sure is the government that China will deliver to its promises?
The list goes on
Secretary Lopez disclosed that the projects signed under the $24-billion investment has $15 billion worth in infrastructure pledges.
The following projects, he said, are expected to generate around two million jobs over the next five years:
Subic-Clark Railway Project by Bases Conversion and Development Authority (BCDA) and China Harbour Engineering Co.
Bonifacio Global City-Ninoy Aquino International Airport Segment of Metro Manila Bus Rapid Transit-EDSA project by BCDA and China Road and Bridge Corp.
BCDA-China Fortune Land Real Estate project (memorandum of understanding);
Safe and smart city projects for BCDA by BCDA and Huawei Technologies
Transportation and logistics infrastructure at Sangley Point by Cavitex Holdings, International Container Terminal Services Inc. and China Harbour Engineering
Joint venture agreement of Jimei Group of China and Expedition Construction Corp. for infrastructure projects
North Negros biomass and South Negros biomass project by North Negros Biopower and Wuxi Huaguang Electric Power Engineering
Globe Telecom projects to improve network quality and capacity
Jin Jiang hotel room capacity expansion from 1,000 to 2,000 by Double Dragon Properties and Hotel of Asia Inc.
Joint development project on renewable energy by Columbus Capitana and China CAMC Engineering
New Generation Steel Manufacturing Plant by Mannage Resources and SIIC Shanghai International Trade HK
Joint venture on steel plants by Global Ferronickel and Baiyin International
Renewable energy projects by Xinjiang TBEA Sunoasis
Davao coastline and port development project by Mega Harbor Port and Development and China Harbour Engineering
Manila Harbour Center reclamation by R-II Builders Inc. and China Harbour Engineering
Cebu International and Bulk Terminal project by Mega Harbour Port and CCCC Dredging Company
Cabling manufacturing facilities by MVP Global Infrastructure Group and Suli Grp Ltd.
Manila Edsa Bus Transportation program by Phil State Group and Yangtse Motor group and Minmetals International
Hybrid rice production by SL Agritech and Jiangsu Hongqi Seed Inc.
Bus manufacturing facility by Zhuhai Bus and Coach Co.
Banana plantation project by AVLB Asia Pacific and Shanghai Xinwo Agriculture Development Co.
300MW Pulangi-5 Hydro Project by Greenergy Co. and Power China Guizhou Engineering Corp.
Pasig River, Marikina River and Manggahan Floodway bridges construction project by Zonar Construct and SinoHydro
Ambal Simuay sub-river basin flood control project by One Whitebeach Land Development and Sino Hydro
Nationwide island provinces link bridges by Zonarsystems and PowerChina Sino Hydro
Railway project (study) by MVP Global Infrastructure group and China Railway Engineering Corp.
The remaining portion of the $24-billion haul by the Duterte admin will be divided into $9 billion in soft loans for infrastructure projects, and $15 million for drug rehabilitation programs.
New old friends
In the same trip, President Rody Duterte was reported to have announced that he was "cutting ties with the US." He later clarified his statement, saying that he was going for a "separation of policy" rather than a "severance of ties."
Read: America Vs. China: Which Superpower Will Contribute More To The Philippine Economy?
"You say severance of ties, you cut the diplomatic relations. I cannot do that," he explained. "Why? It is in the best interest of my country that we maintain that relationship. Why? Because there are many Filipinos in the United States. Well, Americans of Filipino ancestry. Why? Because the people of my country are not ready to accept. When I said separation, what I was really saying was separation of a foreign policy."
Turns out he's not "unfriending" anyone, but maybe just improving our own profile. Here's what we are bound to lose if we burn economic bridges with our American brothers, anyway:
Three-fourths of the business process outsourcing industry in the country, which may be worth a total of $51 billion in total by the year ends
20% of the total foreign investors in the Philippines, which translates to $1.3 billion every year
$7.90 billion in total exports and $10.23 billion in total imports in the Philippines since we're one of the biggest trade partners of the US
$3.09 million monthly spending from American tourists in the country, who are ranked as the second-highest spenders in the country
$180 million in assistance to the Philippines next year, provided the recipient security units haven't been involved with human rights violations
The President is currently in Japan for another economic forum, and has just completed a $1-billion trade deal between Japanese and Filipino businessmen.
At this point, forging more economic ties, rather than cutting them, is always a win-win situation. There's no need to choose between Spam, Maling, or adobo after all.