Bankers' Advice: What to Consider Before Taking Out A Housing Loan
6 min read
These days, one doesn't need a million dollars in the bank to finally own a home. It is made possible by housing loans, which are now available for online application.
As easy as it is to apply for a home loan these days, it is just as easy to mismanage the monthly payments and lose the loaned property over time.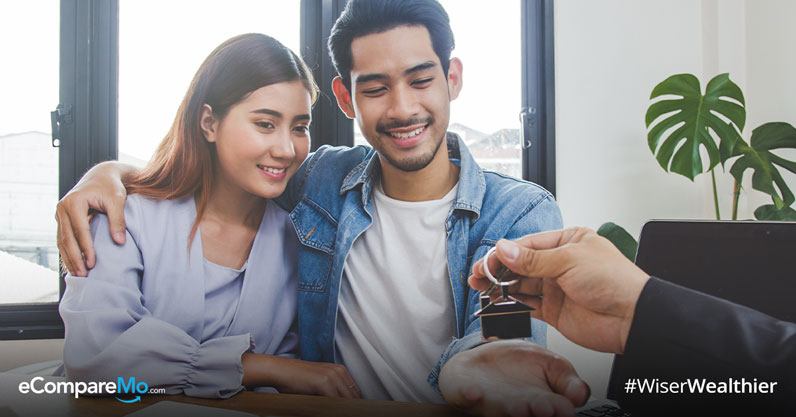 We've talked to two home loan processors who are working with two of the biggest banks in the country. Their work tenure of four and five years allowed them to see all the ways people tend to miss payments and lose their homes. Their observations and advice brought these five things to consider before applying for a home loan.
We can't afford to lose a home we chose to apply and pay monthly mortgages, so we all need to learn from these mistakes.
(Editor's Note: The bank employees' job titles and names have been changed.)
1. Be realistic
Neil, 30, has been a Housing Loan Credit Officer for five years now. His first advice: "Always look at your net income." Net income is the money you make after taxes and deductions such as SSS and Philhealth.
"Sometimes we get disillusioned in the way we see our gross income. I've seen a lot of homes get repossessed because they were not being realistic with their budget. They did not anticipate the responsibility of monthly amortizations," explained Neil.
He observed that the mindset of borrowers who failed to follow through with mortgage is often, "I can afford this." And then, extra expenses would always come up that will leave them scrambling to make their payments
His tip? "Housing loans are a long-term thing. And if you know your budget is just a bit off of 'more than enough', then you will clearly not be able to afford a housing loan," he says.
There are many ways to calculate your budget, but there will always be expenses or emergencies that will come up. Do you think you'll have room for these if you were paying for a mortgage? Will your joint income suffice? These are just some of the questions you need to sit down and plan on, whether alone or with your partner.
(Read: 5 Important Things To Look For When Buying Your First Home In The Philippines)
2. If You're an OFW, Regularly Monitor Your Finances and Mortgage
How many cases of squandered OFW money have we heard about from friends, family, and even online?
There are cases where OFW family members in the country mislead the sender, even more so in the case of paying for a housing loan. According to Billy, 28, an Account Assistant for Real Estate Loans for four years, it is one of the most common reasons why mortgages are not paid in full and houses get foreclosed.
"Money mismanagement is common, where the money for mortgages go to other expenses. The OFW then comes home with a letter of foreclosure. They don't value the money being sent to them. These are most common among seafarers," Billy observed.
Find ways you can check your mortgage payments even when you're away. Open communication is very important among partners and married couples, especially when it comes to financial commitments as long term as a housing loan.
3. Understand the Terms and Conditions
Know the details of the housing loan you're signing up for. Truly understand what you're getting yourself into. If you don't understand some parts, the bank's housing loan representative can explain it to you.
These are the main housing loan fees and charges you need to know:
Appraisal Fee — Upon your housing loan application, a professional appraiser will assess the property's real value. You need to pay the bank's appraiser. The fee depends per bank.
Interest Rate Fixed Period — These annual interest rates are fixed for a certain period and are subject to changes per bank.
Monthly Interest Rate — Use your bank's loan calculator to get an estimate of how much you are going to pay monthly.
Late Payment fee — Also called a Late Payment Penalty, this is charged when you failed to pay your monthly amortization due.
Processing Fees — This applies to bank processing, title transfers, and other documents needed in the application. If the property you want is previously owned, know that there are registration fees and other hidden charges. For first-time housing loan applicant Hannah, they spent well over P57,000 for the documentary stamps, and "180,000 for the transfer of title, and around P20,000 for the broker who processed all the taxes and other documents."
(Read: Property Buying Guide for OFWs: 5 Steps To Buying Your Own Home)
According to Billy, "Late payment fees and interest rates are just some of the things that people tend to overlook. Housing loans have changing interest rates."
"For instance, there's a one-year fixed period which means the monthly interest rate is going to be the same for that period. And the following year it changes to a higher interest rate and is locked in for 2 – 3 years." He adds.
According to Billy, some payers get surprised that the interest rates got higher, or some would get mad if they get charged a late payment fee. As a housing loan applicant or the authorized payer for an OFW, it is your responsibility to get to know all the charges, fees, and rates that come along with your signed contract.
A housing loan is for the long term. You should be able to anticipate the changes in the interest rates after a couple of years and adjust your income according to it. Stay informed through the bank's loan representatives, and they will gladly fill you in with all your housing loan questions.
4. Check the Quality of Your Home Loan Purchase
People regret paying for their home loans years later when the place starts falling apart. Neil has seen this first hand.
"For example, [the bank] finances a loan from [a certain real estate company]. There are lots of low-cost housing companies that are known for their poor quality, at least within us working in home loans. When clients move in and the house starts falling apart, they feel like they've been duped and don't want to keep paying for the home loan anymore," he said.
This then poses a problem for the payer because the loan is already set for years to come. One way to avoid this is to do your own research. Ask nearby homeowners, research the real estate company and their reputation, and thoroughly check the property you're looking at, all to avoid regret in this huge financial decision.
Learn the factors that affect property appreciation and depreciation in the country. Moreover, list down all the things you need to check in a property and learn from the mistakes of others.
(Read: Pag-IBIG Housing Loan: The Complete Guide To Funding Your Dream House)
5. Ask yourself this: Are You a Responsible Borrower?
Both Neil and Billy highlighted this one common reason for repossessed homes: irresponsible borrowers.
"Straight up, they just have poor attitudes," Neil said. "They make it difficult for [collections]. They keep making up excuses and schemes to skip or delay payments."
Somehow, these people passed the eligibility requirements for a housing loan. Over time, however, they switch to these difficult borrowers.
After all the missed payments and before the home gets foreclosed, Billy said the following processes are usually observed:
2 consecutive months of no payment — borrower gets a collection letter
90 days of no payment — Warning letter/s
6 months to one year — Depends on how the client cooperates, this can lead to several reminders and warnings, a settlement, and can reach up to a case filed against the borrower until the home gets foreclosed.