What Are The Most Expensive Concert Tickets In The Philippines?
3 min read
Beliebers take note: this September, Canadian pop sensation Justin Bieber will be coming to the Philippines after six years of first gracing Pinoy fans with his presence.
His global tour, called Purpose World Tour, kicked off last year and is slated to conclude on September 30 at the Philippine Arena.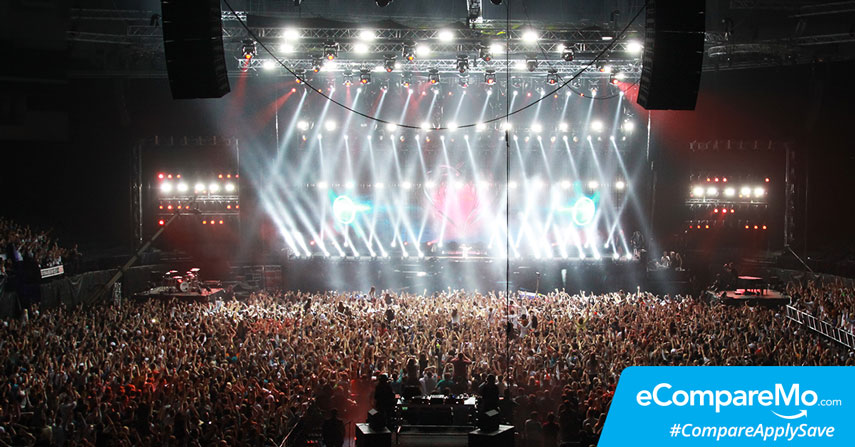 And if you're wondering how much the tickets will cost, a spot at the VIP standing section is priced at P17,850 a pop—excluding taxes and other fees, of course. Putting it in perspective, you can buy more than 120 two-piece Chickenjoy meals with that money!
While Bieber's concert may seem pretty expensive, it actually pales in comparison with some of the concerts that were previously held here. How does Justin Bieber's concert ticket prices stack against other visiting performers? And why are concerts here more expensive than the ones held in neighboring countries?
Science of economics
Last April, British pop group Coldplay swung by Manila as part of their A Head Full of Dreams Tour, which happened in major cities in the world.
When the concert was announced, fans were shocked that VIP tickets were priced at P22,500 per head. They still bought tickets, anyway, and the concert still sold out.
But it turns out people who are budget-savvier found ways to maximize their money. Instead of watching Coldplay in the Philippines, they went to neighboring countries like Taiwan, South Korea, and Singapore to see their favorite band and travel too.
If the price of VIP tickets for the Coldplay concert here reached P22,500, Singaporean fans got a much better deal at SGD288, or a little over P9,500. This means people still have enough money to buy plane tickets, book a decent budget hotel, and probably have more than enough for a few steamy bowls of laksa.
Is this also true for Bieber's concert in the Philippines? Well, not really. Hardcore fans might get a better deal here than flying to other countries.
According to online ticket marketplace Viagogo, VIP tickets for Bieber's concert at the Ajinomoto Stadium in Japan can go up to P44,684. While tickets are still not being sold yet for his Hong Kong leg, Coconuts Hong Kong reported that the most expensive passes can fare up to HKD2,580, or around P16,700.
That's relatively cheaper than the VIP passes here, so it means you're better off watching the Biebs in Bulacan than elsewhere.
Where your money goes
In April, Esquire Philippines reported that there are huge forces in play such risk factors, stage design, the performer's entourage, local permits and taxes, and venues.
In addition, cuts from handlers, ticket sellers, and concert promoters are also considered when putting up ticket prices.
Finally, it still boils down to the talent fee demanded by these performers from concert producers. If you think Justin Bieber tickets are way too overpriced, you may want to know how much does it take to make him perform.
According to Forbes, the Biebs is one of the highest-paid musicians of 2016 at $56 million, in a tie with country singer Kenny Chesney.
We buy them anyway
Let's face it: No matter how expensive some concert tickets are, we're still going buy them if we're really desperate to catch these acts live.
Some of us may ask first: "Can I afford it?" before we inevitably succumb to the follow-up question that is "How much?"
Regardless, how much did people fork out recently just to see their favorite icons, and which ones took the most money out of your wallets? Here's a list of the most expensive concerts in the Philippines, in terms of VIP ticket prices.
| | | | |
| --- | --- | --- | --- |
| Artist | Date | Venue | VIP ticket price |
| Chris Botti feat. Sting | March 3, 2016 | Marriott, Resorts World Manila) | P64,716 |
| Madonna | February 24, 2016 | SM Mall of Asia Arena | P57,750 |
| Il Divo Britney Spears | June 15, 2017 | SM Mall of Asia Arena | P28,350 |
| Rihanna | September 19, 2013 | SM Mall of Asia Arena | P26,990 |
| Jennifer Lopez | November 26, 2012 | SM Mall of Asia Arena) | P25,840 |
| 7107 International Music Festival | February 22-23, 2014 | Global Gateway, Clark Freeport Zone) | P25,000 |
| Coldplay | April 4, 2017 | Mall of Asia Concert Grounds | P22,500 |
| Ariana Grande | August 23, 2015 | SM Mall of Asia Arena) | P22,170 |
| Aerosmith | May 8, 2013 | SM Mall of Asia Arena | P20,000 |
Source: ABS-CBN News
Among Forbes' list of top paid musicians, Jennifer Lopez, Rihanna, and Madonna were the only ones who billed an insane amount of money from their Filipino fans.
Stars like Taylor Swift, One Direction, Justin Bieber, and others also made it to the list, but the ticket prices sold when they performed here were much lower than P20,000.