4 Online Delivery Food Apps In The Philippines
4 min read
It's nine in the evening. You just got home from work, dead tired. You drag yourself to the kitchen only to find out…you don't have any food left.
Thank heavens for online delivery food apps. With just a few clicks on your mobile device, your favorite food will be delivered right to your doorstep. Easy, convenient, and absolutely hassle-free.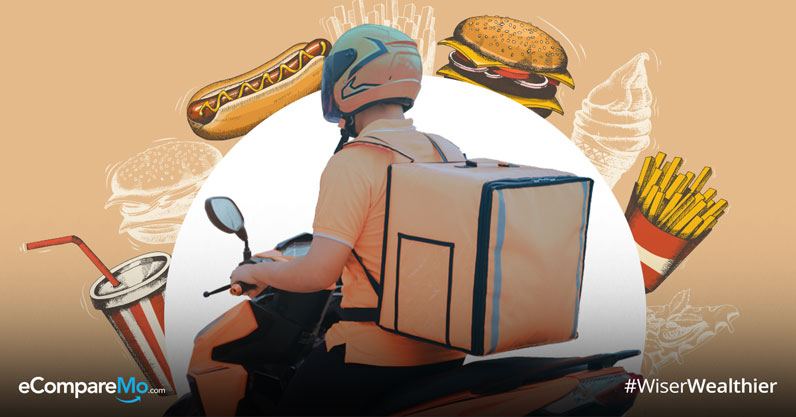 Satisfy your hunger and get your fix anytime of the day with five of the best delivery food apps in the Philippines right now.
1. GrabFood
Grab is no longer limited to just delivering your parcels or bringing you to your destination. Their GrabFood delivery service has grown so much over the last year, and it is now one of the leading food delivery apps in the country. No minimum order required, which is perfect for hungers of all sizes.
GrabFood is available in Metro Manila, Cavite, Laguna, Rizal, Cebu, and Pampanga.
How to use GrabFood:
Download the Grab app from the App Store or Google Play Store
Open the Grab app
Press "Food" from the selection menu
Fill in the required information (address)
Choose the restaurant you want to order from
Once you have chosen your meal, add it to your basket
Enter the needed information and then you are ready to go
(Read: 5 New Proudly Pinoy-Made Apps To Watch For)
2. foodpanda
Next to GrabFood, foodpanda is one of the biggest and most used online food delivery apps not just in the country, but also internationally. They have operations in over 40 countries!
This food delivery app was established last 2014 and is one of the country's best. foodpanda has partnered with over 1,000 establishments locally and they always come with discounts, free up upsizes and more with selected restaurants.
How to use foodpanda:
Order through their website: www.foodpanda.ph
Order through your mobile phone: Download the foodpanda app, sign up then choose your favorite restaurant then order away!
[hsbc-american-tourister-promo]
3. LalaFood
LalaFood may be one of the newer food delivery apps to date, but they are already doing well in the market.
With 800 partnered stores to choose from, you will definitely find the right food to satisfy your hunger. LalaFood's delivery service can be enjoyed by those who are residing in Quezon City, Pasig Makati, and Taguig. Fast and hassle-free, just the way it should be.
How to use LalaFood
Download the LalaFood app from the App Store or Google Play Store
Set up your account
Choose the restaurant you want to order from
Operation time is from 10 AM to 10 PM. They offer five (5) FREE delivery coupons if you use the code: "LALAFANG"
4. MetroMart
MetroMart is a food delivery app that focuses on delivering groceries. You can use their delivery services either through their app or website.
Unlike the normal food delivery apps wherein you just have to wait 30 to 45 minutes max, MetroMart is a little bit more time demanding. Their maximum time arrival is 60 to 90 minutes, depending on your location.
You can enjoy shopping at MetroMart's partner establishments like S&R (even if you are not a S&R member), The Blue Kitchen, Robinsons Supermarket, and more. Their delivery hours are from 11AM to 10PM and they also accept credit / debit card or cash-on-delivery (whichever is more convenient) payment options. For now, they only deliver to customers in Quezon City, Makati, Pasay, Antipolo, Taguig, Las Pinas, Cainta, Mandaluyong, Manila, Muntinlupa, Marikina, Paranaque, Pasig, Pateros and San Juan.
Another bonus MetroMart feature is that aside from delivering groceries, you can also shop at National Bookstore, Family Mart, Watsons, Pet Express, Dogs and the City, Generika Drugstore, Chicco, Benefit Cosmetics, R. Lapid's Chicharon and BBQ, Pan De Manila, Messy Bessy, Cupcakes by Sonja, Pinkie's Farm and more! You no longer have to wait in line and brave traffic just to get the things you need from the mall. The prices they offer are almost the same as when you go to the store itself. Technology these days, it just made shopping so simple!
There is a delivery fee of P40 but you can get free delivery for orders above P1,000.
How to order
Through their website: https://www.metromart.com/welcome/cities

Choose your delivery location
Set your delivery address
Choose the establishment you want to shop from

Through the MetroMart App

Download the MetroMart app from the App Store or Google Play Store
Set up your account
Choose the establishment you want to order from
(Read: 7 Best Mobile Payment Apps In The Philippines For Cashless Transactions)
Bonus: MetroTable
MetroTable is also under MetroMart but this one is specifically for reserving tables at the restaurant of your choice for date night or for some me time. MetroTable can be found at the MetroMart app (MetroTable is not available at their website).
How to use MetroTable
Scan the restaurant's available on the app
Choose the restaurant you want to make the reservation in
Enter your reservation date and the number of guests you will be bringing
Select the time of your reservation