How To Start 2017 Right, According To Top Financial Bloggers
4 min read
Pretty sure most of you have already plotted how you want this year to be. Whether it's losing weight, finding your forever, or scoring a higher-paying job, having a fixed goal for the year will give you a sense of direction in your life. It's time to suture up your future and put your house in order!
Countless nuggets of wisdom from money and success figureheads have been circulating on the internet now. But with tons of advice to choose from, it's hard to pick which one works for you best.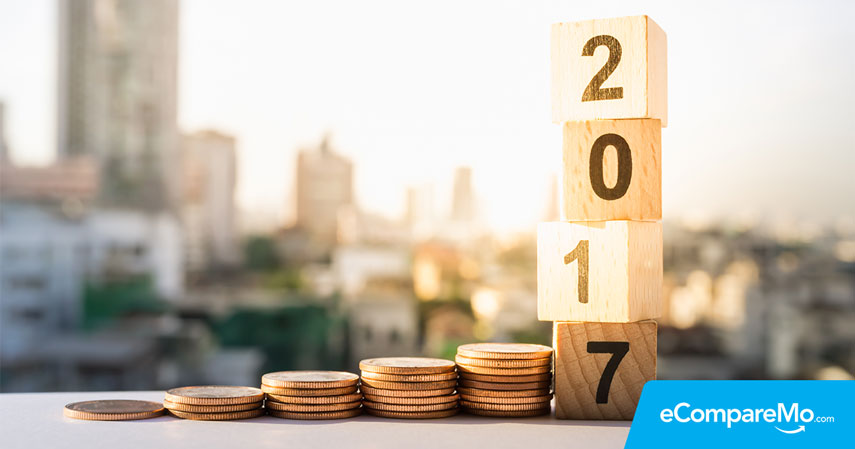 To give you a headstart this new year, we cherry-picked some of the best New Year tips from some of the most trusted financial advisers and success coaches in the country.
1. Let go of the past.
The New Year is the perfect time to make some positive changes in our lives. But it's hard to do this when you're letting your past drag you down. For stock market coach and financial consultant Marvin Germo, the first step in making changes this New Year is to learn how to make amends with your past.
According to his post How to Start Your 2017 Right?, "The past is the past. Don't carry over the mistakes that you've had last year to this year."
However, he also says our previous successes also have the tendency to slow us down. Germo adds: "Don't also bring your successes into 2017. What you would like to do this year is to move on and start fresh. The only time your memories can hurt you is if you allow them to hurt you."
2. Open a PERA account.
In 2008, former president Gloria Macapagal-Arroyo signed the Republic Act 9505, also known as the Peso Equity and Retirement Act (PERA) of 2008.
While it took a time for the Bangko Sentral ng Pilipinas (BSP) and Bureau of Internal Revenue (BIR) to announce a launch date, it seems that the new investment vehicle is now ready to roll out. Among one of the most excited about this development is seasoned financial coach Fitz Villafuerte.
"The Personal Equity Retirement Account (PERA) is something I've been waiting for since I learned about it back in 2010," Villafuerte writes. – "For 2017, Be Sure to Invest in P.E.R.A"
In a nutshell, PERA is a voluntary saving and investment account where Filipinos can choose where their money will go: stocks, pooled funds, bonds, annuity contracts—all you have to do us talk to your account manager.
Currently, BPI and BDO are the only authorized institutions to offer PERA. "Where to invest in 2017? Well, that depends on your financial objectives. However, be sure to include PERA in your portfolio," Villfuerte adds.
3. Keep smiling, keep shining.
"Here's something you may want to develop as a habit for 2017. And it changes everything," writes author, speaker, and entrepreneur Francis Kong – "The Smile Habit".
"Smile. Be pleasant. Be cool! A smile opens up opportunity and brightens everyone's day," he continues.
What makes a smile so powerful? For starters, it can boost your confidence and enhance your mood, making you readier to take on life's challenges and opportunities. "Somebody says: 'Let your smile change the world but never let the world change your smile.' I love it!" Kong notes
4. Create a realistic budget plan.
Randell Tiongson, well-known financial planner and speaker, says: "When it comes to helping you achieve your goals, your budget and cash flow are most important and are very critical. – "5 Tips for 2017"
According to him, learning how to divest your resources with the goal of having savings in mind is the perfect way to create a plan regardless of what budget you have.
"Learn how to allocate your funds properly but be practical as well," Tiongson says. "Some people will come up with a budget plan that is 'too good to be true,' which will only look good on paper but very difficult to execute."
"You know yourself the most, so create a budget that you can follow. As you create your budget, make sure that having savings is your ultimate goal," he adds.
5. Turn to tech—and Bitcoin.
Renowned financial literacy advocate and entrepreneur Burn Gutierrez says that despite the uncertainty in the western hemisphere that may affect the country's economy, it still is a good time to look at the trends and hope the bandwagon.
According to him, the future seems to be in favor of sectors such as energy, technology, real estate, and Bitcoin. Yes, you've heard it right. Bitcoin. – "Investment Hacks That Will Make Your 2017 a Different Year"
Gutierrez says the world is now shifting its focus on investing in technologically oriented industries.
In addition, Bitcoin is also a good investment nowadays because unlike before, the value of the virtual currency is now more stable than ever.
"But here is the good news, the high volatility that was once a characteristic of Bitcoin is slowly ebbing away. More investors are buying into the idea of Bitcoin as a legitimate form of currency," he says.
In addition, the Philippines is slowly but surely warming up to the Bitcoin revolution, with more technologically driven products more accepted here in the Philippines.