Three Weeks After TRAIN Implementation—Has Change Come?
3 min read
The newly enacted Tax Reform for Acceleration and Inclusion (TRAIN) law took effect on January 1, 2018.
Among other things that TRAIN is expected to change is the fuel price.  As petroleum corporations are directly affected by the new excise tax levied, a trickle-down effect is expected, causing movement of prices in all sectors.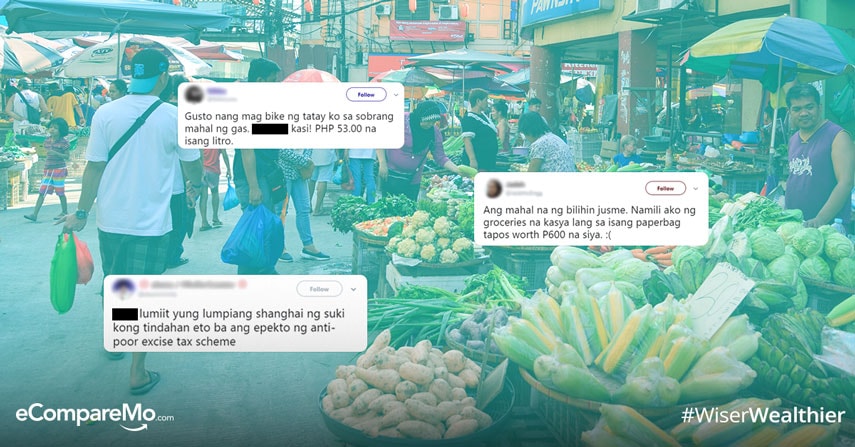 Higher fuel excise tax rates directly translate to higher bills poised on electricity and transport, as well as grocery items. As per the advice of vice president of First Metro Investments Corporation Cristina Ulang, "The additional burden is something they can pass on to consumers".
Small changes already taking place
Last Friday, January 19, we talked to some people about their regular consumption and usual buys and many have already experienced the price increase.
"I bought a bottle of Sola Iced Tea from 7-11.  From 48 pesos naging 52 pesos na." –Kaye, Editor
"Kanina bumili ako ng ginisang gulay sa carinderia. 20 pesos pa rin but the serving, mas konti na." –Daisy, Office Assistant
"Yung pinya slice from Migo na naglalako ng prutas dati 15 pesos lang. Kanina pag-bili ko 20 pesos na." –Tine, Writer
"From 25 pesos, 29 pesos na ang Smart C bottled juice sa convenience store." – Dan, Multimedia Artist
"Beef Chao Fan with toppings was only 61 pesos. That used to include a drink. 76 pesos na sya ngayon." – Rufus, Designer
We also took a look at Twitter and here are some observations Twitter users have made about the prices of goods this month.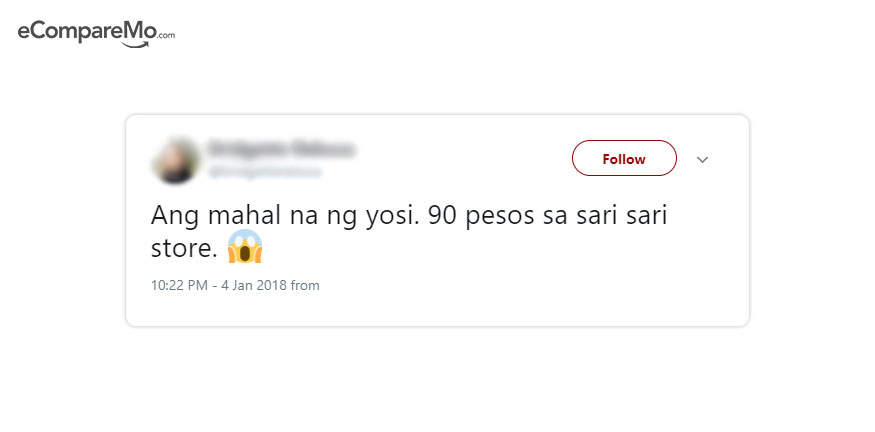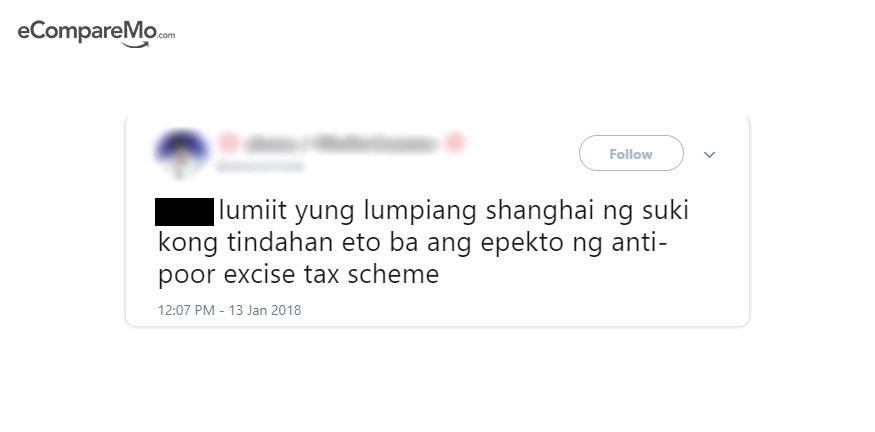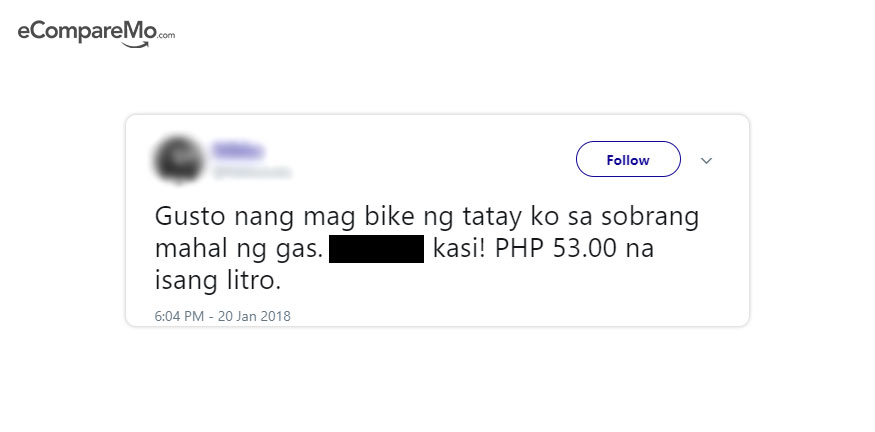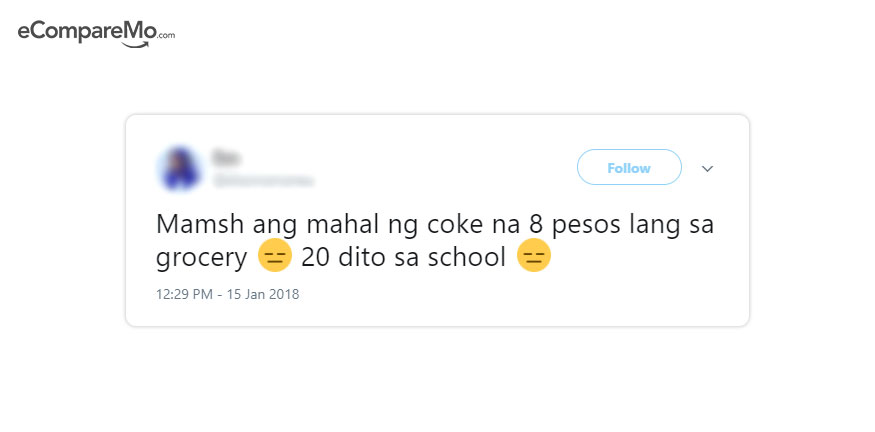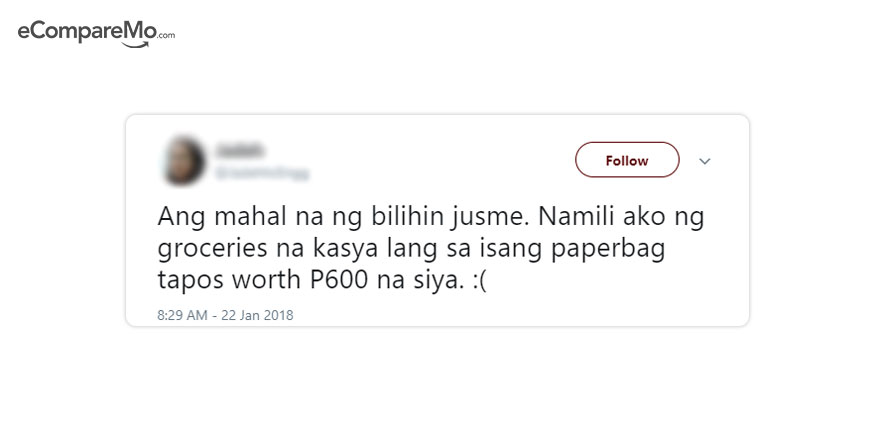 "Overall the economy will see a big inflationary effect. And GDP (gross domestic product) will slow down in the early months until adjusted," Philippine Retailers Association-Cebu president Robert Go warned.
According to Trade Secretary Ramon Lopez, manufacturers could increase suggested retail price (SRP) of commodities if the surge is "justifiable" as he assures that the new excise taxes would have a "very minimal" effect on production cost.
While the Department of Trade and Industry (DTI) has a price watch program and a list of SRP for basic necessities and prime commodities, DTI policy allows manufacturers to raise the SRP on their products even without government approval.
More to come
Manila Electric Co. (Meralco) also announced a P0.07 increase per kilowatt-hour, which will reflect in every consumer's upcoming February bill. Non-Meralco consumers, on the other hand, will also see a P0.09 per kWh hike in their bill. A spike in transmission rates is also due amounting to P0.06 per kWh. As for the coal tax, the increase rate is P0.01 per kWh within Meralco and P0.03 per kWh outside Meralco.
To recap, a P7 per liter on petroleum products is levied and will surge to P9 and P10 by the year 2019 and 2020. On the other hand, the excise tax for diesel is P2.50 per liter this year and will swell to P4.50 per liter and P6 for years 2019 and 2020.
Motorists of both private and public transport alike are also facing price hikes on gas consumption. Protests and petition for fare hikes are now on the move as well. Ride-hailing company Grab filed for a 5% fare increase to the Land Transportation Franchising and Regulatory Board (LTFRB). This translates to P11 to P15 per kilometer fee from P10 to P14 per kilometer, and P2.10 per minute from the regular P2 per minute.
The UV Express group has also filed a petition of P4 per kilometer which translates to a doubled fee of the regular P4 rate. Jeepney operators also pleaded to increase the base fare P10 from P8, while taxi operators asked for a flag-down rate of P60 from P40.
Honda Cars Philippines Incorporated also announced the updated prices of their automotive models. Honda City 1.5 E MT has a P56,000 increase and can now be bought at P820,000, while a Honda HR-V 1.8 EL CVT has a P121,000 upsurge and is now at P1.480 million. Toyota Motors Philippines has also released the changes in the prices of their vehicles. From P925,000, the Toyota Vios 1.5G AT is now at 953,000, while Toyota Innova 2.8V DSL AT is now P1,624,000 from a P1,496,000 price jump.
Source: Interaksyon, ABS-CBN, Rappler, The Philippine Star, The Philippine Daily Inquirer