Putting Our GDP Into Perspective, The Philippines Is Just As Rich As This US State
2 min read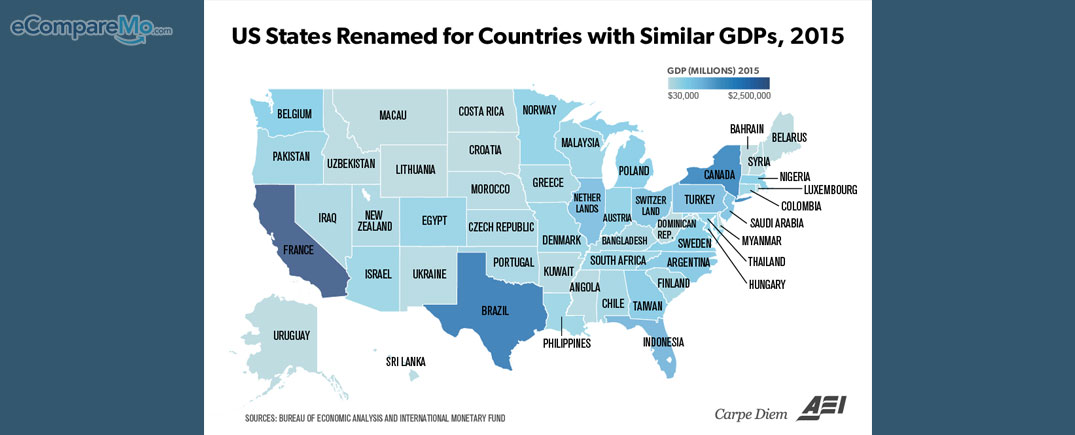 It comes as no surprise that despite the economic crisis suffered by the United States in the last decade, their economy is still as bullish as ever.
In 2015, the global superpower's economic output amounted to $18 trillion, producing 24% of the world Gross Domestic Product (GDP), or the amount produced by people and businesses in a year, with only 4.5% of the entire human population. Its largest state economy, California, boasts a GDP of $2.42 trillion that if it were a country in itself, it would be the sixth richest in the world.
In fact, each state has enough firepower to stand on its own feet. And so the American Enterprise Institute (AEI), using data from the Bureau of Economic Analysis and International Monetary Fund (IMF), made a US map replacing the names of each state with the country that matches its nominal GDP. It turns out the Philippine economy is equivalent to the 24th richest US state.
The Philippines: a quick overview
As the 39th largest economy in the world, the Philippines has enjoyed a rather strong economy over the past few years. In 2010, the country's economic output totaled at $199.6 billion, and it has grown ever since.
Last year, the IMF estimated that the Philippine GDP will be around $330 billion, and fell short at only $292 billion. Still, economic think-thanks have predicted that the country will become a powerhouse in the next few years.
Parallel lines: Louisiana
A comparison made by Professor Mark J. Perry has found that the closest US to match the 2015 GDP of the Philippines is the state of Louisiana.
Located in the Gulf Area, on the southern part of the US, Louisiana relies heavily petroleum, with most of its supply coming from offshore facilities situated on the Gulf of Mexico.
Its economy is further boosted by its fishing industry. The state produces around 90% of crawfish supply in the world, along with other fruits of the sea like shrimp, menhaden, and oysters. Meanwhile, there is also an abundance of products like cotton, soybeans, cattle, sugarcane, poultry and eggs, dairy products, and rice in the state.
Tourism is also big here, especially with culture-rich spots drawing travelers from all over the world. New Orleans, the largest city in Louisiana, attracts millions of people every year because of its Old World charm.
Aside from its well preserved French quarters and decades-old restaurants, it is also famous for the Mardi Gras, which has been celebrated annually since 1838.
View the table from AEI below to see other US states and their global counterparts: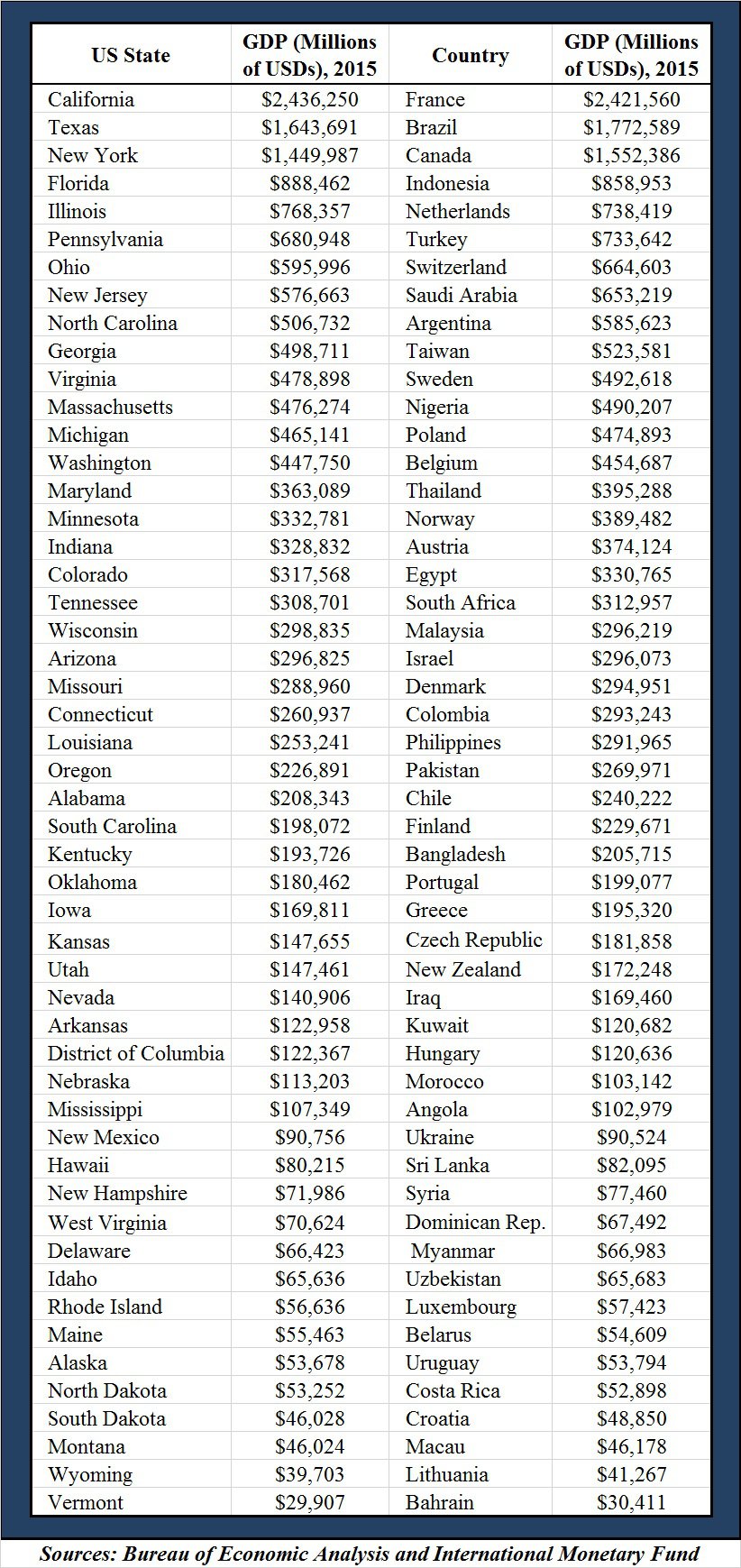 –Dino Mari Testa