Hint: It's much easier to maintain than buy.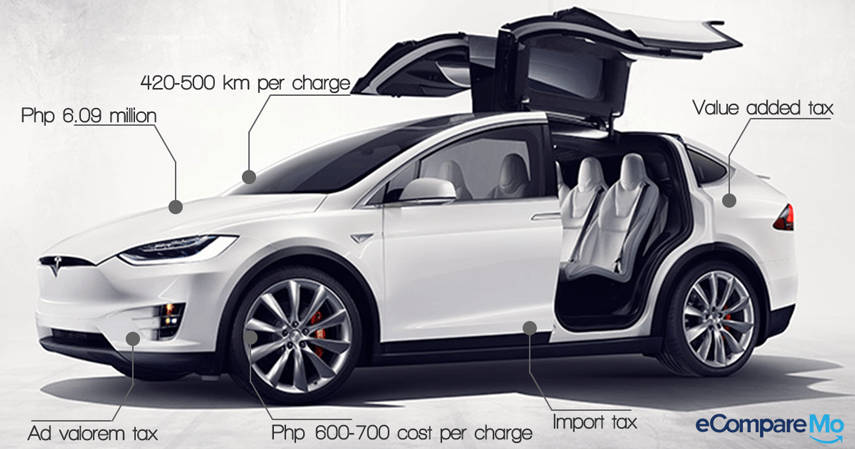 In October 2015, SpaceX and Tesla Motors visionary Elon Musk announced the latest unit to come out of the Tesla Gigafactory in Nevada: the Model X, a full-sized electric SUV with Batmobile-style "falcon wing" doors. Expectedly, America's rich and famous, including Google co-founder Sergey Brin, rushed in line to reserve their slots.
And why not? With jaw-dropping features like a "bioweapon defense system" (an advanced air filter system that pressurizes the car's interior to keep the bad air out) and a "ludicrous mode" (which allows it to go from 0-100kph in three seconds), everyone would of course want to get first dibs on it.
Now it may still be long before the Model X arrives in the Philippines (Tesla has a backlog of pre-orders until late 2016), but it wouldn't hurt to answer one important question in our collective heads: Will I ever afford a Tesla in this lifetime?
The quick answer
If there's one thing we have to know, it's that Teslas don't come cheap—even the Model III, the supposedly "budget-friendly" model slated for a 2016 release, is guaranteed to send our third-world budgets through the roof.
Tesla's website states that the Model S's most expensive variant, the P85 D with 85 kilowatts-per-hour power and "ludicrous speed" mode, goes for US$105,000, or around Php4.8 million. Meanwhile, the Model X SUV is pegged at a US$132,000, or roughly Php6.09 million, price tag. That's equivalent to a top-of-the-line luxury sedan. Or a townhouse unit in an urban neighborhood.
Since Tesla doesn't have an official showroom in the Philippines, you'll have to import your unit from the United States. The Bureau of Customs (BoC) is known for charging not-so-modest duties and fees on imported cars. All vehicles are subject to 40-percent import tax, 12-percent value added tax, and ad valorem tax ranging from 15 percent to 100 percent of the total vehicle price. (You may check the BoC's tax calculator here.)
To compute for taxes levied on imported vehicles, the Bureau of Customs use the car book value instead of the acquisition cost, which is more of a global standard than the latter. For the car's book value, they use the Red Book, Blue Book, or the World Book depending on the origin of the vehicle.
In for the long haul
While it is expensive to buy a Tesla—let alone import one here—the long-term savings when it comes to fuel costs can offset the price tag of the car. Depending on the variant, a full charge of the Model S can last for 420 to 500 kilometers before discharge. One full charge will only cost you around Php600 to Php700. This makes conventional fuel-powered vehicles pale in comparison: a Japanese luxury sedan only has a fuel efficiency of 45 kilometers per gallon.
So far there is only one Tesla owner in the country: business tycoon Manny V. Pangilinan. With a net worth of US$508 million, he sure didn't have a hard time bringing his own Model S in the country. News reports say, however, that he can only drive the car around Meralco's headquarters in Pasig because the Land Transportation Office (LTO) doesn't have the framework to deal with electric vehicles yet. That means while he got his expensive electric little toy easily, he can't get a license plate for it.
No plug, no play
Even if Tesla Motors opened shop here tomorrow, we still do not have the infrastructure to support electric car users in the country, unlike in the US where the company have more than 100 charging stations installed across town. The only real way for people to charge Tesla cars? Through good ol' home charging.
Let's face it: electric vehicles are the future of cheap, sustainable, and eco-friendly transportation on the planet. While the electric vehicle industry is still in its infancy in the US, it's only a matter of time before the rest of the world catches up. We ought to be ready with our car power banks when that time comes.
About the author
---