These Tweets Show How Painful Driving In Manila Can Be
4 min read
Being a motorist in our beloved motherland absolutely gives us the feels every single day. And by feels, we're talking feeling sweaty, feeling aggravated, feeling angry, and feeling dead tired. Yes, we've already established how Manila was dubbed the worst place to drive – and the data of Waze just proves it.
Narrow roads, vehicle volume, and traffic violators are only few of the countless causes of traffic. "Part of the problem is that people are so impatient and people don't follow rules," Ma. Sheilah Napalang, director of the National Center for Transportation Studies,  says.
Rush hour or not, the city roads are a stressful ride or drive. Drivers know by heart that there's surefire traffic in C-5, EDSA, Roxas Boulevard, and Osmeña Highway, to name a few. Even taking the Skyway won't be an assurance that you'll make it to your meetings on time, despite paying a hefty price. Wide roads like Commonwealth, on the other hand, require motorists to be extremely guarded against possible road accidents.
Solutions to these driving woes won't happen overnight, so in the meantime, commiseration and a sense of humor are key: Allow us to share gems of relatable Twitter rants from fellow agitated netizens, which are solid proof that driving is hellish and the roads in Manila are stressful.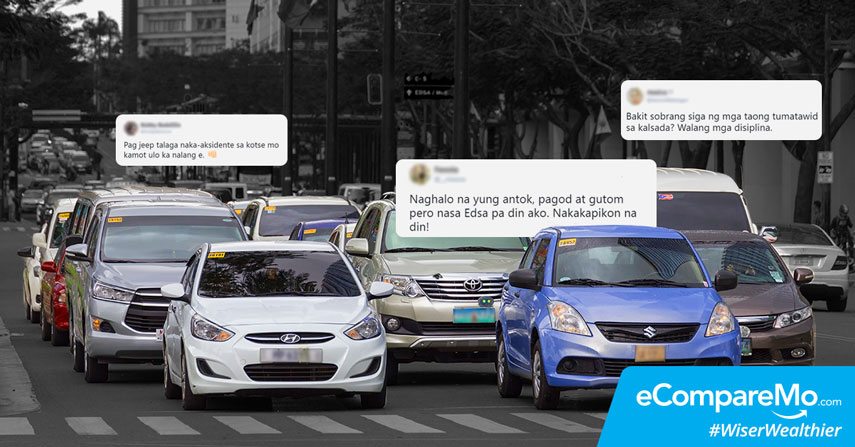 For starters, did you know that we are qualified for a Guinness Record?
Edsa – The biggest parking lot in the world ? pic.twitter.com/MqNBbDc0S6

— DJ Chacha (@mor1019chacha) August 11, 2017
The good ones are outnumbered because the road is perpetually "dark and full of terrors."
Ang dami talagang bobong driver ngayon kaya kahit anong pag iingat mo kung TANGA nasa kaliwa,kanan,harap at likod mo wala kang ligtas e hays

— Sebedeee (@RealDragistaaaa) August 11, 2017
This unspoken reason about entitlement can congest roads too. Who would have thought?
Just because you drive a BMW doesn't give you the right to counterflow. ?

— Jomi (@jomievnglst) August 3, 2017
Don't forget to add the special treatment for the special plated vehicles.
Ito talaga dalawang police escorts pa na naka wang wang. Sya na talaga. Counterflow pa sa traffic.

— pOd0cyte (@t0m_md) August 2, 2017
When the feelings mix up, the rage builds up. #BeastMode.
Pikon na pikon na ko sa mga tao sa daan. Kung di bobo mag maneho, napakainit naman ng ulo. Hayy mga Pilipino, kelan ba kayo magbabago?

— Nicole Punsal (@nikkipunsal) July 30, 2017
Describe your thoughts on PH traffic in one word: Chop Suey.
Naghalo na yung antok, pagod at gutom pero nasa Edsa pa din ako. Nakakapikon na din!

— Fennie (@__cheenie) August 11, 2017
Foot bridges are so 1980s, apparently to some.
Bakit sobrang siga ng mga taong tumatawid sa kalsada? Walang mga disiplina.

— Jessica ♡ (@JessicaMalangen) August 15, 2017
On living ride or die. Read in your mom's voice:
Siguro ang benta ko kapag maririnig niyo yung mga sinasabi ko habang nagdadrive. HAHAHAHA kaya dapat wala akong kasama lagi eh ?

— Jodeh (@krispykrikie) July 28, 2017
Even though you want to stay funky fresh and veer from stress…
Ayaw ko ma stress at ayaw kong mainis gawa ng TRAFFIC at CONSTRUCTION NG KALSADA! ????????????????????????????

— MAD ulanday ® (@MarkMyName1991) June 20, 2016
The curious case of interminable road constructions is still a mystery to us.
Yung traffic sa Biñan at Sta Rosa, Laguna! Nakakaloka. Road construction ng road construction, hindi naman sira yung kalsada. Pffft

— bonnapedregosa (@bonnaPedz) March 15, 2016
And the timing is always right–to bring inconvenience to your day.
Sir bakit naman kasi friday rush hour ang paggawa ng kalsada sa C5? Sobrang aga pa parang parking lot na tuloy! @MMDA @DPWHph

— Mikee Guanzon (@MikeeGuanzon) June 29, 2017
The ripple effect just progresses.
construction sa kalsada hindi tinapos kaya nang umulan, bumaha mga peste ayusin niyo trabaho niyo

— Jasheil (@xxbbycharliexx) August 13, 2016
Filipinos should probably learn how to drive a boat these days too.
3 hours stuck in traffic and 2 hours stranded dahil sa baha. Longest.Drive.Home.Ever from Manila to Bulacan! ?#PAGODA

— Frans Madayag (@chengmadayag) July 16, 2013
In other news, everything's well-managed thanks to our enthusiastic traffic enforcers.
While EDSA was crawling… pic.twitter.com/hz9scO2J5f

— Yelena (@yaahyoongi) August 16, 2017
Our well-compensated cops are working EXTRA–for some extra cash.
Mag-️ingat sa Edsa Taft intersection.Kotong area!May dalawang dukhang @MMDA traffic enforcer(1-2pm on duty).500 pesos lang ang moral nila.

— CraftyFabPrincess (@CraftMomME) August 23, 2015
Some are literally making the road their personal parking lot – because they are taxpayers.
@MMDA mostly dito sa scout area ginawang one way pero useless kasi ginawang parking area ng mga residente ang kalsada double parking pa.

— MelHannah (@MelHannah3) August 9, 2017
Just like this very considerate neighbor.
@BagongParanaque ganito sa Sto. Niño. Ang liit na ng kalsada, grabe pa ang parking. #kalsadaDaananDiParadahan @rapplerdotcom @bayanmo pic.twitter.com/WJUhRadv9i

— Allan Ladisla (@allanladisla) August 15, 2017
If Vin Diesel had a driving inspiration, we bet it's our very own jeepney drivers.
Pag jeep talaga naka-aksidente sa kotse mo kamot ulo ka nalang e. ??

— Bobby Bada$$ie (@rockytakesover) August 10, 2015
In a nutshell:
Ang hirap mag drive sa Manila nakakaloka #stress @Pnoy @MMDA @PH_Alerts

— DesperadangMaybahay (@JennLauMNL) June 14, 2011