These Are The Countries With The Most Powerful Passports
4 min read
If you're a Japanese passport holder, then your passport just became more powerful than before.
The 2018 Henley Passport Index is out , and Japan just overtook Singapore as the country with the passport that can give you visa-free access to the most number of countries.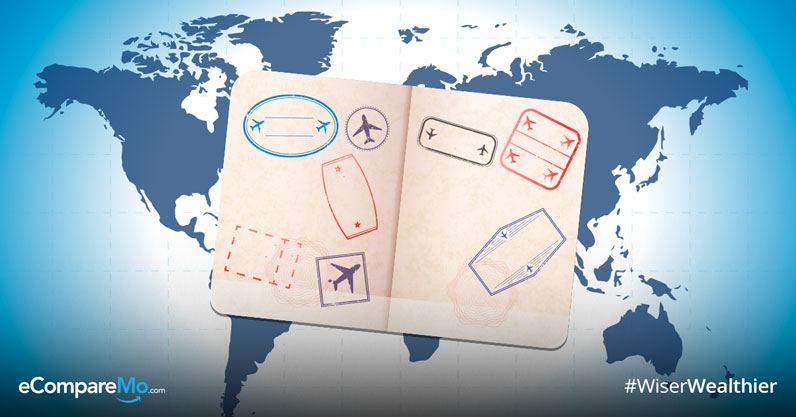 By securing visa-free travel to Myanmar earlier in October, Japan basically ensured that its passport holders enjoy visa-free/visa-on-arrival to 190 destinations.
After Japan, Singapore landed second place with 189 visa-free destinations . Meanwhile, three countries—Germany, France, and South Korea—share the third spot . These three countries have passports that give the ability to fly to 188 countries without visa restrictions .
The top: Visa-free for least 180 countries
The other countries that made it to the top 10 of the 2018 Henley Passport Index are the following:
4th place (187 countries): Denmark, Finland, Italy, Sweden, Spain
5th place (186 countries): Norway, United Kingdom, Austria, Luxembourg, Netherland, Portugal, United States
6th place (185 countries): Belgium, Switzerland, Ireland, Canada
7th place (183 countries): Australia, Greece, Malta
8th place (182 countries): New Zealand, Czech Republic
9th place (181 countries): Iceland
10th place (180 countries): Hungary, Slovenia, Malaysia
The bottom: Visa-free for only about 30 countries
If these countries can fly almost anywhere in the world with ease, there also are passports that do not have these privileges.
Afghanistan and Iraq were at the bottom of the list by only having visa-free access to 30 destinations .
Other countries that belong to the bottom tier are Somalia and Syria (32 countries), Pakistan (33 countries), Yemen (37 countries), and Palestinian Territory, Sudan, and Eritrea (39 countries) .
Won't you be my neighbor?
The Philippines is currently in 75th place, with 66 destinations not requiring our passport holders to have a visa prior to boarding the plane.
In the Southeast Asian region, we're currently in 7th place, just slightly below Indonesia, with 73 visa-free destinations; and above Cambodia, who has free access to 66 countries. Even Timor-Leste, a tiny country just slightly above Australia, has better access than the Philippines with 98 countries where passport holders are visa-free.
Last May, the Henley Passport Index bumped up the Philippines ranking, when Taiwan gave Filipinos more travel freedom in visiting the country. While originally planned to only run until July this year, the Taiwan Economic and Cultural Office in the Philippines decided to further extend the privilege until July 31, 2019.
Since the visa-free trips to Taiwan became possible, the influx of Filipino tourists to Taiwan increased by almost 70 percent. According to a report by BusinessMirror, the number of Filipinos who came to Taiwan spiked from 2016's 172,475 to last year's 290,784. Meanwhile, the first half of 2018 saw higher Filipino traveler downpour at 118,980—which is 60.36 percent higher than the tourists who visited the island-state during the same period in 2017.
Under the visa-waiver program between Taiwan and the Philippines, the latter can have their tourists stay in Taiwan for 14 days .
Second nature
According to Jim Rogers, chairman of Rogers Holdings and Beeland Interests, countries are becoming more paranoid about their borders —and those who can buy their way into a second passport should prepare for this scenario already.
"We're not going to have a very simple and stable world in the next 20 or 30 years, maybe even longer, and everybody should have a 'plan B.' You have your assets in other places—many people diversify their assets—and you should diversify your living possibilities, too. You hope you never need an insurance policy, even though you have one. But everybody in 2020, 2030, should have a 'plan B,'" Rogers said.
For Rogers, "plan B" means having a second passport to have better mobility . How does it even work? How can you become a citizen of another country and reap their travel benefits? Fortunately, there are many ways to have your very own plan B—without you claiming that your father is 1/32 this and 1/8 that.
1. Marry a person with a different nationality
Countries that support this: Brazil, Israel, Spain, Portugal, Mexico, Ireland, Poland, Colombia, Switzerland, Belize, Serbia, Ukraine, Cape Verde
2. Avail of citizenship by investment
Countries that support this: Cyprus, Malta, St. Kitts and Nevis, Dominica, Grenada, Antigua and Barbuda, St. Lucia, Vanuatu, Turkey
3. Stay in a country to become a resident
Countries that support this and how long you need to stay:
Two years
Argentina
Australia
Dominican Republic
Peru
Singapore
T hree years
Armenia
Canada
Ecuador
Honduras
Israel
Paraguay
Poland
Serbia
Four y ears
Brazil
Ethiopia
Five years
Afghanistan
Albania
Azerbaijan
Barbados
Belgium
Belize
Bulgaria
Cambodia
Cape Verde
Chile
Colombia,
Congo
Czech Republic
El Salvador
Fiji
Finland
France
Georgia
Haiti
Iran
Indonesia
Ireland
Ivory Coast
Jamaica
 Japan
Kazakhstan
Latvia
Lebanon
Malta
Marshall Islands
Mexico
Micronesia
Mongolia
Montenegro
Morocco
Myanmar
Namibia
Netherlands,
New Zealand
Panama
Russia
Samoa
Seychelles
South Africa
South Korea
Sudan
Swaziland
Sweden
Taiwan
Thailand
Turkey
Ukraine
United Kingdom
United States
Uruguay
Uzbekistan
Vietnam
Six years
Guyana
Mozambique
Portugal
Seven years
Antigua
Belarus
Costa Rica
Grenada
Iceland
Kenya
Pakistan
Turkmenistan
Eight years
Croatia
Estonia
Germany
Ghana
Greece
Hungary
Macedonia
Mauritius
Papua New Guinea
Romania
Slovakia
St. Lucia
Trinidad
Nine years
Denmark
Ten years
Austria
The Bahamas
Bosnia
Botswana
Egypt
Eritrea
Italy
Laos
Libya
Lithuania
Luxembourg
Malaysia
Moldova
Monaco
Nicaragua
Philippines
Saudi Arabia
Slovenia
Spain
Switzerland
Timor-Leste
Vanuatu
Zambia
Zimbabwe
Eleven years
Tanzania
Twelve years
India
The Maldives
Fifteen years
Jordan
Nepal
Nigeria
Twenty years
Andorra
Bhutan
Kuwait
Oman
Twenty-five years
Bahrain
Qatar
Thirty years
Liechtenstein
San Marino
The United Arab Emirates
Take note that all these countries offering passports to other nationalities have their own rules and set of conditions. Make sure to do more research on your chosen "Plan B" country before actually packing up and hopping a plane.
Sources: Henley Passport Index, Arton Capital, CNN Philippines, Business Mirror