Are Excessive Flight Delays Covered by Travel Insurance?
4 min read
Travel delay coverages are part of your travel insurance. And even if you're only traveling within the country, it's best to still get covered by a flight delay insurance.
Why? Because there's no solid system in place when it comes to how our airports handle flight delays and how airlines provide compensations to passengers.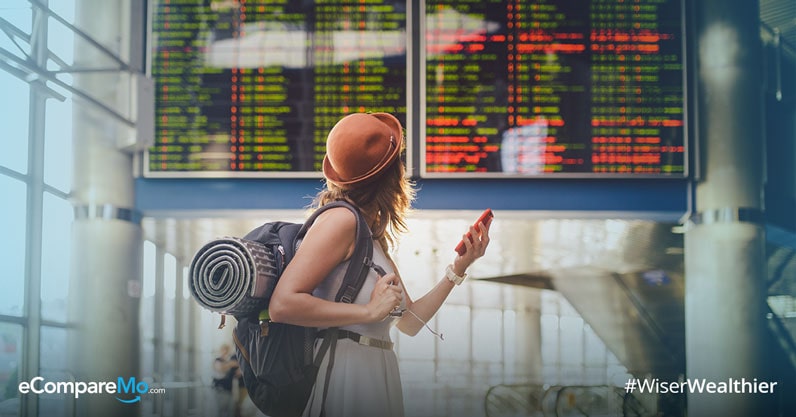 By getting travel delay coverage, you ensure that you are compensated properly for the hassle that a flight delay brought you. We're talking about more than just a biscuit and bottled water while you wait.
One perfect example was the delayed flights incident that went on for over a week in the NAIA terminals last August 2018.
A Xiamen Airline skidded during its landing at NAIA 1. Because of this, chaos ensued not just in NAIA 1, but to all other NAIA airports. Domestic and international flights in and out of Manila were affected.
I was there to witness all the chaos and confusion on the first two days of the aftermath.
What I saw was people swarming to the public assistance desks as well as the check-in and boarding counters asking for an explanation and what to do next.
What to do in case of a delayed flight?
The cancellation of my flight was never announced, even after five hours of waiting. All we were told was that that the plane was already in Clark, and just waiting for the go signal. It was already 11:30 p.m. and I knew then I could not wait any longer. I was determined to get proper assistance.
I went back to the check-in counter to request for a flight rebooking at the next possible time. There was a long line that took about an hour and a half of waiting. I was then accommodated to a free flight at the same time, the next day. I was also given a free travel voucher because I requested for one.
At the time, I was the only person at the check-in counter on my flight number requesting to change my flight. I was lining up with a batch of people at an earlier flight. Their flight was finally announced canceled after five hours.
Most people don't know that they have a right to demand a free flight rebooking and travel voucher if they waited for more than three hours . It helps to know your rights as an airline passenger.
As Civil Aeronautics Board Chief Legal Officer Wyrlou Samodio advised in a Manila Bulletin interview: "For delays of at least three hours, whether or not the carrier is at fault, they are entitled to refreshments or meals, free phone calls, and email, and first aid, if necessary. Airlines should also rebook their tickets (without additional charge) to the next flight available, or within 30 days."
As for hotel stays, Samodio noted that canceled flights due to severe weather conditions do not make the airlines liable to providing affected passengers with free hotel accommodations. This is where travel insurance comes in handy.
In extreme cases such as the August NAIA incident, it would also help that you take the initiative to demand for your rights to proper compensation, Samodio explained:
"Opt to refund the fare value, including taxes and surcharges. Passengers may also be endorsed to another air carrier without paying any airfare difference."
"For tarmac delay of at least two hours (meaning, passengers are already inside the aircraft), the airlines should provide them with sufficient food and beverages," advised Samodio. "The pilot shall give updates every 30 minutes. If the delay reaches three hours, passengers should be offloaded.
"If a flight was canceled and it was not the airline's fault (e.g. caused by typhoon; due to security reasons), passengers may refund the value of the fare, including taxes and surcharges. They can also rebook their ticket."
Different Travel Insurance for flight delays in the philippines
Got a flight coming soon? Here are the insurance providers in the Philippines offering the best travel insurance for flight delays.
Insurance Provider
Insurance Package
Time of coverage
Coverage
Limitations

Per trip basis

Executive Peso
6 hours
P2,000

Must only claim one from travel insurance package: Flight Delay, Trip Postponement, or Trip Cancellation, or Trip Termination, for the same occurrence.

Delays of chartered flights are not covered.

De Luxe Peso
P3,000
Privilege Peso
P3,000
Executive Dollar
USD 100
Executive Deluxe Dollar
USD 150
Prestige Euro
EUR 100
Prestige Plus
EUR 100

Malayan Insurance

Travel Master Local — Peso
Per day
P1,000

Coverage "Due to severe weather, mechanical trouble, airline strike.

Reimbursement up to the limit on a per day basis/max 10 days per occurrence"

Travel Master Asian — Peso
P1,000
Travel Master Local — Dollar
USD 100
Travel Master Worldwide — Peso
P1000
Travel Master Worldwide — Dollar
USD 100
Travel Master Asian — Dollar
USD 100

Paramount Direct

Domestic Travel
6 hours
Up to P10,000
Max of P10000 benefit
Worldwide Travel
8 hours
Up to USD 200
Max of P200 benefit
Schengen Travel
8 hours
Up to USD 200
Max of P200 benefit
Asia Travel
8 hours
Up to USD 200
Max of P200 benefit

AIG

Travel Guard® Standard Asia
12 hours
Up to P2000
Max of P2000 reimbursement "Due to sever weather conditions, strike of airline personnel, or equipment failure of aircraft."
Travel Guard® Standard Worldwide
Travel Guard® Standard Schengen

FGen Insurance (formerly Fortune Insurance)

Asian
6 hours
USD 250
Not specified
Worldwide
Schengen