The Ultimate List Of Easy-To-Do Anti-Fraud Tips
6 min read
With a certain Filipino senator claiming to have experienced massive credit card fraud, we thought to share these few tips to protect yourselves from becoming a victim.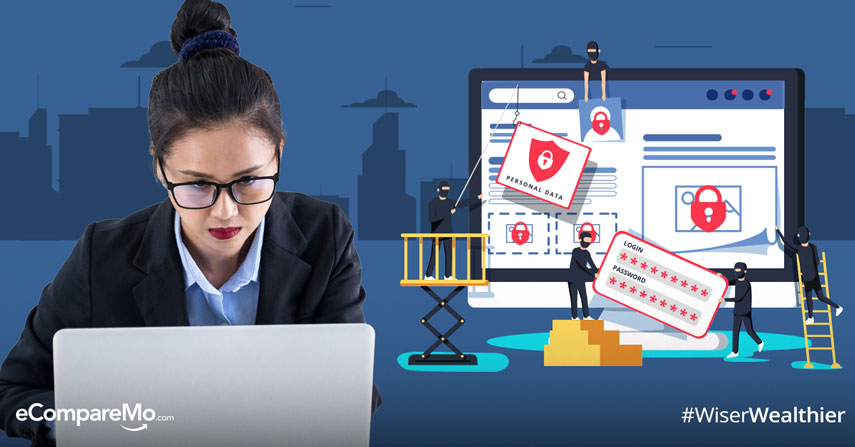 What is "Phishing"?
The most common online threat we face is what's known as "phishing". You've probably seen the warnings on your Facebook posts regarding suspicious emails that tell users their bank accounts have been suspended.  To "reactivate" your account, you're advised to click on a link in the email that will lead to a form capture asking you to input your personal information and bank details. In truth, the email is just a phishing attempt to access your account illegally.
Unfortunately, phishing is just one of the many types of Frauds that are active in the Philippines. Last year, the Philippine National Police Anti Cybercrime Group (ACG), online scam cases topped the number of complaints the agency received. In order to protect yourself from phishing and other online scams, we recommend the following expert tips.
Enable two-factor authentication on your important online accounts
Two-factor authentication (2FA) is a security measure that uses two independent ways to verify a person's login credentials. In most cases, it's a combination of your traditional password and a one-time code sent to your smartphone. If you want to make two-factor authentication a part of your online security detail, don't forget the following:
Keep your smartphone away from other people . Since 2FA relies on another device for the extra layer of security, you're increasing the risk of getting your logins compromised.
Use 2FA apps if supported. Apps like Authy and Google Authenticator provide easy-to-use and almost universal 2FA protection to most of your logins. You can set up third-party 2FA apps by going through your security settings, scanning the QR code provided, and entering the passcode provided by the app. Banks also have their own mobile apps that generate one-time pins whenever you need them.
Avail of your bank's proprietary 2FA tokens. Some multinational banks like Citi and HSBC offer proprietary security tokens for their clients. Whenever you make online transactions, you must verify the action by getting a one-time password from your security token. These devices can last up to seven years and they don't need wireless internet too.
Be vigilant whenever you browse online
Fraudsters and scammers use every opportunity to trick people into giving away their information. Once they get their hands on your credentials, they will use them for criminal activity.
Stay safe whenever you go online with these browsing security tips:
Make sure you're going to a secure website. These days, it's much easier to figure out if a website is reputable and secure. To know if a website is what it seems, simply look to the left of your browser's address bar: a lock will indicate that the website uses secure socket layer (SSL) to encrypt your activity in their website and if the name of the company is visible, it means that they have received a digital certificate through Extended Validation SSL. The world's biggest and most reputable websites are using these to inform people they're on the right place.
Be careful with clicking on different links. Sometimes, fraudulent people hide malicious links in plain sight through hyperlinks, a link that you can simply click to lead you to another address. Before you click on certain links, you may want to hover over it first and check where it leads you. Usually, the destination URL is shown through a hoverbox (a popup that appears when you mouse over a link) or on the bottom part of your browser.
Don't click on ads. Although browser makers have become more proactive in blocking obtrusive ads, you're still not safe. Some banner ads, no matter how exciting they are, can lead you to malware attacks, phishing forms, and others.
Use ad blockers. Adblockers are a gift from heaven: they prevent ads from showing on your screens and provide you with a smoother and more pleasant online experience. You can choose to either install third-party adblocking extensions or use the browser's native adblocking function.
Install only the necessary extensions. Browser extensions are plug-ins that power up your online experience. To "service you better," they require you to surrender your browsing activity and other things happening whenever you're online. Make sure you only install add-ons from trusted authors and keep it to a minimum.
Bank securely with these proactive measures
If you think online banking is devoid of robbers, you're totally wrong. Instead of ski masks and getaway cars, they use sophisticated tools to steal your money. To protect yourself, remember these methods:
Shred important statements. Bank statements contain sensitive information. Once you're done with them, you can either take them to the shredder or burn them. Don't throw your bills intact since everything there can be used against you by criminals.
Don't bank online over public Wi-Fi. A lot of establishments now offer free wireless internet to their customers. While they're good for regular browsing, you don't know how secure they are. Instead of banking using publicly accessible networks, use your mobile data.
Use the strongest password for banking accounts. Before 2FA, the password was the only barrier protects your account from criminals. Although there are more safety protocols in place now, nothing still beats a good old-fashioned, hard-to-guess, random alphanumeric password.
Contact your bank regarding suspicious emails. Phishers have become more creative in mimicking banks; from their email body to the online form, every detail has been meticulously crafted. Whenever you receive emails telling you to reactivate your account, contact your bank immediately and never fill out those forms.
Get a separate debit card for online shopping. One of the best ways to prevent criminals from accessing your credit card account online is to get a separate debit card and use that when you go shopping. You can also take advantage of a virtual credit card if it's offered by your credit card issuer.
Review your banking statements religiously. Don't just pay your bills and throw your statement away. Banking statements exist to help you get an overview of the purchases you've made. If possible, cross-check them with your activity and if something doesn't add up, notify your card issuer immediately.
Four tips to help you avoid common fraud schemes
Train yourself to spot fraud from a mile away and protect your money using these time-tested methods:
If it's too good to be true, it isn't. Do you have a friend who promises you guaranteed huge returns if you invest in them? Don't fall for these get-rich-quick scams. Do your homework and don't get blinded by potential returns.
Read the news. One way to familiarize yourself with the different tricks used by fraudulent entities is to read. Check your trusted news websites for the latest updates on scams. Listen to experts who warn people of these activities. Knowledge is power.
Keep your phone secure at all times. Highly likely, almost all your online accounts are stored on your smartphone. Once criminals get their hands on it, they can sift through your data and use anything they can to make money from your name. Not only will it damage your finances, but it can hurt your reputation with people and financial institutions.
Don't divulge information to unknown parties . You may get phone calls from unknown callers who ask you highly sensitive information regarding your credit cards, bank accounts, and personal details. Whether they're telemarketers or scammers, one thing is for sure: you don't know them so don't feed them anything they can use against you.