The Ugly Truth About 'Eco-Friendly' Bags No One Has Told You
2 min read
Plastic bags are bad for the environment and we know this for a fact. In the Philippines, municipalities like Muntinlupa, Mandaluyong, and Quezon City have imposed a ban on usage of plastic bags to reduce both land and marine pollution.
This has led to the widespread usage of reusable bags, known for their "eco-friendliness." But have you ever wondered how these "eco-friendly" bags are made? Just how "green" are they really?
The chart below shows three different types of reusable bags, their composition, and their impacts on the environment: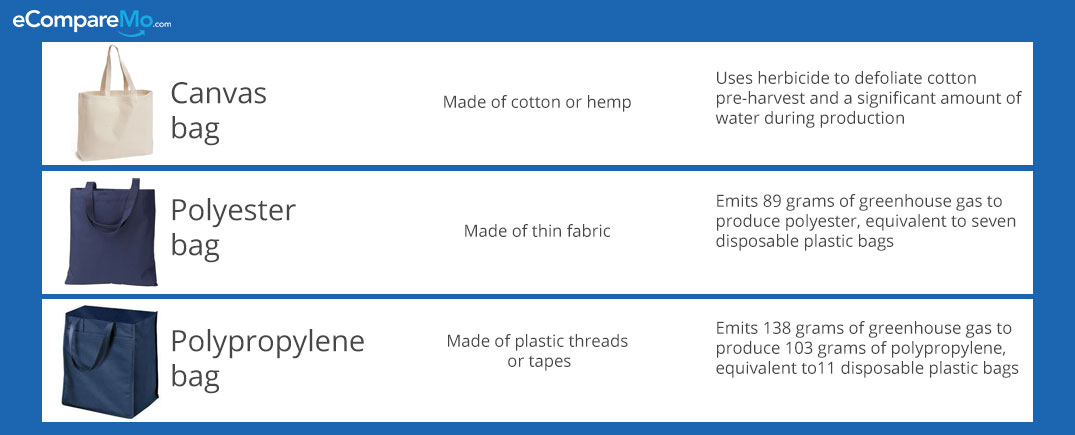 According to a study conducted by the UK Environment Agency (UKEA), tote bags made from recycled polypropylene plastic require 26 uses, and cotton tote bags require 327 uses to achieve the same per-use ratio of eco bags to paper bags.
The study also revealed that cotton tote bags contribute severely to global warming potential as production and distribution requires more resources.
Biodegradable carryout brown paper bags, on the other hand, may seem like an eco-friendly alternative to plastic bags, but experts say cutting down trees is not eco-friendly either.
"One ton of paper requires the cutting of 17 trees; none is cut for plastic," Crispian Lao, former president of the Philippine Plastics Industry Association Inc., relayed to the Philippine Star in a statement. "One supermarket paper bag uses one gallon of clean water, which is all that is needed to make 116 plastic bags. Paper uses as much as five times more energy than a comparable plastic production."
Read: How Can You Make Your Home Eco-Friendly Without Shelling Out Too Much
Contrary to popular belief, conventional plastic bags made from high-density polyethylene (HDPE) has the smallest per-use environmental impact among all varieties tested.
Although HDPE bags fester on landfills and oceans and clog drainage systems, the production and distribution require less carbon emission and waste compared to eco bags. However, they are still a major contributor to pollution and global warming.
EcoWaste Coalition president Sonia Mendoza also explained that even oxy-biodegradable or oxy-degradable alternatives are still harmful to the environment as they are made from the same material as the single-use carryout plastic bags.
In the long run, however, eco bags are still the least damaging to the environment–that is, if you really intend to use them for all of your shopping and baggage-carrying needs.
As American magazine The Atlantic perfectly sums up: "So long as their owners don't throw [tote bags] away, their negative impact remains minimized, at least—they might yet be used 327 times. Ecologically speaking, the best practice for tote bags might be one of two extremes: use them all the time, or not at all."