The Thing About Funny And Witty Business Names
4 min read
There are pros and cons if you resort to using clever puns in naming your venture.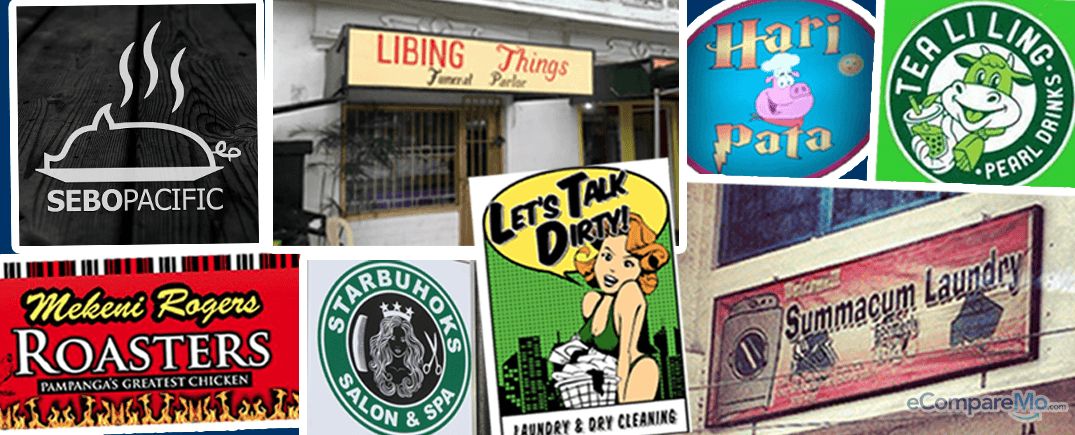 Choosing a name for your business is perhaps the most exciting part of starting a new venture. But it has to be done with careful planning, as it can make or break your company's reputation especially that you're just introducing your brand.
One thing's for sure: to stand out, you need a name that instantly rings a bell. "Ideally, your name should convey the expertise, value and uniqueness of the product or service you have developed," advises Entrepreneur magazine.
Filipinos being a good-humored population, we always tend to pick what is catchy, and often resort to witty puns. Below are some of the following funny business names we've encountered in the Philippines:
1. Starducks, a seller of duck eggs in Quezon City
2. Hari Pata, a crispy pata stall in Pasig and Cavite
3. Brad & Pit's Ribshack, a restaurant in Marikina
4. Sebo Pacific, a restaurant in Cavite
5. Libing Things, a funeral parlor
6. Mekeni Rogers, a restaurant in Pampanga
7. Bangga Ka d'Day?, a car repair shop
8. Obeertime, a bar in Makati
9. 2nd Time Around, a secondhand watch store
10. Ken Afford, a budget restaurant in Quezon City
11. Let's Talk Dirty, a laundry shop in Makati
12. Income Taxi, a taxi franchise
13. Summa Cum Laundry, a laundry shop in Manila
14. Wa-Thirst, a water refilling station in Dapitan
15. Ala Bank, a bank in Alabang, Muntinlupa
16. StarBangs, a beauty salon in Quezon City
17. Bread Pit, a bakery in Quezon City
18. Petness First, a pet shop
19. Tea Li Ling, a milk tea shop in Parañaque
However, Claro Ganac, marketing professor at De La Salle University, says in an interview with Entrepreneur Philippines that "using puns is risky, and probably best avoided. It's novel and might get you noticed, but if the pun is all that people remember of your offering, then that's bad news."
Another common practice among Filipinos is to keep things personal—or using one's family name + product/service as a formula for naming their businesses. Even the biggest corporations in the country subscribe to this, such as the Zobel de Ayala family of Ayala Corporation.
More than words
Words associate with certain sensory experiences such as tones, colors, and even textures. Thus, a name highly suggests what customers should expect from a brand.
In fact, according to Graham Jones of Name.Kitchen, your chosen business name may be perceived as a visual shape by your audience. "All words have a psychological effect," he says. "They have shapes and sounds that trigger emotional responses."
However, clinical psychologist Carol Moog also adds: "A name without an emotional, non-verbal association is virtually useless—it will not be retained in the mind of the target audience."
The perfect sound
"Naming a brand isn't like naming a baby," says chief marketing officer Hayes Roth of Landor, the think-tank behind the branding of big names such as BMW, Visa, and DC Entertainment. A good business name should be able to elicit the precise intentions of the business.
Kodak, for instance, is deemed a perfect brand name. The hard consonants at the start and end of the word suggest a solid shape, which is highly associated with the rectangular shape of a camera.
So what's in a name? Below are some common naming ideas and their corresponding pros and cons:
Real words (e.g. Apple, Pandora, Bench) These names are short, and easy to remember, and suggestive of multiple associations. However, trademarking can be a problem.
Acronyms/initials (e.g. BDO, AOL, CDO, PLDT) These serve as mnemonics for long company names. If you're going for this type of a business name, avoid making the acronym/initials longer than the individual words.
Abstract/made-up words (e.g., Prius, Penshoppe, Bebo) Using this can be distinctive but it is quite difficult to establish a suggestive meaning.
Puns/tweaked words (e.g., Infinitea, Chic-Boy, iPhone, Jollibee) These types of names can be colorful and catchy—just don't make it seem like you're trying too hard to stand out.
Compound/affixed/blended names (e.g., Facebook, Microsoft, Metrobank) If you are creative enough, these types of business names can be effectively suggesting. However, you need to be careful as a bad combination may end up with awkward meanings.
People's names (e.g., Goldilocks, Dencio's, Gloria Maris) Although using a name conveys a personality, it may not easily suggest the company's product or service.
How to get it right
1. Remember a mental exercise you did in your childhood. Start with memory tools and mnemonic devices, such as "Every good boy does fine."
2. Coin a term. New words are widely acceptable in the market these days.
3. Make the name short, and easy to spell and pronounce. They are much catchier and memorable.
4. Consider your target market's preference. Will it appeal to the demographic you want to capture?
5. Choose what's universal if you want to go big in the future. Think of something that won't sound outdated 10 or 20 years from now. –Diana Lyn Balbalosa