What Every Parent Should Know About The Child Safety In Motor Vehicles Act
6 min read
Just recently, President Rodrigo Duterte signed Republic Act 11229 into law.
Also known as the Child Safety in Motor Vehicles Act, the law mandates car owners with kids to equip their vehicles with appropriate child restraint systems.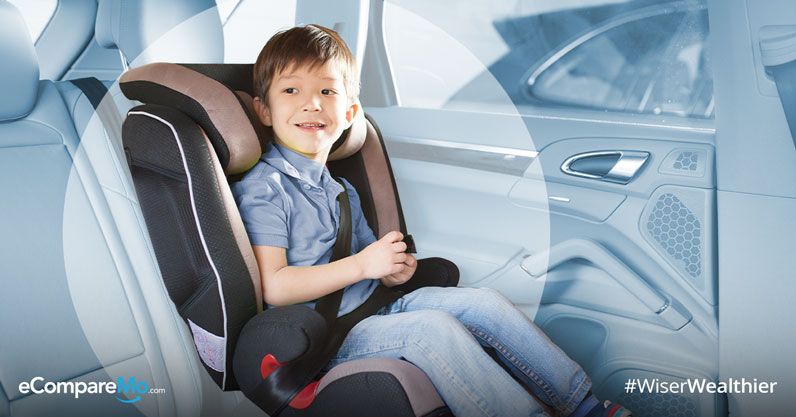 The law will be enforced one year after the law has been signed—but it pays to be prepared ahead of time before its enactment.
What is the Child Safety In Motor Vehicles Act?
We first wrote about this particular act back in October last year, when the act, then designated as Senate Bill 1971, was unanimously passed by the Senate. According to the Palace, the act was signed into law by the president on February 22.
In a nutshell, now that the act is signed, every driver who has an infant or a child in the car must take note of and follow these rules:
Children aged below 12 whose height is under 150 centimeters (or 4'11") are prohibited from occupying the front seat of a running car
All private vehicles carrying children should be equipped with child safety carriers that comply with the specs listed on the United Nations Regulations No. 44 and 129
All child restraints must be approved by the Department of Trade and Industry-Bureau of Product Standards and must bear the Philippine Standard (PS) mark or Import Clearance Certificate (ICC) mark
Children must always be accompanied by an adult inside a car
Drivers found violating the new law will be fined P1,000 on first offense, P2,000 on second offense, and P5,000 as well as one-year suspension of driver's license on third and succeeding infractions.
For those who will slap a fake PS or ICC sticker on their substandard child seats, the penalties will be harsher: a fine between P50,000 and P100,000 for every unit they tampered.
Although the implementing rules and regulations of the law are yet to be created and its effectivity not happening anytime soon, you should prepare for its implementation before it's too late. What are the things you need to know about child carriers and how much will they cost you?
(Read: The Seat Belt Law In The Philippines And Why You Should Take It Seriously)
UN Regulation No. 44 and 129
To make sure there are standards in place wherever you are in the world, the United Nations has come up with two recommendations on how all participating parties can lower the risk of child harm in a vehicle.
To address the issue, the body released two regulations that changed the way we let our children ride our cars: United Nations Regulation No. 44 and 129.
UN Regulation No. 44 (R44) classified different child restraints into five groups, which are all separated depending on the weight. For children below 13 kilograms, their safety seats should be rearward facing, with the units equipped with harness and impact shields. Normal seatbelts will be the ones used by children whose weight is above 36 kilograms.
Meanwhile, UN Regulation No. 129 (R129) categorizes kids using the "i-Size" system, which relies on height rather than weight. Under R129, babies up to 15 months old are required to use rearward facing carriers for maximum safety.
For both categories, carriers that follow these specifications are required to be attached via ISOFIX, a standardized series of latches that allow child seats to be connected firmly to the vehicle's passenger seat. Newer car models are required to have anchor points where the base of the child seats can be attached as well as top tethers for extra security.
Why should they become mandatory, anyway? According to the UN Economic Commission for Europe, the subcommittee of the UN responsible for both regulations, babies and toddlers have "weaker neck muscles carrying a relatively large and heavy head in relation to their body." Since their bodies aren't fully developed yet, they need all the protection they can get, especially when on the road.
There is no definitive list of all ISOFIX-ready car models in the Philippines, as it is not mandatory for manufacturers to include it in their units. However, newer cars include these as they are becoming more of a norm in the country.
What kind of child seats do we need?
Getting the right child seat for your family can be a daunting task, especially because these contraptions do not come in cheap.
Since there are different categories in the market, you might want to learn more about child seats so you won't make the mistake of purchasing the wrong one. Here are the most common types of protective seats for babies.
1. Baby seats
Also known as infant carriers, these are bucket units that carry babies while they're lying on their backs and they should only be attached rearwards.
You can either get a standalone baby seat or find a stroller combo, which allows you to detach the stroller frame easily so you can mount it to your car without disturbing the baby. In addition, a stroller combo also protects its occupant as babies can neither brace themselves for an impact nor sit upright.
Although they are more expensive, travel carriers combine the convenience of having a stroller and child-infant seat in one. They usually come in three pieces: the carrier itself, the stroller, and the car seat base.
For parents who have more than one car, they can buy an extra seat base for the carriers so they can switch their vehicles without the need to uninstall the base and move it. You can get them if your budget permits you to pay for convenience.
How big is the difference anyway? Well, we looked at Chicco which offers both standalone carriers and stroller-seat combos. The Chicco KeyFit 30 only costs P12,800 while the Chicco Bravo Trio is priced at P35,000.
2. Child seats
For children who already outgrew their infant carriers, it's time to make the switch to child seats.
Although they can already sit, it doesn't mean that they're already strong enough to withstand damages from car accident.
Child seats are better in any way because they have enough impact protection for the head, neck, and back. In addition, they're also firmly attached to your car via the ISOFIX mounts and the center leg seatbelt. With the help of the five-point harness built within the specialized seat, impact is more evenly distributed throughout the child's body.
A quick Google search on child seats in the Philippines reveals that they are cheaper than infant carriers. The Joie Elevate is priced at P4,800 while the Chicco KidFit is available for P7,200.
Meanwhile, models that can cater to toddlers and up are more expensive since they have adjustable headrests and modular seat boosters for younger users. The Joie Every Stage, which can be used by kids up to 12 years old, is available for P12,800.
If you have money to burn and you want a sportier variant, Top Gear Philippines suggests getting a Recaro Young Sport Hero, which is priced at P25,592.
3. Booster seats
Finally, here come the booster seats for big boys and girls.
Children below 137 centimeters should still be seated on boosters. Without them, the seatbelts will rest either on their face or neck. Upon impact, a misaligned seatbelt can cause head and neck damage. This is where these seat boosters come in.
There are two types of boosters in the market: one looks like child seats but only taller, to ensure it provides neck support, while the latter is just a cushion that merely elevates the user.
If you have one of those convertible child seats that can be extended to become boosters, then good for you. If you get one that is not convertible, don't worry. These are cheaper than the previous two so it won't impact your budget that much.
When you start shopping for a child safety device, don't forget to check the seal of approval such as the PS or ICC marks. After all, you don't want to compromise your child's safety even when you have car insurance.